What will happen to Russia-based foreign footballers after Ukraine invasion
Future of Nigerian winger Chidera Ejuke is uncertain after US sanctioned a second Russian club following the countries invasion of Ukraine.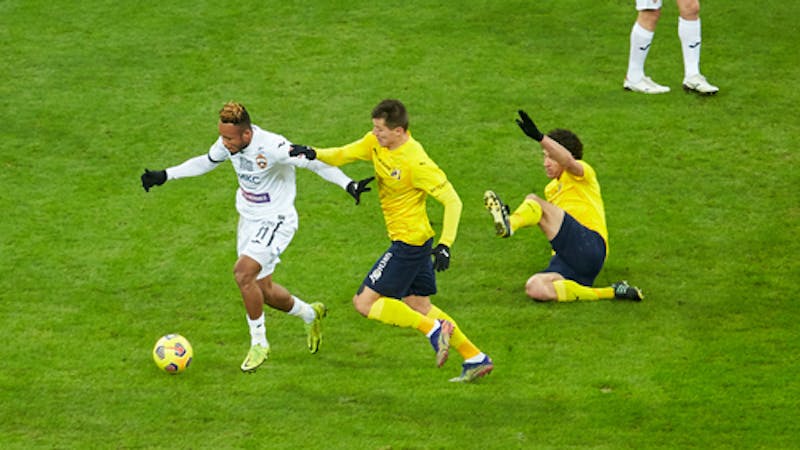 World's seventh fastest player, Chidera Ejuke, who was part of the AFCON 2021 squad, is close to being clubless after the US Treasury department sanctioned his Russian club CSKA Moscow. 
The Nigerian forward, who is one of the best dribbler in the world and CSKA's most productive player with five goals and three assists, now faces an uncertain future.
Relationship between Russia and the outside world further deteriorated on Tuesday, February 22, after the United States issued a list of Russian individuals and businesses that would face sanctions as a result of the country's recognition of the DPR and LPR's independence.
The penalties were imposed on a number of entities that are part of the VEB corporation, which owns a 77.64 percent controlling position in the Army club. The owners of the remaining CSKA shares are not known to the public.
The news came as a shock to the club and supporters, according to CSKA General Director Roman Babaev, who reacted through the Russian press,
"We will fight for our rights, based on the widely held belief that sport should be kept separate from politics," he stated.
He also added that routine operations in the Army club will not change,
"The club continues to operate regularly, the team is calmly preparing for the start of the season and the derby on Saturday, and our attorneys are aware of the situation," he added. 
Russian Post, Aeroflot (who have been dropped by Man Utd), ICS Holding IT firm, online retailers - Wildberries, Rossetti, bookmaker Fonbet, and Promsvyazbank are among the many sponsors of CSKA, all of whom have received sanctions from the United States, the United Kingdom, and the European Union. 
With the exception of the outfit manufacturer Joma (Spain), Hyundai Motor (South Korea) and the American PepsiCo, almost all of CSKA's sponsors are Russian corporations.
What does these sanctions mean for Ejuke and CSKA?
To understand how these fresh sanctions affect Nigeria's Ejuke and his future in the country, ZonalSports have investigated and laid bare the legal implications. 
ZonalSports understands that CSKA's position on the sanctions list makes it harder for the club to work with American peers.
All Western entities lose the right to continue any interaction with the club or recipient of sanctions once it is included in the US list. 
No bank will be able to carry out any transaction involving CSKA, if the activity was carried out in American dollars.
CSKA being in the US Treasury's sanctions list does not currently jeopardize the team's participation in the national league, but it could generate issues with the loan of players from foreign teams, which Chidera Ejuke does not fall into.
This means in a nutshell that CSKA will have no problems in Russia, but they will be obliged to terminate any ties with Western sponsors and organizations.
CSKA will also not fold because it has a Russian bank account and will continue to compete in the Russian league.
However, there may be issues with player transfers, which will undoubtedly hurt CSKA. If the team strikes a contract with another club in Russia's Ruble Zone, those clubs will need to register a bank account so that payments for such a player can be made in rubles.
How can CSKA save its future and that of its players like Ejuke?
A conditional change of ownership will not help the club bypass US sanctions, nor will re-issuing help in this case. 
However, CSKA can transfer ownership to another company and provide documents confirming this. Also, if the Ministry of Finance responds positively, the sanctions may be lifted. 
But this is not likely to happen in the near future. 
The Foreign Ministry has released a statement that the sanctions had no effect on Russia's willingness to "defend its interests" and threatened to respond to any additional US restrictions.
But these are just sanctions from the US, what about sanctions from the EU? 
In the next few hours of today, Friday, the European Union, featuring leaders from the continent's biggest countries will convene to decide on what measures to administer to Russia. 
It is worthy to note that the EU has promised "maximum impact" sanctions that will cause President Vladimir Putin to "fail."
ZonalSports have broken down these measures, which will definitively determine the future of Ejuke and CSKA. 
What could happen to Ejuke and CSKA after EU sanctions?
Due to the considerable dangers, ZonalSports understands that cooperating with CSKA will be extremely tough for Western counterparts.
Some transactions are currently conceivable through non-dollar routes, but they will take a long time to structure and will require a significant number of lawyers.
Financial intermediaries will be less likely to make such trades, despite the fact that the door is not yet shut.
As a result of the sanctions, the football club will work with Russian companies to find players.
Scouting organizations that are involved in the recruitment and selection of players are all European organizations who are likely to terminate their partnership with CSKA.
However, Russian entities are exempt from US law and will continue to operate as usual. Most likely, the agreements will be translated into Russian rubles or a third currency, such as the Chinese yuan.
Can Ejuke force a move out of Russia?
Yes, he can. Although the player cannot terminate his contract without facing legal repercussions, he can submit a transfer request away from the club. 
However, at this inceptive stage, this will be an ill-advised move. 
With the European transfer window firmly shut, Ejuke cannot secure a move to another club until at least the summer. 
So a transfer request will only instigate an unnecessary frosty relationship between player and club, which might affect both his playing chances and valuation.
Ejuke is part of the CSKA squad to face Spartak in the Moscow derby on Saturday, where he is expected to feature from the start.