Can Erling Haaland match Kun Aguero's Manchester City record?
Kun Aguero's remarkable record Erling Haaland would hope to match at Manchester City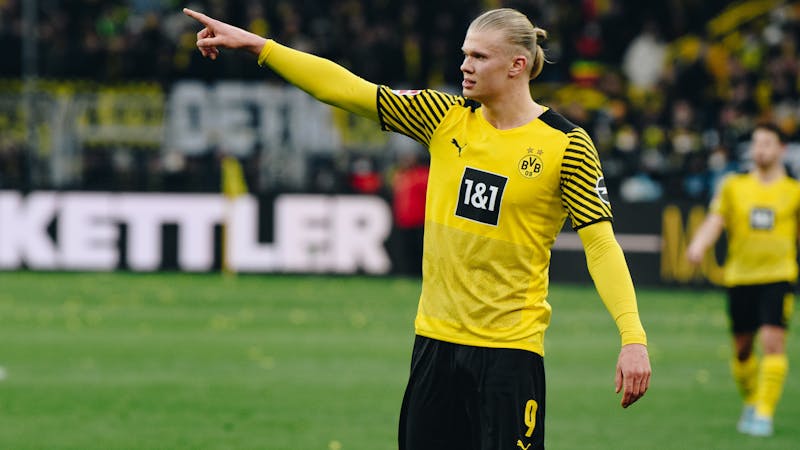 Manchester City are hoping to sign Borrusia Dortmund forward Erling Haaland as the heir to an unclaimed throne left by famed striker Kun Aguero, who joined Barcelona this season.
Pep Guardiola has adopted a new style that employs a false centre-forward since the departure of Sergio Aguero, due to scepticism on the capability of current striker, Gabriel Jesus, to lead his free-scoring frontline. The Brazilian has mainly played as a right-winger in the current campaign.
The Spanish manager, who has gone the entire season without a proper striker after failing to sign English super striker Harry Kane, is already working on a new game plan for next season, including the inclusion of a natural striker.
According to credible sources, Manchester City hopes to finalize a deal for Erling Haaland, one of Europe's most sought-after strikers, after agreeing on personal terms of a five-year contract with the gifted youngster.
Since joining Borrusia Dortmund from RB Salzburg, the 21-year-old striker has established himself as one of Europe's best strikers, scoring 82 goals in 85 games for Die Borussen.
Borrusia Dortmund have been reluctant to let Haaland, who has ideally led their attack for the past three years, go in the previous transfer windows, but the German club appears to have yielded to the inevitable this time.
Manchester City are prepared to battle with Real Madrid, previously named as favourites to sign the Norwegian goal machine since the last January transfer window.
The Sky Blues are pushing to reach an agreement with Borrusia Dortmund to activate Haaland's €75 million release clause when the summer transfer window opens.
Manchester City fans will be thrilled as they await the potential signing of the gifted striker, hoping that he can match some of Kun Aguero's achievements.
Erling Haaland has scored 151 career goals in 196 appearances in all competitions at club level.
Kun Aguero's incredible Manchester City record
The arrival of Kun Aguero at Manchester City has remained one of the best things to happen to the club's fans in its history. The Argentine striker, who marked his City debut with two goals and an assist, was one of the key players in the club's successful rebuilding initiative in 2011.
Alongside Carlos Tévez, Edin Dzeko, Emmanuel Adebayor, David Silva, Raheem Sterling, Leroy Sané, Bernardo Silva, Riyad Mahrez, and others, Aguero helped kickstart one of the Premier League's most dominant forces ever.
He quickly established himself as one of Manchester City's finest goal scorers, scoring over 100 goals in his first four seasons and hitting an incredible 1015 shots in the Premier League in ten seasons.
In a 6-1 victory over Aston Villa, Aguero became the Premier League player with the most hat tricks (12), surpassing Alan Shearer's eleven.
Aguero's Premier League title-winning goal against QPR in the dying minutes of the 2012 season will go down in history as the best moment from the Etihad Stadium.
The Argentine was a standout striker for Manchester City, winning two Player of the Year awards (2011, 2014), a Premier League Player of the Season, a Premier League Golden Boot award in 2014, and many more accolades.
With 260 goals, the now-Premier League Hall of Fame inductee is Manchester City's all-time leading scorer, leading the club to numerous trophies, including five Premier League titles, six EFL Cups, two FA Community Shields, and one FA Cup.
Manchester City fans will hope that Erling Haaland follows in the footsteps of Kun Aguero and makes history with the Sky Blues.
Borussia Dortmund striker Erling Braut Haaland celebrates with his teammates.
What Erling Haaland can bring to Manchester City's team
Erling Haaland has been catching the interest of a spate of big European teams in recent years including Chelsea, Manchester United, Real Madrid, and a bevy of others, owing to his impressive performances,
The 21-year-old forward understands the game and can link up with his teammates to generate chances, which has piqued interest in the football world. He will be a significant asset to Manchester City especially due to his presence in the 18-yard-box, since he makes more touches than 96 percent of fellow strikers, an attribute tailor-made for a possession-crazy manager like Guardiola.
Pep Guardiola's team scored more goals (102 goals in 2019, 95 goals in 2018, and 106 goals in 2017) in the Premier League with Kun Aguero than in the previous two seasons (83 and currently has 75 league goals).
Signing Erling Haaland, who attempts more shots per game than 99 percent of other strikers and can score from nothing, will lead City not only to more goals but also hand them a significant edge in their insatiable hunt for trophies.