Kelechi Nwakali: The withering golden boy of Nigerian football
Seven years after his career high, Nwakali is currently wallowing in the murky ends of free agency. So what went wrong with Nigeria's golden boy?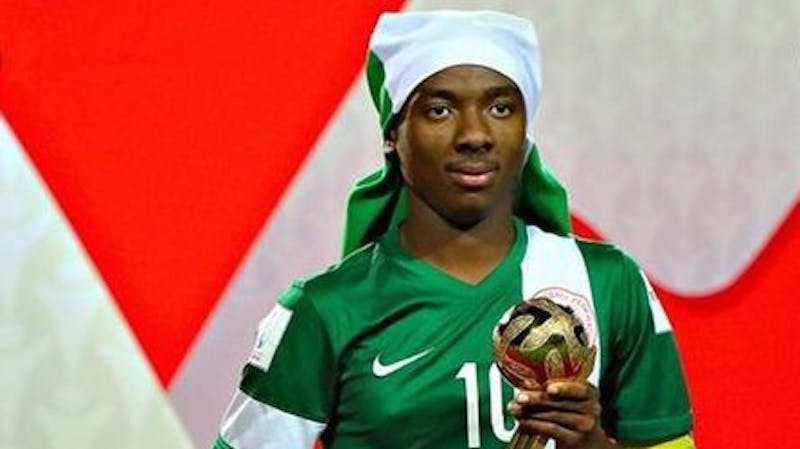 When Nigeria won the 2015 u-17 World Cup in Chile, lofty expectations were placed on the potential career paths of these youngsters by fans and football pundits alike. With 23 goals scored and just 5 conceded, they exemplified a well-oiled machine, and a certain 17-year-old Kelechi Nwakali was the motor and cog at the heart of these exploits.
Captain of this history-making side, Nwakali was a player possessing great technique, astute tactical awareness and intricate passing ability. He was the complete midfielder.
Scoring three goals and providing three assists, Nwakali was the competition's best offensive player, behind only golden boot winner Victor Osimhen, and top assist provider Samuel Chukwueze.
This return, combined with his all-round play, bagged him the prestigious golden ball winner, an award that put him in a stellar line-up with names such as Toni Kroos, Cesc Fabregas, Anderson and compatriot Kelechi Iheanacho.
With several clubs queuing for his signature, Nwakali was afforded the luxury of choice and selected London side, Arsenal, as his employers at a cost of €3.5m.
But six years after that career high, Nwakali is currently languishing in the dank dark depths of free agency, as he sits at home unemployed.
So what went wrong with Nigeria's golden boy? How did a player so finely poised for greatness fall off the high road? 
What happened to Kelechi Nwakali?
Nwakali's move to Arsenal was the most high profile of the 2015 u-17 set
Although his 2016 move to Arsenal was the grandest and most high profile of the 2015 Nigerian under-17 set, it was also the most ill-fated and ill-advised.
When Klay Ekeocha, Nwakali's agent, disclosed that possible work permit problems were waiting in the shadows, the first ominous symptoms became apparent.
"We are working hard for the player, his family, and the academy. Manchester City and West Ham are no longer involved because of work permit issues."
Later, it was discovered that Klay had suggested that Nwakali join with Dutch giants Ajax Amsterdam, but his older brother, Allwell Nwakali, scuttled the deal in order to earn more money:
"Klay came with an offer from Ajax Amsterdam and Arsenal's offer was three times more and we are talking about euros and pounds here," said Allwell Nwakali. 
"Arsenal is bigger than Ajax in developing young players. Kelechi has signed with Arsenal, he has done a medical."
Could have been the next Frenkie De Jong?
At the time, Ajax, one of the finest development clubs, had just three offensive midfielders in the first squad, all of whom were much older than Nwakali. Therefore, had a transfer occurred, Nwakali would have had a decent chance of making the first team.
After signing his first professional deal with Arsenal, he was promptly transferred to MVV Maastricht, a Dutch club in the second division. This was a forced relocation since he was ineligible for an English work visa.
Nwakali fared well in his debut professional season with MVV, starting 75 percent of his team's available matches and playing 29 times.
Deployed in his preferred offensive midfield position, Nwakali scored three goals and provided four assists, reasonable figures for an 18-year-old, but still below average for a player in such an advanced position. 
Upon returning to Arsenal, all parties agreed that the player should continue his development at a higher level with work permit still proving a stumbling block. 
First topflight campaign
Following his modest first season in Netherland, he was shipped to newly-promoted VVV-Venlo in the Eredivisie. This marked his first season in a top division. Here, his struggles began, as he failed to nail a regular starting berth. 
Although he scored a 95th minute equaliser on his debut in a productive 15 minute cameo against Groningen, Nwakali will wait four games to make his first ever start in a top division. 
In his first start, he managed to create three chances for his teammates on their way to a comfortable 2-0 win but he found himself back on the bench the next game. The Nigerian will go on to make just 9 league appearances for VVV with only 3 of those being starts. 
Without completing a full 90', he was recalled by Arsenal in January 2018.
Despite receiving very little playing time to establish himself, Nwakali's statistics were competitive with those of his colleagues. He ranked second best for dribbles, top five for interceptions and was one of the more creative players in VVV.
In the winter window, Porto came knocking on Arsenal's door for Nwakali, but rather than a loan option, they wanted to sign the Nigerian permanently.
This move was vetoed by both Arsenal and Nwakali, with his brother, Allwell, stating:
"MVV wants Kelechi and I think Arsenal want that too, as they understand the situation. 
"Arsenal want him to go to MVV, so that he can play every game there and develop his game until the summer.
"FC Porto of Portugal are interested and even wanted an option to buy, but they are discussing with Arsenal now. Arsenal are not interested for such opinion because they need Kelechi soon in the main team,'' he told AllNigeriaSoccer. 
So for a second stint, Kelechi found himself in the dressing room of MVV, in the second tier of Netherlands. Just as was anticipated, considerable gametime was afforded the 19-year-old, starting in all 16 games he was available for.
However, his goal return still remained below the average expectations for attacking midfielders. In 1,411 minutes of playing time, he scored only 4 goals, half of which were from the penalty spot.
With no significant progress of note, Kelechi Nwakali was gradually fading into obscurity.
Not good enough for Porto B
During the off-season of 2018, with the 2018 World Cup on the horizon, Nwakali would receive a significant boost to his reputation.
The youngster was invited to a glamorous friendly involving Nigeria's u23 team and Atletico Madrid.
Against a strong Diego Simeone line-up, Nwakali gave the second-string Nigerian side the lead with a long range strike. His goal will prove just a consolation, as Nigeria would go on fall to the Spanish side by a 3-2 scoreline. 
Despite the defeat, his performance brought him back to national consciousness, resuscitating his ailing career, with tabloids and newspapers singling him out for praise.
In the midst of these adulations were pockets of calls for him to be picked in the official squad for the World Cup tournament.
Capitalizing on this new found lease of life, Nwakali was loaned to Portuguese giants, Porto, for the 2018/2019 campaign, with an option to make the move permanent. 
For his teething stage, he was first straddled onto the second tier Porto B setup, so as to learn the ropes before breaking into the senior squad.
Once again, Nwakali struggled in yet another team. In the 34-game season, he could only muster 16 appearances. His dilemma was exacerbated when visa issues prevented him re-entry into Portugal after representing Nigeria's under-23. This forced him to miss the last 8 games of his club's season. 
He was entirely unproductive in front of goal during his stay with the club and was ferried back to Arsenal, as Porto refused to exercise their buy-out option. 
"I regret making the move, that was a mistake from me and the agency," Nwakali told BBC Sport.
"They [agency] have a lot of players and I needed to go to another place where they have my interest at heart and where they can focus on me.
"I was told when I moved that I would train and play with the first team and there was an option to buy me on a permanent deal which sounded good.
"But after three months of training with the first team, it wasn't looking like I would join the first team any time soon."
A certified flop?
With four different loan spells and nothing to show for it, Arsenal were unconvinced on the development of the 21-year-old and were looking to offload the player permanently for good. It became evident that his stock had dropped significantly when he was only able to secure a move to Spanish second tier side, CD Huesca.
The permanent transfer contained a buy-back clause which showed Arsenal's belief that a player of such potential could still perform at the highest level.
Huesca
His first season at Huesca was nothing short off horrendous. Kelechi Nwakali had to wait until the 33rd gameweek of the season, ten months after joining, to make his first appearance, which was a brief 7 minute cameo.
His first start for the club would come on the last day of the season, as Huesca secured promotion to the Spanish La Liga.
With him struggling to lay down claim to a first team spot in the second tier, it was a unanimous expectation that the 21-year-old will find it almost impossible to break into Huesca's La Liga plans.
After only five appearances in the first half of 2020/21, the inevitable happened and once again, Nwakali found himself in a temporary fix, with Segunda Division club, Alcorcon.
By now, a reality began to set in, Kelechi's growth had long plateaued and the player was just not good enough for top-level football. 
Alcorcon: a vicious circle
At Alcorcon, Nwakali altered the narrative by starting all 16 possible games and scored four goals, the second-most in the squad. The Spanish club managed to avoid relegation to Division 3 by a hair's breadth, mostly due to his efforts.
In an impressive show of grit and determination, Nwakali was back in the limelight, and his terrific performances culminated in him winning Alcorcon player of the month for April. 
Despite featuring for only 5 months, 69 percent of Alcorcon's win came with Nwakali in the starting lineup.
Seeing a hint of the 2015 potential he once showed the world, Leeds, Watford, Bournemouth, as well as LaLiga duo, Osauna and Levante, were just few of the plethora of clubs vying for his signature.
His parent club, Huesca, were also on high alert as they offered him a new long-term contract to fend off interests, only for Kelechi to reject.
This was primarily due to Huesca being demoted from the La Liga that season.
For the first time in donkey years, Nwakali's numbers measured up to his teammates. He ranked top 3 in dribbles, tackles, passes, chance creation, shots per game and goal per minute.
This, although proving that the player still possessed the ability to perform, also created an hypothesis that perhaps the lower leagues were his peak level - a vicious circle. 
Returning to Huesca, the club promised to build their promotion reattempt around Nwakali, but this solemn pledge was partly a ploy to get the player to sign a new contract. 
In November 2021, ZonalSports exclusively reported that Nwakali saw a future away from Estadio El Alcoraz, and would run down his contract which was to expire in 2022 and this he did. 
On Friday November 5, 2021, Nwakali completed just his first 90' for Huesca over two years after moving to the club
What went wrong for Nwakali?
Although breathing a new lease of life into his career, Nwakali, his entourage and fans will be surely concerned that the 23-year-old has failed to prove his quality consistently throughout a full campaign.
Failing at three different clubs, the Nigerian has also shown an inability to compete at the highest level. 
The primary origins of his struggles in Europe can definitively be traced to his ill-advised "big move" to Arsenal. Only two graduates of the 2015 u-17 World Cup squad: Victor Osimhen and Samuel Chukwueze, have gone on to realize their potential displayed at youth level.
But the eventual success of both Osimhen and Chukwueze was dictated by the calibre and status of clubs selected as their first employers. While Osimhen chose top-half but modest Bundesliga side, Wolfsburg, Chukwueze would opt for Spanish mid-table contenders, Villarreal.
Hindsight and time have now shown that being a big fish in a small pond was the true path to preventing youngsters fading into oblivion. 
In fact, of all the players to have scored a goal or more at the World Cup of that year, only those that chose humble beginnings remain relevant today.
Christian Pulisic - Dortmund
Dayot Upamecano - Salzburg
Josip Brekalo - Wolfsburg
Sekou Koita - Liefering
Jonathan Ikoné - Was already at PSG since 2010
Odsonne Edouard - Was already at PSG since 2011
Fyodor Chalov - CSKA Moscow
The case of Kelechi Nwakali could be likened to that of 2013 World Cup golden ball winner, Taiwo Awoniyi, who after leading Nigeria to the trophy, secured a big move to Liverpool in 2015.
He would be tossed into a whirlpool of 7 loan moves in 5 years, before permanently leaving the club in 2021, without ever making a competitive appearance.
Just like Kelechi, Awoniyi was also a victim of UK's stringent work permit laws that prevented him from even training with the club in England.
Although Kelechi Nwakali did break free from the shackles of the "loan army", it had left a telling effect on his career. 
There is also Nigerian wonderkid, Umar Sadiq, who was ferried 5 times in 4 years after moving to Roma in 2015. His abilities were considered so mediocre that Rangers boss, Steven Gerrard, publicly labelled him a flop. 
But the striker has since turned the tides, and is currently considered the best striker in Spain outside of La Liga. 
Inconsistent gametime as well as a journeyman career at a young age in the 4 years between Nwakali's rise to prominence and his departure from Arsenal had stagnated his development, which resulted in him proving rusty in his first season for Huesca. 
A culmination of all factors has pitched him as just another has-been in the fast-paced world of football.
A Second Chance
Kelechi Nwakali's start-stop career is in no bit unique to him, many have endured a similar path, but have enjoyed mid-life renaissance to go on and fulfill their full potentials. In the same way, Kelechi's next step is pivotal to the future trajectory of his career.
At 23, the world is still there for the taking, so choosing a club that gives him a platform to showcase his talent, will without a doubt be the difference between being a player "who was", "who could be" and "who is".