The incredible quality of Antonio Rüdiger that changed Chelsea's story
A look at Antonio Rudiger's exceptional qualities that have kept Chelsea in the spotlight for the past two seasons ahead of his impending exit from the Stamford Bridge.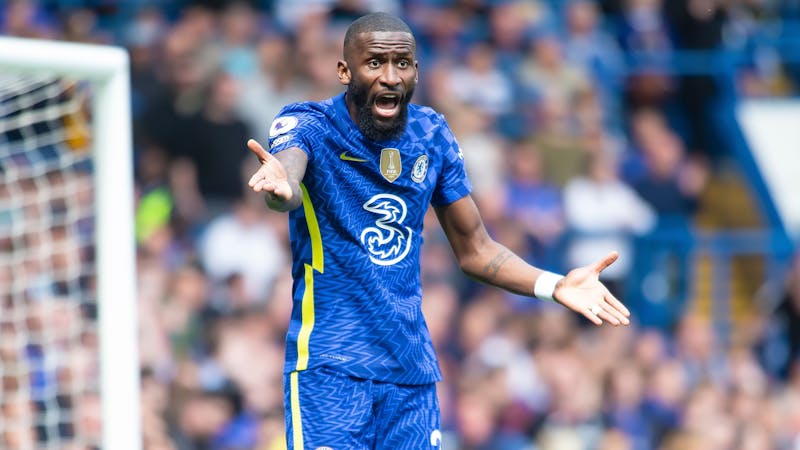 When Thomas Tuchel took over Chelsea's managerial job from former boss Frank Lampard, he oversaw the renaissance of an underdog, Antonio Rüdiger, who helped reverse the Blues' plight in 2021.
After spending half a season in the dugout, Antonio Rüdiger transformed himself into one of the best things to happen to Chelsea fans in a long time.
Despite playing only 180 minutes in Frank Lampard's final season at Stamford Bridge due to the manager's inability to maximise his ability, the German international player has proven to be a crucial player in the blue shirt under Tuchel.
Lampard's departure from Chelsea presented the 29-year-old defender with a fresh opportunity after struggling to understand his role in the then manager's four-backline formation.
Rüdiger has emerged as one of Europe's most sought-after defenders in just a season and a half under Thomas Tuchel, attracting interest from many European top clubs, including Real Madrid, Juventus, and Paris Saint-Germain.
His exceptional talent and playing style has been perfect for Thomas Tuchel's preferred back three formations. The manager, who prefers rotating his players, tried several other players in the position where he plays out wide on the left side, but could not find a comparable player of such calibre in Chelsea's team.
Rüdiger, known as a central defender, has produced excellent performances for Chelsea, playing a free role out wide with his outstanding and, to an extent, insane qualities which have only manifested in talented wing-backs like David Alaba, former Bayern Munich captain Philipp Lahm, and a slew of other great players.
His astounding qualities have contributed to Chelsea's brilliant success since last season, winning the Champions League trophy in 2021, followed by an impressive run in the current campaign.
Antonio Rüdiger's position on Thomas Tuchel's team is one that helps the manager in implementing his system.
Antonio Rüdiger's incredible talent enhanced Chelsea's success story
Full of energy and motivation, Antonio Rüdiger discovered his long-hidden talent under the tutelage of his compatriot, Thomas Tuchel, and has since gone on to become one of Europe's best defenders.
After playing a completely central defensive role in both AS Roma and his early days at Stamford Bridge, the 1.9m defender may have never believed that his actual, rightful position was playing out wide in a three-backline formation.
Under Frank Lampard, Antonio Rüdiger was just an average defender prone to errors that cost him a starting spot in his squad.
However, under Tuchel, Rüdiger brought aggression with his incredible tactics in moving the ball forward at lightning speed, which aided Chelsea's transition in both defending and attacking play, including his long-distance passing.
Rüdiger was one of the players who quickly adapted to Tuchel's fast-paced football, which was instrumental during the attack. His exceptional touches, including completing 1768 passes in league games in the 2021 season, the second-highest total of any Chelsea player, have aided Tuchel in implementing his strategy in place at Stamford Bridge.
In addition to his ability to bomb forward with intensity, Rüdiger assists Chelsea in their goal-scoring pursuit, producing 39 shots in the Premier League this season, close to Kai Havertz's 44 and Hakim Ziyech's 40 shots.
Above all, Rüdiger's high mentality, motivation, and leadership qualities in any game boosted Chelsea's morale, which facilitated his teammates to up their game.
His leadership proficiencies can be likened to the era of Manchester United's Rio Ferdinand, Roy Keane, and Eric Cantona, as well as former Chelsea defender John Terry, some of the greatest players in Premier League history.
The club fans who have enjoyed his incredible performances under Tuchel will be disappointed to learn that the talented defender will leave Stamford Bridge at the end of the season after helping to raise a great atmosphere at the club.
In the current season, Rüdiger has five goals and four assists in all competitions for Chelsea.
Antonio Rüdiger's imminent departure
After rounds of talks with Antonio Rüdiger's agent over a contract extension, Chelsea could not reach an agreement with the German international player before UK government's ban.
Though Rüdiger waited patiently to see if they could resolve the UK ban, which had not gone as planned, Chelsea's refusal to meet his £200,000 per week demand has cost them.
Real Madrid have completed the free transfer of the gifted Germain defender on a four-year contract.
Chelsea will be devastated by his departure from Stamford Bridge, as they have enjoyed every minute of his presence on the pitch in the blue shirts in the past few months. Tuchel has confirmed Rüdiger's departure at the end of the season, admitting that it will be difficult for Chelsea, given his importance.
"It can be complex enough if you lose players like Rudiger, "Tuchel said ahead of Manchester United's clash in a press conference. "It is demanding nowadays in football to lose this kind of quality. It can be a very, very demanding summer."
Chelsea are already exploiting the transfer market in search of talented defenders who could fill Rüdiger's void ahead of next season's campaign.