Mino Raiola: net worth, biography, cause of death, wife, children, successor
He was only 54. From Ibra to Donnarumma to Pogba to Haaland, we analyse the life and death of football's protagonist, Mino Raiola.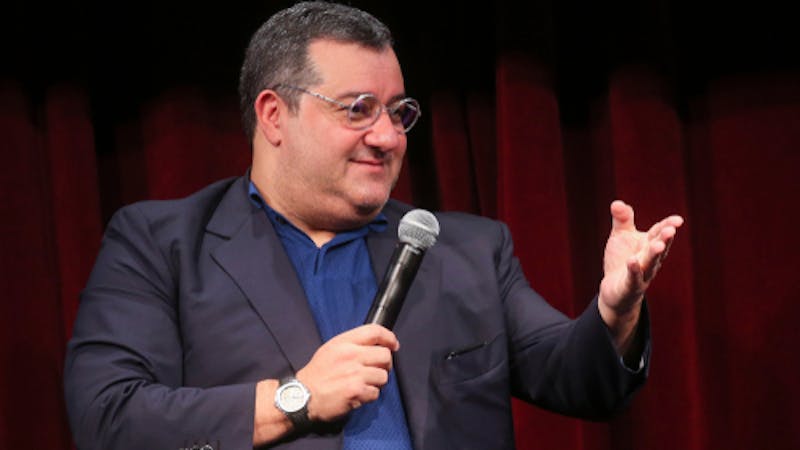 Mino Raiola, the greatest, the most talked about, the most feared by clubs, the most adored by his clients, and the most influential football agent in the world, has died at the age of 54.
Pavel Nedved, Zlatan Ibrahimovic, Paul Pogba, Matthijs De Ligt, and Gigio Donnarumma were among his represented clients. Today, this sports portal addresses the most frequently asked questions about the late football mogul.
Biography: Mino Raiola, who was he?
Raiola was born on November 4, 1967, in Nocera Inferiore, province of Salerno, to the Angri family less than a year before they moved to Haarlem, Netherlands.
His father, a mechanic at the time, successfully founded a restaurant, where the young Mino worked as a waiter. Simultaneously, Mino earned a traditional high school diploma and enrolled in a two-year university program, where he studied law.
Raiola began his football career in the Haarlem youth academy but was forced to retire at the age of eighteen. In 1987, he was appointed head of the team's development sector.
He began his voyage into business the next year, purchasing and subsequently reselling a McDonald's corporate restaurant before joining the Haarlem board of entrepreneurs. He launched Intermezzo, his first brokerage business, at the age of 20.
Raiola's success story continued when he was appointed sports director of Haarlem and then foreign representative of Dutch players after an agreement with the players' union.
Mino Raiola net worth
Mino Raiola had amassed a considerable fortune over the years, and last year, 2020 Forbes placed him fourth in the world among agents, with a net worth of 84.7 million dollars and 847.7 million dollars in closed business.
Raiola's acquisition of Al Capone's famed Miami home sparked a stir some years ago. The mansion, which was erected in 1922 on the islet of Palm Island and is situated at 93 Palm Avenue, is the same as the one where the mafioso died on January 25, 1947.
Seven bedrooms, five bathrooms, and multiple swimming pools are located within the property, which covers an area of 560 square metres.
Rise to fame: Mino Raiola's most significant transfers
In 1992, Mino Raiola brought Bryan Roy to Foggia, and in 1993 acted as a negotiator in the Ajax-Inter transfer of Dennis Bergkamp and Wim Jonk.
He then became a FIFA agent, abandoning all other endeavours in order to form the Sportman firm, headquartered in Monte Carlo but having representative offices in Brazil, the Netherlands, and the Czech Republic.
Raiola represented many participants in the Italian market, including Michel Kreek, Marciano Vink, and Pavel Nedved. He gained popularity along this road as a result of the highly renowned athletes he followed and the multimillion talks in which he was engaged, all while protecting the players' interests.
For example, in 2009, the transfer of Zlatan Ibrahimovic from Inter to Barcelona sparked controversy when a condition was inserted into the contract guaranteeing Raiola 1.2 million euros each year until 2014.
Along with the aforementioned, Mino Raiola functioned as a negotiator in the summer of 2010 and the 2011 winter transfer market, bringing Ibrahimovic, Robinho, Mark van Bommel, Urby Emanuelson, and Ddac Vilà to Milan, and Mario Balotelli to Manchester City.
The Italian was instrumental in the transfer of Ibrahimovic from Milan to Paris Saint-Germain and Paul Pogba from Manchester United to Juventus in the summer of 2012.
In January 2013, he oversaw Mario Balotelli's move from Manchester City to Milan, then in 2014, the striker's transfer from Milan to Liverpool.
He then concluded discussions for Pogba's contract extension, tying the Frenchman to Juventus until 2019. In the summer of 2015, the Super agent masterminded the return of Liverpool striker Mario Balotelli to Milan.
Raiola completed many clientele transfers to Manchester United during the summer of 2016, as free agent Ibrahimovic, Borussia Dortmund's Henrik Mkhitaryan, and Juventus' Pogba all joined the Red Devils. He earned a commission of 25 million euros as a result of the latter of these three, which was the most expensive in football history at the time.
He completed a number of moves during the summer of 2019, the most notable being the transfer of Dutchman Matthijs de Ligt from Ajax to Juventus for a total of 75 million euros and the transfer of Kostas Manolas from Rome to Naples for 36 million.
Mino Raiola: cause of death
The cause of Raiola's death is unknown, since the agent and his entourage refused to publicly discuss his condition.
It was widely reported however, that in January 12, the renowned Italian had surgery at Milan's San Raffaele hospital for a lung illness unrelated to Covid. Raiola, on the other hand, had rejected this assertion, citing just regular inspections. However, it is now clear that this was not the case and that Mino suffered from illness for months.
It is hardly coincidental that a few days after the January procedure, other reports surfaced: Bild reported that the prosecutor was hospitalised in critical care with a very complex clinical state.
Raiola's status seems to have deteriorated since then, culminating in his death on the afternoon of Saturday 30 April.
A few days earlier, a bogus statement said that Mino had surrendered the dead, but this was untrue, despite his grave condition.
The DA, or someone in his place, responded angrily with a tweet: 
"This is the second time in four months that they have murdered me."
However, days later, the family acknowledged his death, saying, 
"We would like to express our heartfelt gratitude to those who have been close to him and ask that everyone respect the privacy of family and friends at this difficult time."
We cannot confirm if his death was caused by pulmonary problems or another condition.
Successor: Who will replace & manage Raiola's players?
The solution seems self-evident. Mino Raiola's family promised continuation of representation in announcing his death: "His project will be carried out with the same zeal."
The family company will be continued by his brother Vincenzo Raiola, who has worked as an agent with Mino for years and would have already been to Juventus headquarters in recent days.
However, it is apparent that without Mino, such a large contingent of wealthy players risk collapsing whenever it comes into conflict, especially with historical adversaries lurking in the corner: most notably, Jorge Mendes.
Mino Raiola's wife and children
Mino Raiola was married to Roberta, a stylish lady who remained at his side throughout his career and beyond. 
The two met in Puglia during one of his early football adventures and dated for nearly 30 years. Their connection resulted in the birth of two children, about whom nothing is known. Both, like the well-known Mino, are connected to the world of sport in some way.
Mino Raiola clients
While Mino had previously handled some of the game's biggest names, the following are the most prominent active clients in his book at the time of his death:
De Ligt, Matthijs
Donnarumma, Gianluigi
Pogba, Paul
Verratti, Marco
De Vrij, Stefan
Lozano, Hirving 
Kean, Moise
Gravenberch, Ryan
Malen, Donyell
Thuram, Marcus
Romagnoli, Alessio
Dumfries, Denzel
Mkhitaryan, Henrik
Wijndal, Owen
Boadu, Myron 
Manolas, Konstantinos
Stengs, Calvin
Kluivert, Justin
Areola, Alfonso
Ibrahimovic, Zlatan
Balotelli, Mario
Simons, Xavi
Matuidi, Blaise