Victor Osimhen's biography, net worth, career, salary, and transfer
The complete biography of gifted Nigerian striker Victor Osimhen, his career, all salaries, net worth, and clubs he has played for.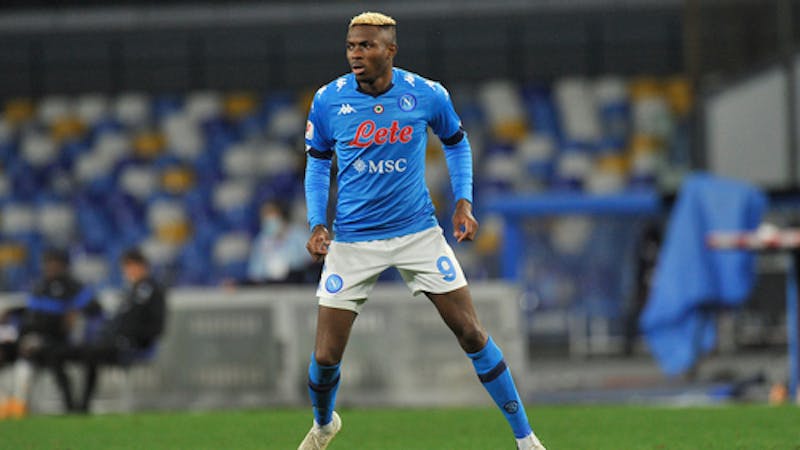 Victor Osimhen is a talented Nigerian professional footballer who has progressed to become one of Europe's best strikers, currently playing for Serie A club Napoli.
Victor Osimhen, born on December 29, 1998 (age 23) in Lagos State, Nigeria, into the family of Elder Patrick Osimhen, began playing football in primary school.
He was enrolled in the Ultimate Strikers Academy in Lagos State with the assistance of his brother Andrew, whom he regards as his mentor.
Osimhen graced an opportunity for his first trial while playing for Ultimate Strikers Academy, which helped him earn a call-up to the Nigerian U-17 team in 2015 under the leadership of former Nigerian professional footballer Emmanuel Amuneke.
He was fortunate to play with other Nigerian prospects who have made a name for themselves at the European level, including Villareal winger Samuel Chukwueze and former Huesca midfielder Kelechi Nwakali.
The opportunity to represent Nigeria at the 2015 U-17 World Cup in Chile helped Osimhen win numerous awards, including a Golden Boot award for scoring ten goals, a Silver Ball award, and the 2015 CAF Youth Player of the Year award.
The talented striker drew the attention of some top European clubs after his incredible performance in the tournament, including his 56-minute goal in the 2-0 win at the final in Chile's Estadio Sausalito, which helped him pursue his senior career level.
Victor Osimhen's senior career
After the outstanding performances in Chile, Victor Osimhen signed a three-year and half pre-contract with German Bundesliga side VfL Wolfsburg, which he completed on January 5, 2017.
With Wolfsburg, Osmihen only made 13 appearances before moving to Belgium side Charleroi on loan in 2018 after a failed summer trial with the Belgian Pro champions Club Brugge.
At Charleroi, Victor Osimhen showed why he could be trusted to lead a front line, scoring 20 goals in 36 appearances, including his 12 league goals that made him the tenth top scorer that year.
Following Osmihen's outstanding performances in Belgium, he attracted the attention of French Ligue 1 side Lille, who rushed to acquire his services the following season.
At 21, Osimhen was presented with the opportunity to play in a European competition with Lille in the UEFA Champions League. Following his switch to French Ligue 1, Victor Osimhen made a bright start to his Lille career, scoring a brace in his debut in a 2-1 victory against Nantes.
The Nigerian striker had a good season, with Lille finishing as the club's player of the year owing to his stunning goal tally of 18 in 38 appearances in all competitions.
With 13 league goals that year, Victor Osimhen was ranked the 8th top scorer in French Ligue 1, a feat that gained him even more attention from different European elite clubs, including Arsenal, Manchester United, and Napoli.
Victor Osimhen's rise in Serie A
After just one year with Lille, Victor Osimhen became irresistible to different top scouts. Arsenal, Manchester United, Real Madrid, and Napoli were linked with a move for the gifted Nigerian striker.
Osimhen became one of Europe's most sought-after strikers, joining the likes of Erling Haaland and Romelu Lukaku in the ranks of players who were piling their trade that year.
Following months of speculation, Napoli became the lucky team to sign the gifted striker at a club-record fee of €70 million in the summer transfer window, which would rise to €80 million with add-ons.
Since joining Napoli, Victor Osimhen has developed himself even further with the Italian club, scoring 10 goals in his debut season.
This term, Osimhen scored 16 goals in 32 appearances in all competitions, almost doubling his tally from last season to become Serie A Best Young Player 2021-2022. This season's stunning performances have triggered so much speculation about his future at Napoli.
Victor Osimhen's transfer update
In the current transfer window, Victor Osimhen is linked with a move to different top clubs, including Liverpool and Arsenal, but the striker has communicated his wish to stay in Napoli.
The 23-year-old, valued at €80 million, is a prominent target for many clubs, but it is still unclear if Napoli could give him out if the right offer comes.
Victor Osimhen's jersey number
Having played for different European clubs since making his U-17 debut, Victor Osimhen has worn different shirt numbers for the four clubs he has represented.
He wore jersey number 18 for Wolfsburg before being loaned out to RSC Charleroi, where he wore jersey number 45.
At Lille, Osimhen changed three different jersey numbers, 16, 12, and 7, before the end of his one-year spell with the French club.
Presently, Victor Osimhen wears jersey number 9 at Napoli, a jersey number that Fernando Llorente and Gonzalo Higuaín have previously worn during their days with Naples.
Victor Osimhen's net worth and salaries
Having played for different European top clubs, Victor Osimhen has earned vast salaries through his hard work, which has increased his net worth. In his early career at Wolfsburg, the Nigerian striker earned a £3,500 weekly salary, totaling £182,000 in yearly income.
Moving to Lille, Osimhen's salary grew more extensive, with a weekly salary of £19,000, almost a million dollars per year. Currently, Victor Osimhen earns over five times his salary at Lille, with a weekly salary of £112,000, amounting to £5,824,000 per year, which has increased his net worth.
Generally, Victor Osimhen's net worth is around £13,598,000, a huge income for the gifted striker who has worked so hard to have such a huge net worth.
Moving to a bigger club in the current transfer window would massively increase his net worth.