List of best dribblers and fastest players in the world
On the back of two consecutive player of the months award in Russia, Nigerian dazzler, Chidera Ejuke, has taken his recognition to the global stage.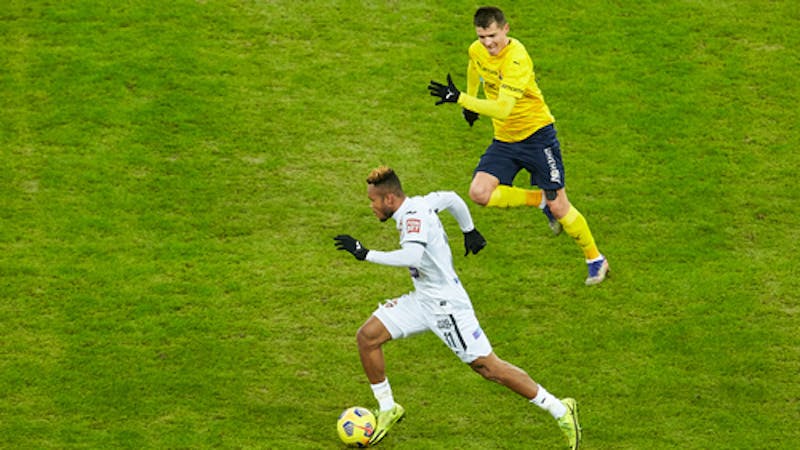 On the back of two consecutive player of the months award in Russia, Nigerian dazzler, Chidera Ejuke, has taken his recognition to the global stage, according to official November reports from CIES football observatory. 
The dribbling report tagged "Issue number 354", covers players from the top 33 leagues worldwide, and considers only footballers with at least 40 dribbles completed this season. 
Citing this very competitive criteria, the fleet-footed Wolverhampton winger, Adama Traore, came out trumps amongst his contemporaries as the world's current best dribbler. Following some paces behind is South American-based Nahuel Luján, an Argentine forward. 
But of most interest to us was Nigerian dribbling king, Chidera Ejuke, who is now officially the 3rd best dribbler in the world and the best in Africa. Playing in the Eurasian nation of Russia with CSKA Moscow, Chidera was a fair mile ahead of fourth-placed Erick de Arruda. 
The former Heerenven winger has completed 48 leg-splitting dribbles this term at a rate of 65%. Born in the northern city of Zaria, Kaduna State in Nigeria, the 23-year-old is also the youngest of the top 4 on this list. 
Relatively unknown to the Nigerian audience, Ejuke announced himself to the green country in an October 13th friendly cameo against Tunisia in 2020, effortlessly weaving past the North African defence with enviable ease. 
This marked his first ever cap for his home country, but, he had to patiently await his next call up to the national setup, an invite which came almost a year after his first. 
After humiliating the Central African Republic defence in two sequences of individual brilliance in his fifth appearance, Nigerians were once again reminded of the ability in this young man's possession, as he earned comparison with legendary midfielder, Jay-Jay Okocha. 
Less than a month following this display, he is now the third best dribbler in professional football worldwide.
Top 10 best dribblers in the world football
Here is the complete list of the ten best dribblers in the world currently according to CIES:
Adama Traore - Wolverhampton FC - Spanish 
Nahuel Luján - Universidad de Chile - Argentine 
Chidera Ejuke CSKA Moskva - Nigerian
Erick de Arruda - Ceará SC - Brazilian 
Manor Solomon - Shakhtar Donetsk - Israeli 
Mounir Chouiar - Yeni Malatyaspor - French 
Khvicha Kvaratskhelia - Rubin Kazan - Georgian
David Fofana - Molde FK - Ivorian
Igor Ivanović - Shakhtyor Soligorsk - Montenegrin 
Haissem Hassan - CD Mirandés - French 
A speed daemon
Although his ability to take on any opposition is the most discernible attribute in his repertoire, another official body in the form of Fifa-licensed video game, FIFA 22, have also pinpointed Ejuke as one of the most pacy footballers on earth. 
In the newly released EA Sports football simulation franchise, FIFA 22, Ejuke was awarded the virtual accolade of being the joint-seventh fastest player in the world, along with 12 other players. 
The Nigerian might have been seething at his low overall score of 74, but will now find a much-deserved compensation in his speed ratings. 
With a pace of 94, Chidera just falls short of Kylian Mbappe's game-high searing value of 97.
Top 20 fastest footballers in the world
Here is the full list of the 20 fastest players in the world according to Fifa 22:
Kylian Mbappé - Paris Saint-Germain - ST - 97 PAC
Adama Traoré - Wolves - RW - 96 PAC
Alphonso Davies - Bayern München - LB - 96 PAC
Daniel James - Leeds - RM - 95 PAC
Achraf Hakimi - Paris Saint-Germain - RB - 95 PAC
Vinícius Jr. - Real Madrid - LW - 95 PAC
Gerrit Holtmann - VfL Bochum - LM - 94 PAC
Ismaïla Sarr - Watford - RW - 94 PAC
Georges-Kévin Nkoudou - Beşiktaş - LM - 94 PAC
Linton Maina - Hannover 96 - RM - 94 PAC
Rhayner - Sanfrecce Hiroshima - RM - 94 PAC
Tom Barkhuizen - Preston North End - RM - 94 PAC
Takeshi Kanamori - Avispa Fukuoka - RM - 94 PAC
Rafa - Benfica - RM - 94 PAC
Frank Acheampong - Shenzhen FC - LW - 94 PAC
Iñaki Williams - Athletic Club de Bilbao - ST - 94 PAC
Sebastián Villa - Boca Juniors - RM - 94 PAC
Chidera Ejuke - CSKA Moscow - LM - 94 PAC
Moussa Diaby - Bayer 04 Leverkusen - LW - 94 PAC
Theo Hernández - Milan - LB - 93 PAC
So far in the 2021/22 campaign, Ejuke has 5 goals and 4 assists in 29 games, just one total ahead of his goalmouth contribution in the entirety of last season. However, his future at the club is up in the air, with Russian football participants banned from international football and facing heavy penalties from various strata of the world.
What is CIES?
According to Wikipedia:
The International Centre for Sports Studies, known mostly by the initials CIES from the French Centre International d'Etude du Sport, is an independent, research and education organization, located in Neuchâtel, Switzerland, that collates data from around the world.