Cristiano Ronaldo shares beautiful picture of his family on holiday
Manchester United star Cristiano Ronaldo has shared a beautiful picture of him and his family as they jet off on vacation.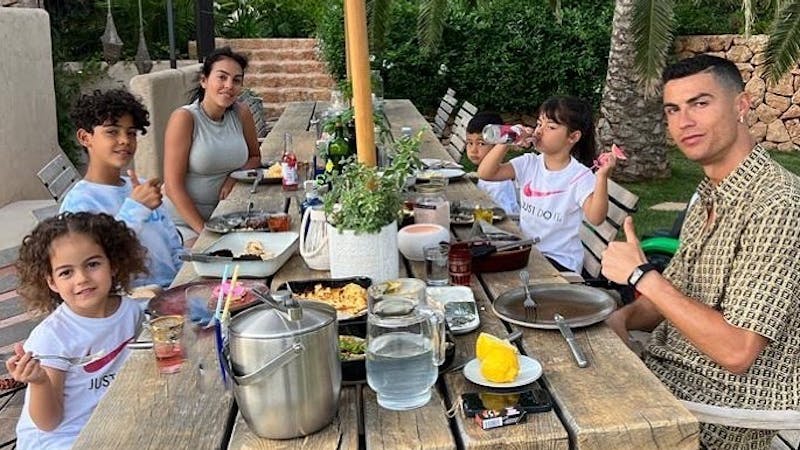 Since the end of the 2021 season, Cristiano Ronaldo has been occupied with international duties with the Portuguese national team in the Nations League tournament, which has hindered him from taking a break.
The 37-year-old played in Portugal's Nations League matches against Spain, Switzerland, and Czech Republic in Group A before he was ruled out through injury in the second leg of their 1-0 defeat against Switzerland.
Though Ronaldo was ruled out, he did manage to score two goals in their 4-0 win over Switzerland in the first leg, bringing his international goal-scoring record as the all-time leading goalscorer to 117 in 189 appearances for the Portuguese national team.
With the Nations League not resuming until September, Cristiano Ronaldo has taken the opportunity to spend time with his family, including his newborn baby, Bella Esmarelda.
Cristiano Ronaldo won the Nations League Cup as captain of the Portuguese national team in 2019.
Ronaldo posted an Instagram photo of himself and his family eating dinner in an unknown location with the caption, "Vacation with love!" It is the first time Ronaldo spending time out with his family since the end of the 2021 season due to the two-week Nations League schedule.
He will be delighted to embark on such a lovely luxury vacation after Portugal finished second in Nations League Group A, one point behind first-placed Spain and three points ahead of third-placed Switzerland.
While enjoying such a lovely vacation, Ronaldo will have the start of the 2022 season with Manchester United under new manager Erik ten Hag at the back of his mind.
With only one year left on his contract, Erik ten Hag has expressed a desire to work with Ronaldo next season, even after some supporters called for his release.
Though Manchester United managed to qualify for the Europa League, Ronaldo finished his season on a high note, making the Premier League team of the season and winning Manchester United's player of the season award with 24 goals in 38 appearances in all competitions.
As Manchester United prepares for pre-season, it is unclear whether Ronaldo will participate, as ten Hag may give him some time off.
Ronaldo finished as the Premier League's third highest goalscorer last season with 18 goals in 30 appearances
Manchester United's pre-season tour schedule, date, and location
Manchester United will embark on a pre-season tour in preparation for the upcoming 2022 season, visiting Bangkok in Thailand, Melbourne in Australia, Perth in Australia, and Oslo in Norway.
The Old Trafford faithful will kick off their pre-season tour against bitter rival Liverpool on July 12 at Rajamangala Stadium, Thailand, in what will be Erik ten Hag's first match in charge of the Red Devils.
On July 15, Manchester United will fly to Australia to face local team, Melbourne Victory, and Premier League rivals, Crystal Palace, at Melbourne Cricket Ground.
Erik ten Hag and his team will travel to Perth on July 23 to face Steven Gerald's Aston Villa at the Optus Stadium before heading to Oslo on Saturday, July 30, to encounter Spanish side Atletico Madrid.
Finally, Manchester United will return to Old Trafford on Sunday, July 31, for their final pre-season match against Rayo Vallecano, in what will be Erik ten Hag's first match at Old Trafford.