Diogo Jota's impressive stats prove he deserved a new contract
Liverpool's gifted forward, Diogo Jota, has been rewarded with a new contract after two successful seasons, prompting Zonalsports to bring you his outstanding performance that earned him such recognition.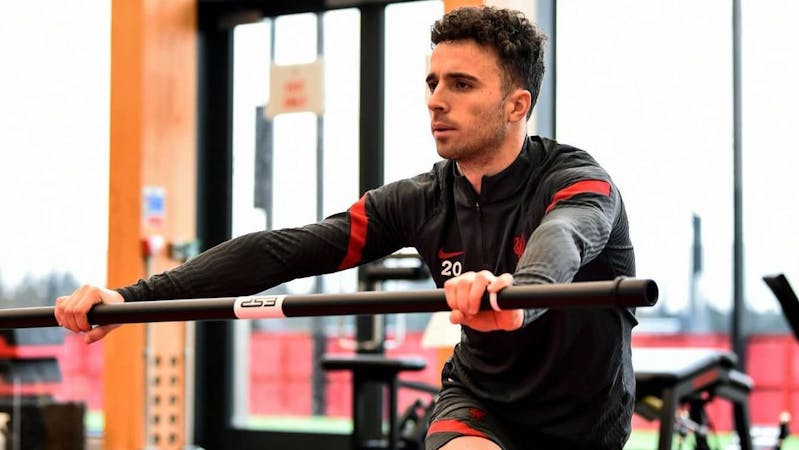 In December 2021, Liverpool manager Jürgen Klopp couldn't help but voice out that Diogo Jota had outperformed his expectations when he arrived at Anfield from Wolverhampton Wanderers.
The German manager signed Jota last two seasons after his successful stint with Wolves, where he netted 44 goals in all competitions for the Premier League side.
Since Diogo Jota arrived at Liverpool, he has become one of the best performers in the red shirt, with 34 goals in all competitions.
Diogo Jota's arrival in 2020 marked the first time a player squeezed himself into Jürgen Klopp's regular front three of Sadio Mane, Mohamed Salah, and Roberto Firmino. The 25-year-old earned a spot in Liverpool's attacking three, depriving Brazilian striker Roberto Firmino of some playing time.
Last season, the Portuguese star demonstrated why he could be trusted after an injury setback in his debut season at Anfield, after scoring 21 goals to surpass his previous tally of 13 goals, which ranked third among Liverpool's players.
Diogo Jota won the FA Cup and EFL Cup with Liverpool last season.
Following his impressive performances, Liverpool announced on Tuesday that they had rewarded Diogo Jota with a long-term contract which will see him continue his successful stint at Anfield.
Jürgen Klopp has praised the Portuguese star once more, recognizing his quality and versatility after putting pen to paper, revealing that he brings many options to his team.
"His qualities are obvious, "Klopp said. He scores goals–not a bad quality–he works unbelievably hard for the team, his pressing and counter-pressing is at an unbelievable level, he can play in all of our attacking roles, and he has an incredible attitude. Not a bad package. Not bad at all.
"As a striker who can play on the wing, he gives us so many options, and since he came to Liverpool, he has improved so much," the manager added.
Diogo Jota missed Liverpool's pre-season games due to a knee injury sustained while playing for the Portuguese national team in Euro qualification. The talented forward would likely miss Liverpool's first two Premier League opening matches against Fulham and Crystal Palace on August 6th and 15th after revealing that he would return to training in the coming weeks.
"Unfortunately for me, I had an upset in this pre-season because I got injured in the last game of the season playing with Portugal," Jota revealed. "So I was coming back in this pre-season; I felt it a bit again." " So it will be a few more weeks, I would say."
With too many talented players at Jürgen Klopp's disposal, Jota may face fierce competition for a spot in Liverpool's starting lineup when he returns.