Prison FC players: Ultimate list of footballers who have spent time in jail
Crime is prevelant in every walk of life, and football is no exception. This is the most extensive list of Prison FC players, footballers who have spent time in jail.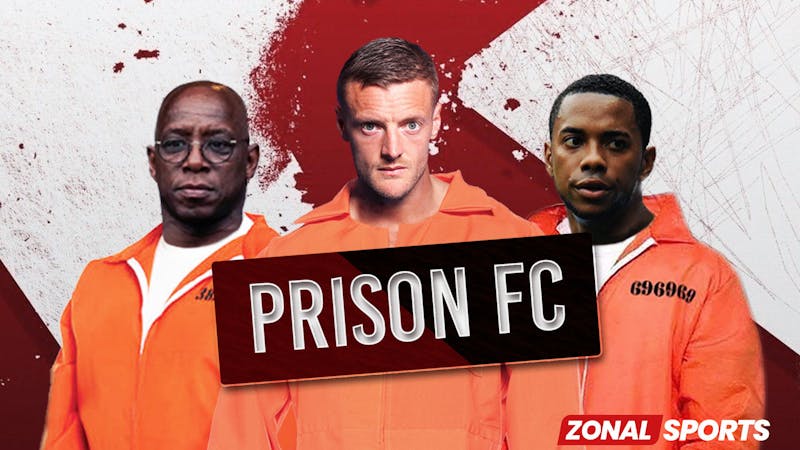 Who are Prison FC players? For many footballers, reaching the pinnacle of the sport, especially from a humble beginning in grassroot academies, requires sacrifice and commitment, but others are prepared to throw it all away in a fit of wrath or avarice that lands them in prison.
Those who have returned to the field of play, no matter how short their jail stint, will never be able to erase this mark from their record. However, do you know of any football players who have done time in prison?
Due to the propriety attributed to soccer stars, any error has major societal repercussions. If a football player has breached the rules of law, the prosecution begins with the media. 
As the social media era progresses, many crimes and misdemeanors will be scrutinized more closely than ever, and footballers will be among the most significant victims of these new viewpoints.
It is not unusual for footballers, temperamental or not, to be convicted of a crime; nevertheless, in this case, we are no longer on the verge of excessive behavior but criminality.
These crimes do not discriminate based on country, team, or age since both young prospects and veteran superstars have committed them.
The 2022 football season started on a criminal note, with phrases such as "Prison FC" being synonymous with players like Benjamin Mendy, Mason Greenwood, and Kurt Zouma, who have had run-ins with the authorities.
Unlike the aforementioned offenses, however, the most prevalent crimes among soccer players seem to be financially driven, with stars such as Neymar and Messi convicted of mismanagement, corruption, or tax evasion.
Therefore, ZonalSports has only included in this list of football delinquent players who have spent considerable jail time.
Players like 
have not been considered.
We at ZonalSports and its affiliates have immense sympathy for tragedy victims and will never trivialize crime. However, to moderate the sobriety of this write-up, we have adopted the amusing phrase "Prison FC" to allude to minor infractions.
This page exclusively includes football stars who have spent over two weeks in jail, regardless of the offense.
Without further ado, here is the ultimate squad of Prison FC players:
Jermaine Pennant
/Photograph by Chensiyuan, distributed under a CC-BY 4.0 license
In 1999, when Arsenal paid £2 million for 16-year-old Jermaine Pennant, he became the world's most expensive teenage footballer. During the following six years, Pennant would play just over a dozen games for the Gunners, initially falling short of expectations.
In 2005, however, the 21-year-old was imprisoned for driving under the influence and transferred to Prison FC for three years.
After a month of imprisonment, Jermaine was freed and wore an electronic tag for a long time. Consequently, he became the first player in Premier League history to wear an electronic tag while playing.
In contrast to his off-field drinking, his playing career was anything from inebriated, as he was once rated the best player in a Champions League final against Liverpool and Real Madrid.
Nizar Trabelsi
The Tunisian only played one game for Fortuna Dusseldorf in Germany, scoring one goal, but shortly afterward, was apprehended as a member of the terrorist organization Al-Qaeda. While his teammates were focused on training, Trabelsi was planning an assault on the US embassy in Paris, where he would blow himself up as a suicide bomber. 
On September 13, 2001, 48 hours after the worst day in American history, he intended to drive a truck with 950 kg of explosives to an American military station and detonate himself there.
Fortunately, local intelligence agencies were able to uncover the plot and prevented the terrorist strike.
In 2003, the football player was sentenced to 10 years in jail.
Joey Barton
/Photograph by Brian Minkoff-London Pixels, distributed under a CC-BY 4.0 license
Barton is one of those athletes who worked diligently to earn his notoriety. He had been extensively pursued by Prison FC for years due to his impressive resume, which included incidents in which he threw out a cigarette in the face of a teammate and received senseless red cards when playing for Manchester City.
Barton was involved in a drunken incident at a McDonald's in Liverpool while playing for Newcastle at the end of 2007.
Joey, along with his brother and a mutual acquaintance, instigated a fight that resulted in a person losing consciousness after receiving two dozen blows to the face and another teen losing multiple teeth.
In May 2008, following years of transfer proposals, Prison FC got their man to a six-month contract; nevertheless, he was released after 77 days.
Vladislav Piskun
On November 21, 2010, Lina Voronova, age 26, and her daughters Kira and Nastya fell victim to a senseless act of egoism from a footballing superstar. As the three women and their father walked down the sidewalk, it seemed inconceivable that just one would be alive at the end of the walk. In a sudden turn of events, all three women were killed by an overspeeding BMW driven by Vladislav Piskun.
The Sevastopol player would later acknowledge that the disaster happened as a result of his and his friend's irresponsibility in engaging in an impromptu race. In 2011, the Ukrainian was sentenced to nine years in jail, three years for each victim, after an inquiry.
The world of football, including the President of Sevastopol, Alexander Krasilnikov, refused to back his player, stating, 
"We don't disavow him; it's simply that what he did is beyond comprehension and incompatible with our squad."
Following the occurrences, Piskun felt remorse and openly acknowledged his culpability. According to rumors, he tried to hang himself while in detention but was stopped in the act.
Brandao
 Brando's jail sentence for stadium-related conduct is an extremely unusual incident in professional football. During a stoppage in the August 2012 encounter between PSG and Bastia, the Brazilian elected to get revenge on Thiago Motta, the Parisian midfielder.
Brando turned a thug in the tunnel and waited for Motta in the area beneath the tribune, where he headbutted his victim before rushing into the Bastia locker room.
The Parisian escaped with a shattered nose, but Brando was publicly reprimanded. It is well known that Motta is not a saint, but Brandao's behavior was, to put it mildly, disgusting.
Bastia disowned Brando after the event, the French Football Federation suspended him for six months, and the player apologized many times, but it was too late.
Under the direction of Prison FC, the Paris Correctional Court imposed a minimum of one month in jail as punishment.
Edmundo
/Photograph by Alex Carvalho, distributed under a CC-BY 2.0 license
In 1995, former Flamengo player Edmundo was engaged in a car accident that resulted in the deaths of three people.
After spending one night in jail, Edmundo was sentenced to four and a half years in a semi-open prison for homicide and bodily injury. In 2011, the Federal Supreme Court rejected the lawsuit.
Nordine Mokrani
Nordine Mokrani, a former professional footballer from Valenciennes, signed a three-year agreement with Prison FC after opting to pursue a career as a drug dealer.
Godwin Okpara
Former Paris Saint-Germain player Godwin Okpara's case is one of the most flagitious on this list of football ex-convicts. In 2007, the Nigerian was sentenced to thirteen years in jail in 2007 for raping, torturing, and enslaving his adoptive daughter, Tina, as a teenager.
Under the guise of a better life in the French colony, Okpara had transported the young girl to Europe, and according to French officials. She was exposed to two years of repeated sexual abuse by her father.
Instead of enjoying the benefits of having a wealthy father, the victim served as a babysitter for the footballer's four children.
Tina was raped for the first time at age 15 in 2003, just two years after relocating to France at age 12 in 2001 (some newspapers mention 13, but Tina affirmed she was 12 in an interview).
This libertinage lasted until February 2005, when Linda, Okpara's wife, caught them and took out her fury on the youngster. Like her husband, Linda was sentenced to 15 years in jail for physically torturing and beating the child, including shaving her head.
The former Strasbourg player migrated to Lagos, Nigeria, after finishing his time.
Soufiane Kone
Soufiane Kone, a French athlete who grew up in Nancy, was sentenced to five years in prison in 2011 in a dubious drug case.
Alessandro Mancini
Alessandro Mancini, a former Brazilian footballer who played for AS Roma and Inter, was sentenced to three years in jail in 2011 for raping an intoxicated model.
Adam Johnson
Adam Johnson moved to Man City in 2010, where he won the Premier League and FA Cup after a tough start. Adam was unable to get a starting position on the star-studded roster.
In 2012, he moved to Sunderland, where he played until his imprisonment. In 2016, the police detained the football player on accusations of pedophilia.
A year before, Adam had tried to seduce a 15-year-old Sunderland fan who was a passionate follower of his. After chasing the young woman on social media while his wife was pregnant, the Black Cats player ultimately had sexual contact with her.
After being freed on bail after his imprisonment, his Sunderland coach, Sam Allardyce, opted to recall him for another season.
Johnson was sentenced to six years in jail, during which time he was often abused and harassed by his fellow prisoners. He is today a free man.
Mickey Thomas
Towards the end of a career that saw him play for Chelsea, Manchester United, Everton, and Leeds, Mickey Thomas returned to Wrexham, where he was engaged in an incident that cost him his freedom.
In 1993, the Welshman was arrested for being a part of a criminal organization that distributed counterfeit currency and was sentenced to 18 months in jail for distributing ten and twenty-pound notes via coaches and the youth team.
Rubén Semedo
/Photograph by Roger Gorączniak, distributed under a CC-BY 2.0 license
Semedo, a native of Amadora, had a turbulent beginning to life after joining Villarreal from Sporting CP for 14 million euros in the summer of 2017.
On February 22, 2018, he was apprehended and sentenced to five months in jail for abduction, assault, death threats, attempted murder, and illegally carrying a firearm.
Predrag Stankovic
The former player from Serbia was convicted of drug trafficking and sentenced to nine years in jail.
Gilbert Bodart
Bodart, a former Belgium goalkeeper, was once signed by Prison FC for counterfeit currency trafficking and participation in a crime.
Frank Rincon
The former Colombian international for Real Madrid was sentenced to four months in jail for drug trafficking and money laundering.
Tony Vairelles
Tony Vairelles, nicknamed "Elvis of Football," has a darker narrative than the musician's song. In late October 2011, he and three of his brothers were charged with the attempted murder of a bouncer at a nightclub in Nancy. Vairelles was incarcerated for a year and a half before being released under court monitoring.
Mancini
/Photograph by Steindy, distributed under a CC-BY 3.0 license
Mancini, a former footballer for AS Roma, Inter Milan, and AC Milan, was found guilty of raping a young lady at a party hosted by Ronaldinho, his teammate at the time.
He was given a prison term of two years and eight months.
Breno
In September 2011, while intoxicated and inside his home, Breno decided to set fire to it. Thankfully, the wife and children were not present at the time of the occurrence; however, the player, who had been poisoned by carbon monoxide, leaped from the second story to the grass, where he remained until aid arrived.
In 2012, Prison FC relieved him of his agony by signing him to a three-year deal before his release in December 2014 for good behavior.
After being released, the Brazilian played for Sao Paulo and was ultimately appointed to lead the Die Roten bench.
But many have pondered, "Why did this calamity arise in the first place?" There are five probable explanations: 
a suicide attempt,
acute alcohol intoxication, 
anger over a dispute with his wife,
dissatisfaction over a knee injury, and 
the most likely, according to investigations is insurance fraud.
Maxim Molokoedov
Molokoedov may only be referred to in inverted commas as a "professional football player."
After ascending from obscure St. Petersburg clubs to the Chilean championship, he was convicted of drug trafficking and sentenced to three years in jail.
Most analysts believe this action was the driving force for the migration to South America.
Ian Wright
Arsenal icon Ian Wright suffered financially and was a short-term Prison FC player before kicking off his Premier League legend. 
The provision in this contract attributed this transfer to the Englishman's failure to pay penalties for driving in Chelmsford without a license or insurance.
In jail, he vowed to God that he would do all possible to succeed as a football player. The rest, they say...
Jan Mulder
/Photograph by Hans Peters / Anefo, distributed under a CC-BY 3.0 license
Jan Mulder was a hard-working player who appeared in 16 games for Feyenoord during the 1989-1990 season. But years after his professional football career, the former left-back ended up in jail.
For the murder of a friend, he was forced to live among society's worst for seven years.
Fabrizio Miccoli
Italy is linked to pizza, pasta, the beach, and soccer but is also synonymous with organized crime. This was the situation with former La Squadra Azzurra international Miccoli, who secured a shock transfer to Prison FC due to his connections with the Italian mafia.
The ten-time international was sentenced to three and a half years in prison in November 2021. Along with Mauro Lauricella, son of mafia leader Antonino Calderone, the Juventus striker was found guilty of extorting 20,000 euros from a businessman.
Vincenzo Iaquinta
/Photograph by Carlo "Granchius" Bonini, distributed under a CC-BY 3.0 license
Vincenzo Iaquinta, a 2006 World Cup champion with 40 international caps, was acquired by Prison FC in October 2018 for his involvement in organized crime.
His father Giuseppe was sentenced to 19 years in prison after links to the 'Ndrangheta mafia organization were established.
The residence of the Iaquinta family was searched, and dozens of illegal firearms were found.
Marco Pappa
Former Heerenveen footballer Marco Pappa was sentenced to five years in jail for assaulting his fiancée in Guatemala.
Troy Deeney
/Photograph by Franziska, distributed under a CC-BY 2.0 license
"Here's Hogg... DEEEENEYYYYYYYYYYYYYYYYYYYYYYYYY. "
Yep. The individual who experienced that epoch-making event was also a Prison FC player prior to his participation in one of the most amazing sequences of human occurrences.
The Englishman had already signed a contract with Watford at the time of the incident, and despite being found guilty and sentenced to prison, he was not fired from his club.
He repaid their trust by promoting them to the Premier League while wearing the captain's armband upon his return.
Omar 'Gato' Ortiz
After a series of ups and downs in his career owing to drug difficulties, the former Rayados goalie made his debut for the Mexican National Team in 2002.
His career looked to be headed on the right path, but everything went south when he was detained in 2012 on accusations of abduction and charged with kidnapping.
Despite not having been convicted, the goaltender is currently in jail.
Rolland Courbis
/Photograph by Ludovic Péron, distributed under a CC-BY 3.0 license
Courbis' raspy voice on RMC may make him look pleasant, yet he has an extensive criminal history.
The French man's dubious operations range from the SC Toulon slush fund through the Palm Beach baronage, OM accounts, and the Rutily scandal. In October 2007, Prison FC signed him on a two-year contract.
However, since 2010, he hasn't had any legal difficulties, as he looks to have turned a new leaf.
Rene Higuita
Rene Higuita, a mercurial goalkeeper from Colombia known for his scorpion kick saves, had a hectic life off the field. In 1990, the World Cup quarter-finalist who had luxuriant, long hair was linked to Pablo Escobar, a drug lord from South America. The latter, who was well known to be an avid football enthusiast, exploited the sport to launder money.
A life sized mural of Rene Higuita
In 1993, the goaltender mediated a deal between Pablo Escobar and Carlos Molina that resulted in the release of Molina's abducted daughter. Higuita was compensated $64,000.
A subsequent investigation revealed that such a reward violated Colombian law, which forbids benefiting from kidnappings.
Higuita was sentenced to seven months in jail and missed the 1994 World Cup since he was not charged with any offenses.
Although the goalie participated in a hunger strike, he was not freed early. After being released from prison, he resumed his football career and played for an additional sixteen years.
Duncan Ferguson
In 1994, a few months prior to his transfer from Glasgow Rangers to Everton, the nephew of the famous Sir Alex Ferguson was involved in a contentious incident.
On April 16, 1994, he headbutted John McStay against Raith Rovers. Despite receiving a warning on the pitch, Duncan was given 44 days in jail for assault.
While jailed, Duncan received letters of encouragement from followers, one of which was sent by a young Everton fan. He is known as Wayne Rooney.
Fabio Cannavaro
Cannavaro, the 2011 world champion and Ballon d'Or winner was accused of tax evasion and sentenced to 10 months in jail.
Yuri Sevidov
Son of the great football player and coach Alexander Sevidov, Yuri Sevidov was a talented goal-scoring forward.
At 17, he joined Spartak, where he played 146 matches and scored 71 goals in five years. These outstanding results led to his selection to the USSR Olympic squad in 1964, when he scored in the Tokyo-held tournament.
Sevidov killed Academician Dmitry Ryabchikov, a recipient of the Stalin Prize, the Order of Lenin, and two Orders of the Red Banner of Labor while driving a Ford in 1965. Yuri asserts he did not see the scientist.
Ryabchikov suffered a fractured leg, but he died in the hospital due to heart failure caused by a misjudged anesthesia dose.
Despite indirect participation in the death, Sevidov was sentenced to 10 years in jail and deprived of the title of master of sports for this incident. According to Ryabchikov's acquaintance, the scientist was intoxicated that evening.
The player was granted amnesty after serving four years in prison and went on to play for Kairat, Karpaty, Shakhtar Donetsk, and Spartak Ryazan.
In his later years, Sevidov became a coach for several small clubs, including FC Shinnik Yaroslavl and FC Legion Dynamo Makhachkala.
Vladimir Ilyin
/Photograph by Анна Нэсси, distributed under a CC-BY 3.0 license
Early in his career, former Dynamo Moscow player Alexander Ilyin had great potential before being loaned to Sakhalin and Dynamo St. Petersburg. Prior to 2015, nothing remarkable occurred in the football player's career.
However, on September 12, 2015, Ilyin lost control while driving in the opposing lane of the Novopriozerskoe highway and collided with five vehicles. Two of the victims were fatally wounded, while the third was left in critical condition.
In 2016, the football player was sentenced to 5 years and 10 months in prison after a test revealed he was intoxicated.
After his release from jail, the player returned to the sport, joining the Crimean Kyzyltash in January 2021, before moving to Moscow in July.
Jamie Vardy
/Photograph by @cfcunofficial (Chelsea Debs) London, distributed under a CC-BY 3.0 license
Jamie Vardy, one of Prison FC's former players, has traveled far to become a potential Premier League great. 
When he was 20 years old, Vardy fought at a pub while playing in the English seventh division, a regular occurrence for Englishmen. However, he had to wear a bracelet that limited him to his house and required him to be at his residence daily at 6:30 p.m.
From there, the story turns far fantasy: he advances gradually through the ranks, gets recruited by Leicester, and plays one or two ghost seasons until exploding at age thirty. The beautiful game. 
Ghislain Anselmini
Former Lyon footballer Ghislain Anselmini was imprisoned in 2015 for trying to kidnap former teammate Fabrice Fiorèse and was incarcerated for nineteen months.
Souleymane Diawara
Who doesn't remember Souleymane Diawara, the relentless central defender who won the French title in 2009 and 2010 with Girondins de Bordeaux and Olympique de Marseille, respectively?
After four years of outstanding and devoted service, the Senegalese rock transferred a few kilometers away from the Cannebière to Nice, aiming for a peaceful sunset in the Alpes-Maritimes.
However, Diawara was placed in the management of Prison FC on April 15, 2015, after just 15 games with the Aiglons. This is a result of his actions after learning that a Porsche Cayenne he paid 50,000 euros for was stolen.
/Photograph by Clément Bucco-Lechat, distributed under a CC-BY 2.0 license
In retribution, he sent his brother and three other friends to "retrieve" his money. 
The entourage of Diawara grabbed a BMW as collateral, but under French law, this constitutes "extortion." In the hearing, the prosecutor had requested that the player serve three years in prison, but he avoided the worst by paying a fine of 10,800 euros.
Despite this, he had been detained for two and a half months throughout the inquiry.
Tony Adams
Tony's entire career was spent at Arsenal, where he appeared in over 500 games and wore the captain's armband as a crucial component of the London club's defense that won 13 trophies. However, if he hadn't struggled with alcoholism, his career as a defender would have been considerably more successful.
Tony had a drinking problem in the 1980s when alcoholism was prevalent in English football. The player once fell on the pavement while intoxicated, sustaining a concussion and a head wound that needed around 30 stitches.
In 1991, Adams was again arrested for driving under the influence and sentenced to four months in prison. In 1996, Tony acknowledged having an alcohol problem and started attending treatment programs. 
After overcoming his addiction, he penned a book in which he claimed to have battled alcoholism since the age of 20 before wrestling back control.
Tony also founded an alcohol and drug rehabilitation clinic in 2000, known electronically as Sporting Chance Clinic, which now assists others in overcoming their addictions.
Cyril Yapi
Cyril Yapi, a midfielder trained at Stade Rennais, had a spectacular ascent in the late 1990s and early 2000s. Gradually, he cemented his position in the Breton squad and participated in the team's amazing run in the 1999/2000 Intertoto Cup, culminating in a loss to Juventus in the final.
However, he failed to get enough playing time throughout the season and was loaned to Laval before trying a return in 2003 in Italian Serie B with Como. The Italians will be his penultimate club before confronting the four walls of a jail cell. 
The player was found guilty of attempting to murder his wife with a baseball bat on May 4, 2007, despite his denial of the charges. A recipient of a 15-year jail term, Yapi didn't enjoy freedom until 2022.
Ronaldinho
/Photograph by Marcos Corrêa/PR, distributed under a CC-BY 2.0 license
Ronaldinho, the winner of the Ballon d'Or, had no clue how to handle his wealth, so he delegated this task to his brother Roberto.
The latter managed all of Ronnie's financial transactions throughout his career, and it should be noted that he knew where to invest his brother's money, although not always in lawful endeavors.
When Roberto invested in the construction of a cane-processing factory on the shore of a protected lake, it was evident that he lacked business acumen.
The brothers were then assessed a substantial fine, which they had no intention of paying. Consequently, some of Ronaldinho's possessions were confiscated, and his passport was canceled.
On March 5, 2020, the Brazilian superstar and Roberto were detained at the Paraguayan airport while passing through a passport check.
Examining the paperwork revealed that they were seeking to enter the neighboring nation using falsified documents. Consequently, both were detained until the results of the inquiry.
The legend of Barcelona was swiftly captured by Prison FC, who organized a futsal tournament in his honor with other prisoners to celebrate one of their greatest signings. His acquisition paid off handsomely, as his team triumphed 11-2.
Ronaldinho and his brother were released from jail on August 25, 2020, after paying a fine of $90,000 and striking a deal with the authorities. They had been incarcerated for 171 days.
Peter Storey
Storey, a striker who defined an era in England, was convicted of operating a brothel in 1979.
Due to this occurrence, he was only there for a short time, but he would return a year later for counterfeiting gold coins and soon afterward for trying to smuggle 20 pornographic DVDs in a spare tire.
It is reasonable to believe that Prison FC did not want to lose one of its dependable players.
Pavel Mamaev and Aleksandr Kokorin
/Photograph by Майоров Владимир, distributed under a CC-BY 3.0 license
In 2016, Aleksandr Kokorin, a terrible advertisement for Russian football, got into the news with his friend Pavel Mamaev for the wrong reasons. Following Sbornaya's elimination from the Euro group stage, the two men were pictured drunk at a Monte-Carlo nightclub surrounded by champagne bottles.
Some years later, in October 2019, they went to a Moscow café with friends, including Kokorin's brother, Denis Pak, a high-ranking official in the Russian Ministry of Commerce. There they struck and damaged the vehicle of Viktor Soloviev, a taxi driver for a Channel One host.
/Photograph by Вячеслав Евдокимов, distributed under a CC-BY 3.0 license
A few hours later, they had a physical altercation with two Ministry of Industry and Trade employees at a café. Lastly, the merry guys were captured making fun of Pak's Asian ethnicity by copying the famous South Korean song Gangnam Style.
The case was blown out of proportion by the media, and as a result, the players spent nine months in a pre-trial detention cell before being moved to a colony in July 2019 to work in a sewing workshop until the decision was announced. The same year, in September, they were released.
Kokorin went on to play for Sochi and Spartak after his release before making a surprise transfer to Fiorentina in Italy in 2020. Meanwhile, Rostov went after Mamaev.
José Maria Marin
José Maria Marin, former governor of Sao Paulo, former president of the CBF, and member of the 2014 World Cup Organizing Committee gained infamy after being caught stealing a medal during the 2012 Sao Paulo Junior Football Cup presentation ceremony.
In "Fifagate," the largest corruption scandal involving the sport's top authority, he was finally charged with bank fraud and money laundering. He was held abroad by Prison FC for five years before returning to Brazil in 2020.
Leônidas da Silva
Leônidas, the Sao Paulo superstar and 1938 World Cup top scorer, was one of the first football talents to be purchased by Prison FC. He was the best player in Brazilian football in the 1930s and the top scorer in the 1938 World Cup.
He was arrested in 1941 for forging his military discharge certificate before his 8-month incarceration in the Realengo barracks.
Sandro Rosell
/Photograph by Sandro Rosell, distributed under a CC-BY 2.0 license
Along with Ricardo Teixeira, Sandro Rossell was a key figure in the money laundering allegations, the shady sale of Brazil football television rights, the Nike-CBF sponsorship deal, and Brazilian football's ties to a criminal organization that rocked South American football.
He was arrested in 2017 and served 21 months in prison before being exonerated in 2019. Therefore, the former president of Barcelona is one of Prison FC's wealthiest athletes.
Nicholas Leoz
Leoz, the president of Conmebol, the South American football association, was charged with multiple counts of corruption in the Fifagate scandal.
The US had persistently requested his extradition from Paraguayan authorities, but due to health concerns, he spent his last years under house arrest in Paraguay, and as a result of court hurdles, Leoz was allowed to remain in Paraguay until he died in 2019. 
Jobson
In 2016, Jobson was arrested in the Pará interiors on suspicion of raping four minors. In 2017, he was given parole; however, he violated the anklet restriction and was re-arrested.
Later, he was freed on the condition that he observe safety procedures, such as staying home during particular hours and avoiding bars.
Cuca, Edouardo, Henrique, and Fernando
Cuca, along with colleagues Eduardo, Henrique, and Fernando, were accused of raping a 14-year-old girl in Bern, Switzerland, in 1987, while on tour with Gremio.
Before returning to Brazil, the four athletes were remanded in Switzerland for 29 days.
Zé Elias
Former Corinthians midfielder and Brazilian national team player Zé Elias was sentenced to 30 days in jail in 2011 for failing to pay alimony.
Fabinho Fontes
In 2012, Fabinho Fontes was arrested for sexually interacting with a five-year-old girl. He is now detained at the Doutor José Augusto César Salgado Penitentiary in Tremembé, having earned footballing fame for winning the 1995 Copa Sao Paulo with Corinthians.
Serginho Chulapa
In 1978, the Santos and São Paulo star Serginho Chulapa received 14 months in jail for striking a linesman during a match.
Valderrama Valdiram
Former Vasco footballer Valderrama Valdiram was arrested three times before his death in April 2019, two of which were for rape.
Edinho
Edinho, son of Pelé and former goalkeeper for Santos, was imprisoned for cocaine trafficking in 2005. His imprisonment lasted six months.
Janken Evangelista
Former Sao Paulo athlete Janken Evangelista murdered his ex-wife in 2009 and fled with their kid to Teixeira de Freitas, Bahia, where he was caught.
A popular jury sentenced him to 22 years in jail two years later.
Viola
Viola, a well-known Brazilian athlete, has been arrested on two occasions. The first came in 2006 when he was accused of unlawful firearm possession.
The second came in 2012 when he was accused of domestic violence against his wife, illegal handgun possession, and disobedience of a court order - a Prison FC player, through and through.
Robinho
File:Robinho at Brazil & Chile match at World Cup 2010-06-28
Robinho was hailed "the next Pelé" when Real Madrid acquired him in 2005 and went on to have a brilliant career with Milan, Manchester City, and even in China before returning to his native Brazil.
However, the player hauled a heavy bag of secrets behind him.
In 2013, together with five other friends who accompanied him to a club, Robinho intoxicated an Albanian woman, placed her in the club's locker room, and raped her. After a protracted trial, Pelé's "successor" was condemned to nine years in jail.
Tomás Reones
Tomás Reones, a former footballer for Atlético de Madrid, was convicted to five years and six months in jail for his involvement in the Malaya case in 2016.
Toni Garcia
Former Levante UD player Toni Garcia was sentenced to a year in jail without parole for his participation in an extortion network using a contact website.
Carlos 'el Pibe' Valderrama
In 1980, Carlos' el Pibe' Valderrama, a former footballer for Real Valladolid, spent more than 50 days in jail after escaping the police following a confusing incident.
Xiao Li Ming
Former Shandong Taishan fullback Xiao Li Ming was the driving force behind the dual defensive wall that contributed to his team's 1999 double title triumph.
For accepting bribes from non-state officials, he was arrested and sentenced to 5 years and 6 months with Prison FC and a fine of 500,000 yuan in March 2012.
Liu Yunfei
Liu Yunfei played 19 games for Tianjin TEDA during the 2001 Chinese Super League season, allowing just 19 goals while beating Jiangjin, Fu Bin, Ou Chuliang, An Qi, and other powerhouses to earn the gong for best goalkeeper.
However, his stellar past was soiled by the tentacles of Prison FC, who signed him on December 18, 2014, for drug use. 
Christopher Metzelder
/Photograph by 9EkieraM1, distributed under a CC-BY 3.0 license
Christopher Metzelder, a former Real Madrid player, was sentenced to 10 months in jail by a Düsseldorf court after admitting to the purchase and transmission of 18 pornographic files depicting children and minors.
Gao Feng
In his heyday, Gao Feng was a lightning-fast player with exceptional dribbling ability. The composed player was once labeled "China's No. 1 striker" and is recognized as one of the most famous strikers in the history of the Chinese national team.
In 2015, though, Prison FC sought to add the star to their squad after he violently attacked a taxi driver following an altercation.
Later, Gao Feng's urine test returned positive for drug usage, which is illegal in the Asian nation.
Tang Quanshun
From the 1980s until the early 1990s, Tang Quanshun was the Shanghai football club's first-choice striker.
The forward was a part of the teams that won the fifth National Games title in 1983 and the first national league title prior to the advent of professionalization in 1988.
In 1989, he was selected for Gao Fengwen's national team, but he soon departed willingly. However, all of this fine precedence was ruined by Prison FC in 2003 when they bagged Quanshun through Shanghai Yangpu District Court on a four-month jail term for gambling.
It did not end there, though. On April 8, 2015, Tang Quanshun's drug trafficking case was tried in Shanghai.
The former golden boot winner was ultimately sentenced to two years and six months in jail and a 5,000 yuan fine for narcotics trafficking.
Shen Si
If you're searching for one of China's most promising sons, there are few better options than free-kick expert Shen Si.
On July 6, 2008, the World Football Free Kick Masters was held at Rutland Stadium in Houston, bringing together many of the world's greatest players, including Messi, football's finest finisher, Ronaldinho, Marquez, Palermo, and the legendary Romario.
Shen Si, the only invitee from China, was among these influential figures. 
The left-footed star, who placed second behind Zidane in the 2004 edition of this tournament, was soon hired by Prison FC in 2010 on a long-term, six-year contract for match-fixing. As a result, his value never reached its zenith.
Leng Bo
Leng Bo is another Chinese football legend renowned for his exceptional game reading and precise passing.
In 2002, he traveled to Germany for more studies, and in 2003 and 2004, he served as Qingdao's assistant coach.
Leng Bo was the first Chinese star to be carried away by the anti-gambling storm in Chinese football, earning a three-year term as one of Prison FC's players. 
You Ke
As the team's captain, You Ke won the Asian Youth Championship, placed sixth in the World Youth Championship, and was named to the national team in what was a fine start to a promising career. 
In 2005, when the defunct Xiamen Blue Lions won the Chinese Super League, he served as an assistant coach and team leader.
You Ke was detained on December 11, 2009, for match-fixing, and on February 18, 2012, the Tieling City Intermediate People's Court issued a decision and sentenced the Asian to one year in jail with a one-year suspension.
Wen Junwu
Wen Junwu was so talented that he was labeled "Peng Weiguo's heir" at the initial phase of his career. At the age of 20, he was promoted to Guangdong's first team and started his professional career with an annual salary of 200,000 yuan.
On November 27, 2008, he was found guilty of murder and sentenced to death.
Wang Chao
Wang Chao was one of the best left-backs in the nation, as well as one of the best left-footed players locally at the time. However, he wasn't very remarkable off the field.
On December 26, 2002, a municipal court sentenced him to 6 months of short-term jail and 6 months of suspension for intentional injury, having beaten his mother-in-law.
Lu Dong
Lu Dong, a native of Liaoning, was one of the most prominent heroes during Liaoning's ten straight championships, but he was jailed for gambling. After his trial, he was transferred to Prison FC on a 3-and-half-year contract. 
Marlon King
Photograph by GardenSubl on www.flickr.com/photos/76273210@N05/6851214482
Jamaican striker Marlon King has the worst criminal record in the history of sport. He was found guilty of 14 crimes, including theft, fraud, speeding, driving under the influence of alcohol, and violence.
In addition to serving time in jail, he was sentenced to community service, driving restrictions, fines, and participation in rehabilitation programs.
King was arrested in May 2002 and sentenced to 18 months in prison for receiving a stolen BMW convertible. The sentence was subsequently reduced by thirteen months, which he was required to spend in jail.
In 2009, he was sentenced to 18 months in jail for assaulting a 20-year-old female college student. His contract with Wigan, with whom he was contracted at the time, was consequently canceled.
In 2014, he was accused of driving recklessly and got an 18-month jail term and a 3-year driving ban.
As of February 2022, he has no association and has been retired since he left Sheffield United as an active player in January 2014.
Jiang Jin
Jiang Jin was arrested in June 2010 on accusations of collecting bribes from non-state employees, sentenced to over 5.5 years in jail, and fined more than 500,000 yuan. His formal release from jail did not occur until the end of 2015.
The Chinese Football Association also permanently barred him from engaging in any football-related activity, forcing the former Chinese defender to seek other employment.
Shayne Bradley
After confessing to four months of stalking a lady, former Southampton, Mansfield, and Chesterfield striker, Shayne Bradley was sentenced to two and a half years in jail.
His activities included regular unsolicited visits to her residence and a friend's location, as well as constant phone calls and nasty emails.
According to court documents, Bradley reportedly created a fake online dating profile to contact the lady.
During the four months, the victim, on multiple times, witnessed him drive by her house, park close, and even hide in a bush near her home.
Later, he was arrested and released on bail on the condition that he refrain from contacting her and comply with a no-harassment order.
Bradley was re-arrested and charged with stalking after surveillance showed that he violated the terms of his parole.
In addition to his jail term, a five-year restraining order was imposed against him. At the time, he was contracted to Gloucester Wigan, but his contract was terminated.
Paolo Rossi
After his involvement in the Totonero match-fixing controversy in 1979, Rossi was sent to Prison FC for a period spanning several months. In a scheduled match between his Perugia team and Avellino, the football player elected to play for a tie.
He was suspended for two years before returning to win the 1982 World Cup.
John Hughes
Former West Bromwich Albion footballer Lee Hughes was once arrested for drunk driving. Lee's negligence resulted in the death of Douglas Graham, a passenger in a vehicle he collided with.
The football player left the site in terror following the event. After 36 hours, Hughes confessed to the crime and was caught by the authorities.
Qi Hong
Qi Hong, a Chinese footballer, was detained on March 22, 2012, on suspicion of accepting bribes from non-government personnel. The 2003 Super League championship match between Shanghai International and Tianjin TEDA served as the crime site for this offense.
Involved in the match-fixing controversy were Shen Si, Jiang Jin, and Xiao Li Ming, three other players of Prison FC.
The Shenyang Intermediate People's Court sentenced Qi Hong to five and a half years in prison, fined him 500,000 yuan, and confiscated his illegal earnings on June 13, 2012.
Eduard Streltsov
Eduard Streltsov, known as "the finest outfield player Russia has ever produced," is the most well-known Russian football ex-convict and a prime illustration of the Soviet Union's social vices.
Between 1954 and 1958, Streltsov spent his entire career with Torpedo, participating in 89 games and scoring 48 goals. The teenager was a part of the Soviet Union's national team and earned an Olympic gold medal during this period.
Streltsov was just 21 years old when he was jailed in 1958 for allegedly raping three women at a dacha party outside of Moscow.
The women's testimonies were conflicting; for instance, one of them said the player attempted to force her into bed but afterward claimed she was intoxicated and could not recall the incident.
Streltsov's face was injured after the party, which he said was from a cat, but the inquiry revealed that the scratches resulted from a scuffle.
After an inquiry, pressure on the football player, and trial, Eduard was sentenced to 12 years in jail.
However, he only spent five years in jail and was released early in 1963.
Starostin brothers
The arrest of the Starostin brothers is one of the strangest tales of the Stalinist era's repressions, particularly considering that Nikolai Starostin was the captain of the USSR national soccer team.
In 1935, he established the Spartak sports association with his brothers, Alexander, Andrey, and Peter. A year later, the club participated in the first round of the USSR championship and immediately became one of the most popular in the nation.
In 1942, the Starostin brothers were arrested on suspicion of anti-Soviet activities, embezzlement, and fascist leanings. They were granted a ten-year mandate.
Nikolai Starostin was freed in 1945, and it is believed that Stalin's football-loving son battled for him. The three other footballing brothers fulfilled their obligations to Prison FC.
In 1955, the case was re-examined, and the conviction was reversed.
George Best
The legendary forward George Best, a product of the Manchester United academy, England's best academy, struggled with alcoholism throughout his life, with little success. In 1984, he was arrested for drunk driving and attacking a police officer.
The player was imprisoned for three months, a sentence that included the holiday season. As a result, Best had to undergo a liver transplant in 2002 but could not be sobered by this occurrence and kept drinking thereafter. 
After three years, the player was gone.
Stig Tofting
At 13, Stig's life was irrevocably transformed when he arrived home to learn that his father had killed his mother before turning the firearm on himself.
Perhaps this explains the complex mentality of the Danish player, especially his violent behavior on and off the field. Tofting was a persistent "fouler" who instigated problems during matches. 
Despite this, Stig remained a member of the Danish national team for a significant amount of time, participating in 41 matches.
At the 2002 World Cup, Tofting decided to retire from international football after the Danish media revealed a previously undisclosed story about his parents.
During a ceremony in honor of the retiring International, Stig assaulted the establishment's owner. Prison FC contacted him immediately and offered him a four-month contract, which he fulfilled between April and July 2003.
Giorgi Demetradze
Giorgi made his professional football debut with Kakheti in 1992 before joining Dinamo Tbilisi and becoming the league's leading scorer.
He returned to Ukraine in 2013 as a member of Metallurg Donetsk, following many foreign stints. In the aftermath of becoming the UPL's top scorer, the striker's career started to decline.
In 2010, Demetradze was accused of having links to mafia leader V. Kipiani as well as running an illegal sweepstake and a collection agency. This earned him a six-year deal with Prison FC, although he was freed as part of an amnesty in January 2013.
After his release, he became the president of Torpedo from Kutaisi.
Glenn Helder
Glenn Helder has been a lively presence on Saturday evening Fox Sports broadcasts for years, but the former left-winger has witnessed ups and downs.
Helder, who was addicted to gambling, was sentenced to six months in jail in 2007 for threats, assault, theft, and unlawful possession of a pistol.
Additionally, the former player for Sparta, Vitesse, Arsenal, and Benfica insulted and degraded his ex-girlfriend.
Bruno Fernandes
/Photograph by Fernando Souza, distributed under a CC-BY 3.0 license
The worst reserved for the last.
Due to the brutality of the crime, the arrest of Bruno Fernandes deserves a particular place on our list. The Flamengo captain was convicted of organizing the murder of his lover, Eliza Samudio, and condemned to jail.
Four months before the heinous crime, the victim had given birth to a son with the goalie, following which she demanded hefty alimony from the football star, threatening to notify Bruno's wife about their connection if he refused.
Bruno Fernandes could not conceive of a better way out of his predicament than to plot his lover's murder.
To do this, he sought the help of his friends, who deceitfully brought the victim to a hotel room, where she was killed, and her parts were dissected and fed to his rottweilers.
/Photograph by Fernando Souza, distributed under a CC-BY 3.0 license
The investigation focused immediately on the attackers, and on March 8, 2013, Bruno Fernandes was sentenced to 22 years in prison, with his accomplices getting significantly shorter terms.
In February 2017, just four years later, the "bloody goalie," as he was called by local media, was given amnesty.
Interestingly, he accepted a contract offer from Boa and promptly returned to professional football.
However, this return to normality was brief since the club's followers were outraged by his move. The court denied Bruno De Souza's request for early release in April of the same year, and he was sent to jail.
His regime is currently semi-open.