Top 15 best Portuguese footballers of all time
After decades of manufacturing some of the best talents for the beautiful game of soccer, this article lists the greatest Portuguese football players in history.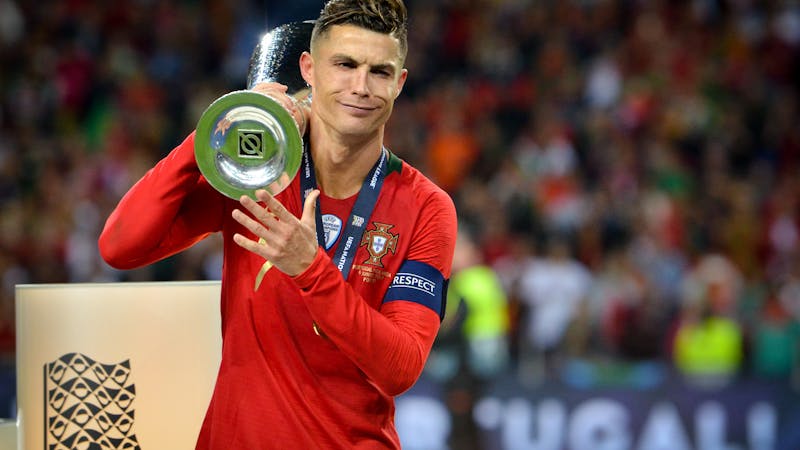 Who are the greatest Portuguese footballers of all time? This multimillion-dollar question will always linger on the lips of fans and football enthusiasts alike whenever the Portuguese national team is in play.
Portugal is a tiny nation in southern Europe with a population little over 10,500,000. In the middle of the Iberian Peninsula, on the Atlantic coast, her footballing legacy started in 1966, when she played in her first World Cup and reached the semifinals.
Despite not yet warranting the tag of "football superpower", the Portuguese soccer team has become one of the most influential in Europe.
After winning the European Championship, a number of its players have risen to the top of the list of the world's greatest footballers, among them one master stands head and shoulders above the rest.
Portugal has an extensive history in football. From placing third in the 1966 World Cup to winning the 2016 European Championship, the nation has had its moments in the spotlight.
Legendary athletes, such as Eusébio and Coluna in the 1960s or Cristiano Ronaldo nowadays, are among the world's best players.
Almost all of these players have played for Benfica, Sporting, or FC Porto, the three most prestigious clubs in Portugal. Despite a less illustrious time now, these clubs are among the finest in European club history.
Without further ado, discover the top 15 best Portuguese footballers of all time. 
After decades of manufacturing some of the best talents for the beautiful game of soccer, these are the greatest Portuguese football players in history:
Cristiano Ronaldo
Eusebio
Luis Figo
Rui Costa
Paulo Futre
Deco
Mario Coluna
Pauleta
Pepe
Nuno Gomes
Fernando Couto
Fernando Chalana
Paulo Sousa
Ricardo Carvalho
Vítor Baía
15.
Vítor Baía
Born in Vila Nova de Gaia in 1969, Vitor Manuel Martins Baia is regarded as one of the greatest goalkeepers, and overall, best football players in the history of the Portuguese national team.
For Futebol Clube do Porto and FC Barcelona, he won 33 championships, making him the player with the most titles in the history of global football.
Gloves worn by Vitor Baia were immortalised in the time capsule of football during UEFA's golden anniversary in 2004. From 1980 through 2007, he worked professionally as a football player.
14.
Ricardo Carvalho
Ricardo Alberto Silveira de Carvalho was born in Amarante, Portugal, in May of 1978. Hebegan playing there in 1993 before moving on to Porto, Leca, V.Setubal, FC Alverca, Chelsea, Real Madrid, AS Monaco, and Shanghai SIPG .
Carvalho has won several titles and championships for both club and country, making him an essential addition to this list of "greatest Portuguese footballers of all time".
He represented Portugal in the Euro Cups in 2004 and 2008, as well as the World Cups in 2005 and 2010, before winning the European Football Championship with Cristiano Ronaldo in 2016.
13.
Paulo Sousa
Paulo Manuel Carvalho Sousa was born on August 30, 1970, in Viseu. He began his career at Benfica, where he won the 92/93 Portugal Cup. He next played for Sporting and Juventus, where he won the 1996 Champions League.
He also won the Champions League with Borussia Dortmund in 1997, before transferring to Inter Milan in 1998, then Parma, Panathinaikos, and Espanyol, where he completed his career in 2002.
Paulo Sousa won the Under-20 World Championship in 1989 and 1991 for Portugal, on his path to becoming one of the best Portuguese footballers of all time.
Until 2007, he also held positions on the national team's technical staff and managed the under-16 squad. Currently, he serves as Flamengo's coach.
12.
Fernando Chalana
Fernando Albino de Sousa Chalana was born in Barreiro, Portugal, in February 1959. He started his professional career with Barreirense in 1973 before going to Benfica, where he played for 10 consecutive years.
The fact that he was the first Portuguese player to establish a career outside of Portugal makes him one of the greatest Portuguese footballers of all time.
Chalana played for Bordeaux in France before returning to Benfica and continuing his career with Belenenses and Estrela da Amadora. He played professionally from 1976 to 1992 and was renowned for his shot feint.
11.
Fernando Couto
Ricardo Carvalho might certainly have eclipsed him on this list, but Fernando Couto, one of the best Portuguese defenders of all time, was a step beyond the ex-Real Madrid man.
He had stronger finishing ability, was more stable in the back, served the ball better, and had exemplary leadership skills. He earned 110 international caps, the second-most of any player.
Top 10 best Portuguese football players of all time
10.
Nuno Gomes
Over the course of his career, Nuno Gomes has scored more than 200 goals due to his exceptional goal-scoring prowess. But beyond goals, the Portuguese routinely provided assists for his teammates.
His debut at Boavista, with whom he won the Portuguese Cup, was very promising and paved the way for him to join Benfica.
After three successful seasons in Lisbon without a championship, Nuno Gomes tried his fortunes in Italy with Fiorentina, but was unsuccessful. Then he returned to Benfica, where he would remain for nine seasons and win the title twice.
Nuno Gomes was often decisive in key situations for the Portuguese squad, but that did not shield him from enduring significant setbacks. 
The semi-final defeat to France at Euro 2000, the final loss to Greece four years later, and the poor fourth-place finish in the 2006 World Cup are notable examples.
Nuno Gomes is nevertheless one of the greatest Portuguese football players of all time.
9.
Pepe
Pepe is regarded as one of the greatest defenders in the history of football due to his extraordinary physical prowess and aggressiveness.
In addition to being one of the best Portuguese defenders of all time, he is a Legend of FC Porto, Real Madrid, and his national team, and has an incredible trophy collection.
After making his debut with CS Maritimo, he joined Porto and won his first league and cup championships. Pepe subsequently departed for Spain and Real Madrid, where he would spend a decade.
With Sergio Ramos, he created one of the strongest defensive combinations in Europe for a decade at Real Madrid, where he won three Champions Leagues and three La Ligas.
Pepe, who was born in Brazil, opted very early on to join the Portuguese squad, but had to wait until the age of 24 to become a naturalised citizen. He was then promptly called up to the national squad and now has over 120 caps. 
Pepe was one of the top Portuguese players as they won the 2016 Euro and was also voted the MVP in the final championship game versus France.
8.
Pauleta
Pauleta is not just one of the greatest Portuguese footballers in history, but also a renowned PSG forward.
He was a true fox in the box, very nimble with the ball and consistently effective in front of goal. Pauleta was an all-around striker with excellent head and feet who also had the ability to seamlessly link with his teammates.
His professional career started in Spanish D2 with Salamanca, where he led his side to promotion to La Liga in his debut season as the league's leading scorer with 19 goals.
Pauleta then spent two seasons with La Corunna, where he won the 2000 Spanish championship, before joining Girondins de Bordeaux for three years.
Pauleta moved to Paris in 2003, when he became one of the greatest players in PSG's history and won the hearts of Parisian fans.
Between 2000 and 2006, Pauleta played in international competitions with the Portuguese national team.
He advanced to the semi-finals of the Euro 2000, Euro 2004, and World Cup 2006 tournaments.
During his career, Pauleta scored 332 goals in 620 matches across all competitions, all statistics worthy of the title of best Portuguese player.
7.
Mario Coluna
Mário Coluna is a renowned offensive midfielder for both Benfica, his lifetime club and Portugal, where he is undoubtedly one of the greatest footballers of all time.
Coluna was born in Mozambique in 1935 and is Portuguese since Mozambique is still a Portuguese colony. He was the undisputed captain and fiercest fighter on the field for the legendary Benfica of the 1960s.
Coluna spent the vast majority of his career at Benfica Lisbon, one of the most prominent European teams in history. In sixteen seasons with the club, he was victorious in every championship.
Ten times he won the Portuguese Championship and six times he won the Portuguese Cup. His finest performance, though, remains his two Champions League triumphs, in which he scored in each final.
Coluna participated in 57 matches and scored eight goals for the Portuguese national team. He was a member of the 1966 World Cup squad that finished third, with Eusébio, who was also his club colleague.
6.
Deco
We return to the 2000s with one of the greatest midfielders of the decade: Deco, whose vision and exquisite passing made him the focal point of Porto, Barcelona, and the Portuguese national team.
In addition to his passing abilities, he scored one hundred goals during his career.
Deco's career took off in Porto, where he spent six seasons during his formative years. The renowned midfielder won three titles and three Portuguese Cups with his side, as well as the UEFA Cup in 2003, thanks to his outstanding play.
The triumph in the Champion's League in 2004 will expose him to the general public and enable him to finish second in the Golden Ball that year.
He then transferred to Barcelona, where he served as the team's focal point and won two league crowns and a second Champions League with the Blaugrana. After two seasons with Chelsea, he returned to Brazil to call his successful career.
Deco began his international journey in 2003. As with his club career, he rapidly established himself as an irreplaceable player, a crucial member of the national team, and one of the best Portuguese players of all time.
Deco was much better in the 2006 World Cup, despite Portugal's defeat in the semi-finals, than he was at Euro 2000, when Portugal became finalists.
5.
Paulo Futre
Paulo Futre, legend of FC Porto and Athletico de Madrid, is one of the greatest Portuguese footballers in history.
Some have even likened him to the legendary Maradona on account of his speed, dribbling ability, and ball-handling dexterity as a winger. Futre was technically skilled and was able to initiate and complete offensive plays.
The forward played for a variety of teams during his career, but his greatest seasons were with Porto and Atletico de Madrid.
He won two titles in three seasons with Porto and, more importantly, the Champions League in 1987.
However, it is among the Colchoneros that he will achieve mythical status. Even though Futre only won two Copa del Rey titles during his six years with the club, his achievements, notably his performance against Real Madrid in the Cup final, have been engraved into the club's history.
Paulo Futre did not have any genuinely successful competitions with the national squad. Between 1983 and 1995, he appeared in 41 matches for the national team and scored six times.
The sole major competition in which he participated was the 1986 World Cup, in which Portugal were eliminated in the first round. This did not prevent him from being chosen as the runner-up for the 1987 Ballon d'Or.
4.
Rui Costa
Rui Manuel César Costa was born in March 1972 in Damaia, Amadora, Lisbon, and rose to prominence as one of the best playmakers of the 1990s and 2000s.
One of the greatest Portuguese soccer players of all time, Costa played for clubs in Portugal and Italy and famously went viral for sobbing after scoring for Fiorentina against Benfica, his childhood dream team.
He was a brilliant offensive midfielder and playmaker who had a high level of technique and excellent passing ability, making him an integral part of any club he played for. He was also renowned for his often-precise long shots, whether in open play or from set pieces.
From 1992 to 2006, he won several titles for the teams he played for in Portugal and Italy and was often voted the best midfielder in the Italian Serie A.
As a football player from 1990 until 2004, he won the 1991 U-20 World Championship with the Portuguese national team.
Rui Costa's career spanned three extremely prominent teams, starting with Benfica, where he won the Portuguese Cup in 1993 and the title the following year.
Then he joined Fiorentina, where he would spend the seven consecutive seasons, forging a legendary offensive tandem with Batistuta and winning two Italian Cups.
By winning the Serie A in 2004 and the Champions League in 2003 with AC Milan, he established his legend.
Winner of the Under-20 World Cup with Portugal, Rui Costa began his international career with success. However, he was unable to recreate the feat with the senior team having got eliminated from the Euro in the quarterfinals in 1996, the semi-finals in 2000, and the final in 2004.
With 94 international appearances and 26 goals, he nevertheless remains one of the best Portuguese footballers of all time.
3.
Luis Figo
Luis Figo is probably the most recognisable name among legendary Portuguese footballers and one of the finest attacking players among his contemporaries. His accomplishments with the Portuguese national team and major teams like Barcelona, Real Madrid, and Inter Milan have immortalised his legend. 
Extremely technically proficient and physically robust, he was an exceptional passer due to his exceptional reading of the game.
Before joining Barcelona, Figo played his first five professional seasons at Sporting in his home Brazil. He will burst with the Catalans, leading them to two La Liga titles, two Spanish Cups, and the Super Cup.
In 2002, Luis Figo finally won the Champions League after transferring to fierce opponents Real Madrid, in one of the rare crossovers between the two arch-rivals. He completed his career with Inter Milan, where he won four Serie A championships.
Figo appeared in 127 games for the national team and scored 32 times, but was unable to win a major title despite reaching the final of the Euro 2000. 
With his amazing dribbling and sublime goals, he left an indelible mark on the hearts of a whole Portuguese generation.
In addition to his many goals, he is one of the finest passers in the history of the sport. Luis Figo, as demonstrated by his 2000 Ballon d'Or, is one of the greatest Portuguese football players in history.the best Portuguese football players in history.
2.
Eusebio
Eusébio is one of the greatest legends in the history of Portuguese and even global football. With 631 goals in 650 games, he is one of the top 10 scorers in football history, and was an excellent attacker, capable of scoring in every circumstance.
Eusébio had exceptional speed and ball control, allowing him to dribble past any defender while maintaining his composure to give pinpoint passes or score goals.
After a strong start at Lourenco Marques in his native Mozambique, the renowned Benfica aggressively courted him.
At age 19, the youthful athlete joined the team, where he would remain for 15 successful seasons. With Benfica, "The Black Panther" won everything, including eleven titles and five Portuguese Cups.
Additionally, he won the Champions League in 1961 and reached the final three times in the years that followed.
Also impressive at the 1966 World Cup was this rare generational talent. When Portugal trailed 3-0 in the quarterfinals, he scored four goals and single-handedly advanced his side to the semifinals.
He led the tournament in scoring with nine goals, allowing his side to finish in a respectable third place.
Eusébio or Ronaldo? Having won the Golden Ball in 1965, Eusebio solidifies his status as the second-greatest Portuguese soccer player of all time, after only Cristiano Ronaldo.
1.
Cristiano Ronaldo
It is impossible to discuss the greatest soccer players in any jurisdiction without a mention of Cristiano Ronaldo.
A professional with a good physique as a result of a determination to workout continually to become even better. CR7 is an outstanding striker who is adept with both his feet and his head and is capable of scoring in any situation. With almost 805 goals scored, Cristiano Ronaldo is the all-time leading scorer in football history.
After making his debut with Sporting, Cristiano Ronaldo joined Manchester United without delay where he won the Premier League on three occasions, the FA Cup, and finally  the Champions League in 2018 in a six-season period, becoming the best Portuguese player n Premier League history.
In 2009, one year later, CR7 joined Real Madrid, where he won both the La Liga and Spanish Cup twice with the Merengues. The most amazing, though, is the four UCL titles won within five years.
His first campaign with Portugal culminated in a final at Euro 2004 and a semi-final in the 2006 World Cup.
Since 2007 he has led the Portuguese national team, although it was not until Euro 2016 that he earned his first international championship before making history with Portugal as the first champions of the Nations League in 2018-2019.
Cristiano Ronaldo is one of just two players to have won the Golden Ball five times. He is also the all-time leading scorer for Real Madrid, Portugal, and the UEFA Champions League.
Ronaldo is one of the wealthiest athletes in the world as a result of the lucrative advertising contracts that result from his status as one of the best footballers in the world. Cristiano Ronaldo is, without a question, the greatest Portuguese football player in history.