How the bizarre transfer saga of 2021 is shaping up again for 2022
The summer transfer season of 2021 witnessed the highest number of high-profile free transfers in history. See how the same is about to repeat in 2022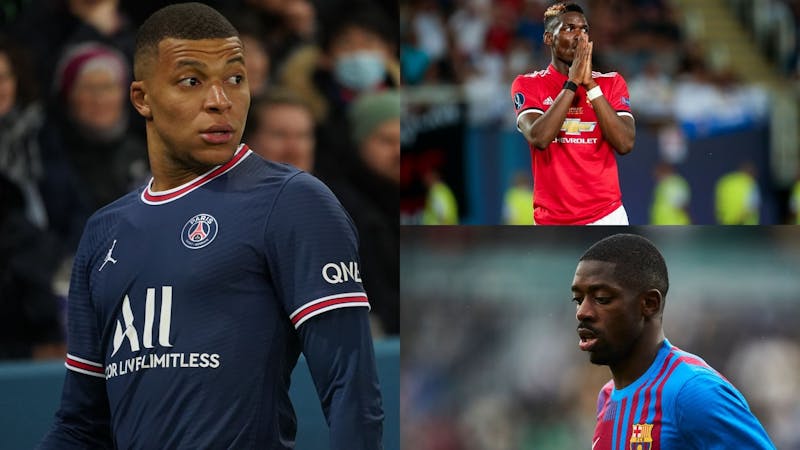 In the summer transfer season of 2021, the world witnessed the highest number of free transfers of top football players in history. With the 2022 summer transfer season as close as ever, we look at how the same events are about to unfold once again.
In 2021, It spurred one of the most remarkable reactions from fans and pundits in transfer history when Manchester's famous son, Cristiano Ronaldo, returned to United on a free transfer after more than a decade since he left the Premier League.
In French Ligue 1, Paris Saint-Germain had arguably the best window on paper, obtaining the services of several talented players on a free transfer.
Lionel Messi's departure from Barcelona aroused fiery reactions among Catalan supporters and the club's board of directors following a contract dispute.
Before his departure to PSG, Barcelona fans staged a series of protests against the board, struggling to agree on his contract.
Messi's arrival at PSG was marked by the most theatrical unveiling in the league, with millions of PSG fans chanting his name ceaselessly.
Though his departure was greeted with sadness in La Liga, it was received with delight as a welcome development in French Ligue 1, which saw the unveiling of one of the greatest players in history and the acquisition of La Liga's top defender, Sergio Ramos.
The record signings of Romelu Lukaku (£97.5m) to Chelsea and Jadon Sancho (€85m) to Manchester United increased the fascinating moments of the 2021 transfer window, adding to the free transfers of these exceptional players.
Former Liverpool player Georginio Wijnaldum, ex-AC Milan goalkeeper Gianluigi Donnarumma, Sergio Aguero, David Alaba, and many more were among those who created the most bizarre free transfer window in recent memory in 2021.
The reasoning behind the recent weird free transfers suggests that talented players have recently preferred to go on a Bosman to earn an enormous salary, leaving clubs fearful of losing their top players.
As several talented players' contracts expire this summer, free transfers in football might become the new normal, and we could see a similar scenario to what we witnessed in 2021.
These exceptional players are ready to reject contract extensions from clubs and leave on a free transfer when the summer transfer market opens in a few months.
Let us look at some of the big names in football who could leave their clubs for a bumper deal in the summer of 2022.
Kylian Mbappé's rumoured move to Real Madrid
With 36 goals in 45 ppearance in all compeition, Kylian Mbappé is the highest goal scorer in Ligue 1 this season.
Kylian Mbappé's unwillingness to renew his contract with Paris Saint-Germain has sparked never-ending speculation that he wants to join Real Madrid.
PSG's board of directors have been in talks with his agent about extending his contract in recent months, but the brilliant French attacker, who is one of the best players of his generation, has remained adamant.
Real Madrid had made several offers on the table for the 23-year-old in last summer's transfer windows, which the Ligue 1 club rejected.
Although he desired a new challenge in La Liga, Kylian Mbappé is not forcing a move away but had remained unwilling to extend his contract, which expires this season.
Real Madrid will have the possibility to sign the gifted striker on a free transfer when the transfer market opens and are expected to offer him a bumper deal.
Paul Pogba's uncertain future at Manchester United
Paul Pogba has become the focus of attention at Manchester United over his unwillingness to renew his contract with the Old Trafford faithful.
The Frenchman is said to be dissatisfied at the club due to how the club's administration is managed and his struggles to establish himself as a regular starter in Manchester United's lineup.
While on international duty with the France national team for the 2022 World Cup qualifying, the brilliant 28-year-old midfielder attributed his inconsistency in the Premier League to a lack of a defined role.
"It is simple. ''With France, I play in my position. I know my role, and I feel the confidence of the coach and the players," Pogba said.
''It's normal to feel a difference in United because it's hard to be consistent when you often have a change to your position, the team system, or your partners.
''At United, do I have a role? I ask the question, but I don't have an answer. "
Pogba has stated that he wants to win trophies, and he may try to force his way out of Old Trafford on a free transfer after the season.
PSG and Juventus are currently in negotiations with his representative over a possible transfer, but it all depends on them meeting his huge salary range at the Premier League club.
Robert Lewandowski's surprising link to Barcelona
Bayern Munich's talented striker, Robert Lewandowski, has surfaced as a surprise name ahead of the summer transfer market in 2022, with rumours linking him to Barcelona.
The Polish captain has a year left on his contract and seeks a fresh challenge, having won everything with the German club.
In his eight years with Bayern, Lewandowski has won seven Bundesliga titles, the UEFA Champions League, the FIFA Club World Cup, the UEFA Super Cup, and a host of other domestic medals.
The 33-year-old forward seeks a three-year contract and has handed in a dramatic transfer request as Bayern appear unwilling to meet his demand. Barcelona are interested in signing the striker as Xavi is a big fan of Bayern Munich's second all-time top scorer and wants him to join his team.
Though the Germans are unwilling to let go of their star striker, the Catalans are not backing down from their desire to sign him this summer.
Antonio Rüdiger's contract demand
Germany's defender, Antonio Rüdiger, has emerged as Chelsea's most reliable player in the past few months. The 29-year-old defender has played over 4290 minutes across all competitions this season, the most for the Blues, indicating his importance to Thomas Tuchel's tactics.
Despite his consistency and outstanding play, Chelsea are on the verge of losing the talented and versatile defender on a free transfer due to a contract dispute. The club's board of directors have been hesitant to meet his weekly wage demand of £200,000.
Rüdiger will be joining La Liga side Real Madrid next season after reportedly agreeing on a four-year deal with the Spanish giant.
Chelsea's recent restriction by the UK government on discussing contracts seems to have haunted them, as they will lose the majority of their first-team players on free transfers, including Andreas Christensen of Denmark, who will join Barcelona next season.
Though Rüdiger has denied rumours linking the sanction to his decision to leave Premier League clubs, football fans believe it is related to his decision.
Ousmane Dembélé's contract saga
For over the past two seasons, Barcelona's talented forward Ousmane Dembélé has been in contract talks with the club, which has resulted in various disagreements due to his unwillingness to extend his stay at Nou Camp.
The French international player who was seeking playing time was accused of wanting to leave Barcelona for a bumper deal by Barcelona's sporting director, Mateu Alemany, and was persuaded to find a new club.
Despite enjoying playing time recently, the many threats from the club as well as the exhausting dispute may have created some distance between Ousmane Dembélé and the Catalans.
With 13 assists in 20 La Liga appearances, Ousmane Dembélé has established himself as one of the club's top players, and Barcelona are beginning to appreciate his efforts.
As the season draws to a close, Ousmane Dembélé will become a free agent, and Barcelona are doing everything they can to keep their star player.
Barcelona's board has begun contract negotiations with Dembélé's agent hoping to reach an agreement this time, but it is becoming a problem due to its financial difficulties.
The club would have to balance payments to meet the Spanish Football Association's requirements and are looking to offload some players to meet his demand.
Many European clubs, notably Paris Saint-Germain, are keeping an eye on the club's right-winger and would jump into the deal if he leaves Barcelona.
Franck Kessié's move to Barcelona
Another player who has emerged as part of Xavi's strategy to improve Barcelona next season is AC Milan's Franck Kessié. The Ivorian professional footballer has turned down a contract extension with the Italian Serie A club and is looking for a fresh challenge next season.
Barcelona is said to have secured a deal with him ahead of the summer transfer window, and he will join the La Liga club on a free transfer next season.
The 25-year-old midfielder has been an important component of AC Milan's squad for the past five years, and acquiring him for nothing is a major coup by Blaugrana.