Arsenal target: Raphinha enjoys vacation with fiancee amid his crazy transfer saga
Leeds United and Brazilian winger Raphinha has shared a vacation photo with his fiancee Natalia as he awaits the outcome of Arsenal's crucial talks with his entourage.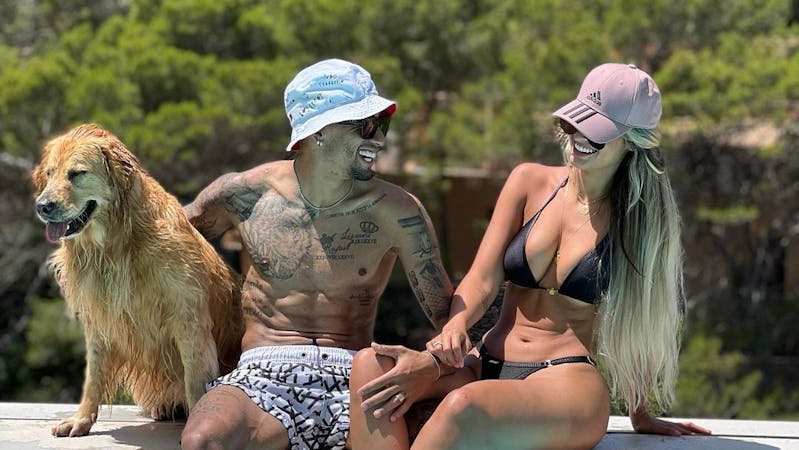 Leeds United winger Raphinha appears to be enjoying a beautiful vacation in Ibiza ahead of a new chapter of his career, which is expected to be with another club.
Amid crunch transfer talks with several European elite clubs, Raphinha has shared a photo of him and his fiancee, Natalia, while on a trip in Spain, while pondering his next move.
The Brazilian talent winger is one of the most sought-after names in this summer transfer window, with several European elite clubs vying for his signature.
The 25-year-old has enjoyed two seasons with Leeds United since joining the Premier League club from Stade Rennais in the French Ligue 1.
Raphinha has emerged as the most important player at Elland Road over the last two seasons, becoming one of the most used players in the Whites squad.
Despite Leeds' struggles in the Premier League last season, Raphinha maintained a high performance level that piqued the interest of many, including Barcelona and two other Premier League clubs.
Raphinha was reported to have reached a verbal agreement with Spanish giants Barcelona, who appear to be a huge fan of the player, eyeing him as an ideal replacement for Ousmane Dembélé.
Despite an agreement, Barcelona failed to bid for the Brazilian international, given their current financial crisis, allowing Arsenal and Tottenham Hotspur to jump in for the talented winger.
The Gunners are believed to be in pole position to sign Raphinha, having made direct contact with Leeds United, with Mikel Arteta, an ardent admirer hoping to add him to his attacking options.
On the other hand, Tottenham Hotspur manager Antonio Conte has identified Raphinha as a player who could assist in his rebuilding project. He is looking to make him his fourth signing this summer after Ivan Perišić, Fraser Forster, and Yves Bissouma.
Tottenham are said to be in talks with Raphinha's entourage, hoping to compete with other teams for his services, while Barcelona are still in contact with his agent.
Raphinha's outstanding performance
Though Leeds United struggled for survival in the topflight last season, Raphinha remained the team's best player, scoring 11 league goals in 35 appearances, which helped them to avoid relegation.
Aside from his goals, Raphinha's incredible dribbling ability ranked him as the fifth-best dribbler in the league, including 15 successful nutmegs, the second-highest.
Raphinha also displayed an outstanding striking ability, ranking eighth among Premier League players with the most shots, a quality that has attracted various clubs interested in his transfer.
With so many options, it is still unclear where Raphinha will play next season, but definitely not Leeds United.