Barcelona plans to storm La Liga next season
FC Barcelona intends to compete for trophies in the coming season after failing to do so this year.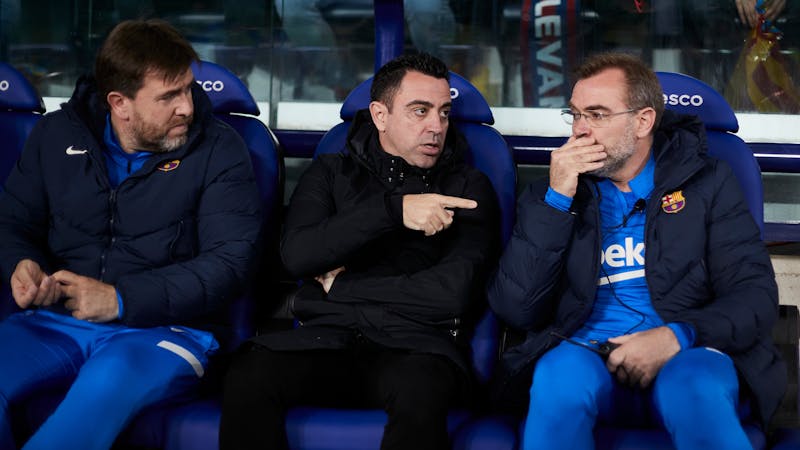 When Xavier Hernández took over the Camp Nou managerial seat from Ronald Koeman, it is fair to say that Barcelona were in a serious mess, with the club struggling to win matches.
Since his appointment, the club's fans have witnessed a more significant improvement from previous misfortunes, with the Spaniard not wasting time in imprinting his philosophy into the Blaugrana team.
Though he has made significant progress toward returning the team to the upper echelon of the La Liga table, the manager is not satisfied with the team's progress thus far, having missed out on the La Liga title and also due to an unsatisfactory squad depth.
The 42-year-old did an excellent job leading the floundering side to second place in La Liga after inheriting them in tenth place, but the manager's goal when signing the managerial contract with his boyhood club was to win trophies.
Barcelona fans appear to be pleased with his excellent recruitment during the January transfer window, still, the manager is well aware of the task ahead, which will require a more diverse squad to compete at a higher level.
Barcelona has developed massively under Xavi's leadership
The additions of Pierre-Emerick Aubameyang and Adama Traoré improved the squad's competitiveness for the second half of the season, but there is still room for improvement.
Though Aubameyang has had a solid start to his La Liga career, with five league goals in his first six games, the manager is looking to bolster his team like other elite clubs.
Xavi recognizes the importance of rebuilding and has identified a number of talented players to assist in competing for trophies next season. Knowing Barcelona's financial difficulties, the manager has devised a strategy to lure many gifted players to Camp Nou for free or at a reduced fee.
Barcelona's pre-contract agreement with AC Milan's highly renowned midfielder
It's no surprise that Xavi is trying to bolster his midfield options, which currently lacks an experienced, reliable midfielder despite the presence of young, gifted midfielders with bright futures.
Barcelona's poor midfield statistics in the current season have stressed why the club needs to prioritize experience in summer.
Franck Kessié has been an integral component of AC Milan's team since 2017
The Spanish club has produced significantly fewer ball possession touches in the current campaign, with only 19,569 touches in 26 games, compared to 31,000 in the previous three seasons.
Xavi's squad includes only two experienced midfielders, Sergio Busquets and Frenkie de Jong, while other central options such as Gavi, Pedri, Nico González, and Riqui Puig, are all in the early stages of their careers.
As a result, the manager has identified Franck Kessié, a gifted AC Milan midfielder, as the ideal man to mentor these young and talented greenhorns. The Ivorian brilliance will leave AC Milan on a free transfer at the end of the season after turning down a contract extension from the Italian club.
Barcelona's board of directors have seized the opportunity to entice the midfielder to Camp Nou, according to reliable sources, who revealed that the club has reached an agreement with Kessié on a five-year contract worth €6.5 million per season.
The 25-year-old dynamic midfielder would be a great boost to Barcelona's team, which lacks physicality in the midfield. He will help the club bounce back into European competition after a disastrous exit from the Champions League group stage.
Xavi's on the lookout for defenders
Xavi's team have been plagued by defensive errors, with only seven clean sheets in the first twenty-seven league games.
The manager is deeply concerned about the situation and is working tirelessly to find a solution ahead of the next season's challenge, with an eye to recruiting defenders.
Barcelona's proposal for three Chelsea defenders
The manager has identified Andreas Christensen, whose contract with Chelsea expires at the end of the season, as a viable option. The Denmark international is determined to leave Stamford Bridge at the end of the season after refusing to renew his contract due to a lack of playing time.
Andreas Christensen has only made 16 starts in Chelsea's 35 Premier League matches this season
Xavi capitalised on the situation to persuade the Dane, and has approached his agent about a transfer. The 26-year-old has accepted the offer and will join Barcelona for the upcoming season. He could be an ideal replacement for the aging Gerard Piqué and play a vital role in the club's trophy hunt.
Chelsea's captain, César Azpilicueta, is another name on Barcelona's wish list, as Barcelona plans to rebuild its defense for the coming season completely. The Spaniard's contract expires in a year, while he now shares the same position with an academy graduate, Trevoh Chalobah.
With Chalobah developing into an important player for the Blues, Azpilicueta may face limited playing time in the coming season, and may decide to find a new club. Barcelona have contacted his agent to inquire about a possible move to Camp Nou.
Marcos Alonso is another Chelsea defender who has prioritized returning to Spain at the end of the season, and Barcelona are aware of his intention and are considering his availability.
Barcelona's interest in Bayern Munich's prolific striker
Despite bolstering Barcelona's attacking options with former Arsenal captain Pierre-Emerick Aubameyang and Manchester City winger Ferran Torres, Xavi appears unsatisfied with his squad depth in the attacking department and wants to add a striker ahead of next season.
Robert Lewandowski has scored 49 goals in 44 appearances in all competition for Bayern Munich this season
The manager is attempting to lure Bayern Munich's legendary striker, Robert Lewandowski, who will enter the final year of his contract at the end of the season to Barcelona.
Despite the Catalan club's interest in the Polish striker, Bayern Munich appear unwilling to let their number one striker go, and to keep the Blaugrana sharks at bay, the Bavarians intend to extend Lewandowski's contract.
Bayern's President, Herbert Hainer, revealed their stance on keeping the Polish striker in an interview with Süddeutsche Zeitung, "I have said it in the past few days. Lewandowski has a contract until June 2023, and he will fulfill it.
Barcelona, on the other hand, are not about to back down, as they have been in constant contact with the player's agent, but Lewandowski has yet to decide on his future.