Barcelona pushes for Ousmane Dembélé's contract solution
Barcelona are looking for a solution to Ousmane Dembélé's contract situation after several weeks of friendly negotiations between both parties.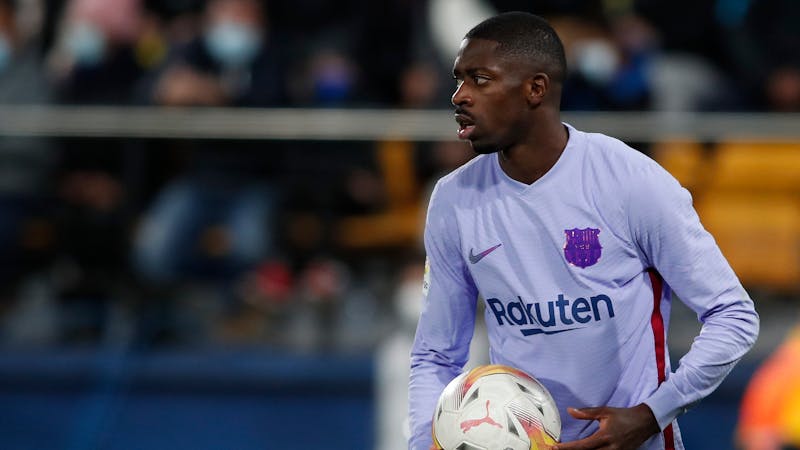 After months shrouded in conflicts between highly gifted Ousmane Dembélé and Barcelona, the French international player is enjoying a fresh lease on life at the Nou Camp under Xavi, which has seen him morph into a key member of the squad in the second half of this campaign.
The then want-away winger, who was booed vehemently by Barcelona fans, has contributed immensely to the club's recent successful run in the current campaign.
With eight assists in his last six league games, the 24-year-old has reignited Barcelona's attack after terrible performances under former manager Ronald Koeman at the start of the 2021 season.
Despite falling out of favour with the club's board earlier in January due to a contract dispute, Xavi, Barcelona's manager, has not hesitated to feature the young attacker.
Dembélé has been featured in almost every Barcelona game in the second half of La Liga, after being expected to play a bit-part role under Xavi. The Spaniard has instead utilized him regularly, which has helped forge a lethal attacking connection with Pierre-Emerick Aubameyang, his former Borrusia Dortmund teammate.
The Frenchman, on his part, has seized the bull by the horns and delivered one of his best performances in a Barcelona shirt this season, overcoming the devastating effects of the frustration he experienced in January.
What transpired between Ousmane Dembélé and Barcelona?
Ousmane Dembélé refused to extend his contract at Camp Nou after several approaches from the Barcelona board, causing a lot of bad blood with the club, who tried to coerce him to look for a new club in the January transfer window.
The Frenchman was adamant about leaving Camp Nou despite strong interest from different European top teams, including PSG and Juventus who were willing to pay for his services.
His reluctance was motivated by a desire to land a bumper deal when his contract expires in the summer, while Barcelona were also hoping to cash in on the winger rather than allow him to depart on a free transfer.
In an open speech, Barcelona's sporting director, Mateu Alemany, accused Ousmane Dembélé and his agency of reaching a pre-contract agreement with another club to secure a big-money move.
Ousmane Dembélé was devastated by his remarks, to which he responded quickly and branded this a "horrible" accusation against him and his agent. In his own words, he is dedicated to his work in Barcelona while his agent handles his contract negotiations.
In the event that he insisted on not extending his contract or finding a new club, Barcelona's board threatened to shelve him for the rest of the season, but they changed their minds after the January transfer window.
In some ways, Xavi's bold decision to play him despite the uncertainty surrounding his future at the Nou Camp was motivated by a desire to help Barcelona secure the Champions League spot.
His decision has paid off, and Barcelona fans are enjoying the winger's presence on the field, as he has helped the Blaugrana rise to second place in La Liga after finishing 10th prior to Xavi's reign.
Barcelona have rebuilt a strong relationship with the talented winger following his recent impressive performances, making him smile once more.
Though the two parties have found love again under one roof, and Ousmane Dembélé has expressed his desire to stay at Camp Nou, Barcelona's financial situation has prevented him from signing an extension.
Difficulties in Ousmane Dembélé's contract extension
"Ousmane Dembélé and Gavi want to continue here. That is really important, and we will do our best for both of them to stay in Barcelona. We have limits on the salary budget, as I always say, so we have to be careful. We will do our best, "Mateu Alemany said when asked about Ousmane Dembélé's future.
Barcelona has been entangled in financial difficulties, which has prevented it from awarding contracts to its players or incoming players in recent years.
The desire of the Spanish club to keep Ousmane Dembélé is no longer news, and they are working to offload some of their players to facilitate his contract extension.
Due to the current situation, Barcelona have given out Philippe Coutinho to Aston Villa after a loan spell with the Premier League club. Despite selling the talented Brazilian player, the club is still under the pressure of offloading another player before resolving Dembélé's contract extension.
In terms of the situation, Manchester United have approached Barcelona for their talented midfielder, Frenkie de Jong, but Xavi wants to keep him at Camp Nou.
Though the manager has stated his desire to keep the Dutch international, there is still uncertainty surrounding his future, as Barcelona considers the financial aspects of the club.
"I don't know if we will sell important players." If we complete some deals, maybe it won't be needed. "The priority is our financial situation as of now," said Barcelona president Joan Laporta.