Guardiola reacts to Barcelona's interest in Bernardo Silva
Manchester City's manager, Pep Guardiola, has responded to Bernardo Silva's link to Barcelona.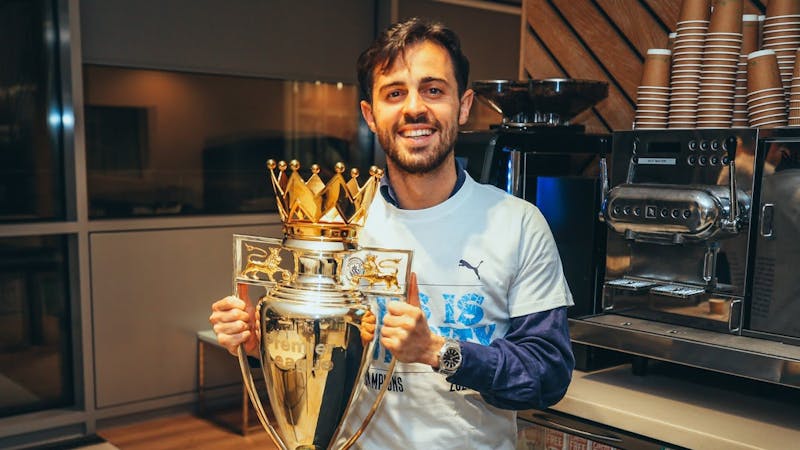 Manchester City's midfielder Bernardo Silva has been linked with a move to Barcelona this summer with the Spanish club eyeing him as an ideal replacement for Frenkie de Jong, who may depart Camp Nou.
Barcelona manager Xavi is said to be a huge fan of the Portuguese star and is looking to sign him as Manchester United's interest in Frenkie de Jong grows.
Bernardo Silva is understood to be interested in joining Barcelona and has expressed a desire to leave Manchester City, as reported by Spanish sports website Mundo Deportivo.
The 27-year-old has been a crucial part of Pep Guardiola's squad since joining the Premier League club from AS Monaco in 2017, and Guardiola seems unruffled by the news about Barcelona's interest, as he wants to keep him next season.
Pep Guardiola stated unequivocally in an interview ahead of Manchester City's pre-season match against Barcelona that Bernardo Silva is a major part of his plans for next season.
"We will bring all our top players to Barcelona for Unzue's ALC charity match at Camp Nou, "said Guardiola.
When asked about Bernardo Silva by Barcelona's president, Joan Laporta, Guardiola added, "Bernardo Silva… and 10 more" as he continued to laugh.
"As of today, I think Bernardo will continue at Man City next season-but as I always said, I don't like to keep players that are unhappy."
Bernardo Silva is currently valued at €80 million, which would be a high price for Barcelona given their current economic situation.
Bernardo Silva is under contract with Manchester City until 2025, and it appears that the Premier League champions are not open to selling him this time.
The star midfielder was a key member of Guardiola's squad last season, contributing 8 league goals and 4 assists to Manchester City's Premier League title defense, and the manager would not want to lose such a talent.
Manchester City are already gearing up for its preseason games next month, including a match against Barcelona to raise funds for research into amyotrophic lateral sclerosis (ALS), a disease that former Barcelona manager Juan Carlos Unzue suffers from, and Bernardo Silva is expected to join the rest of City's team in their preseason games, which are coming soon.
Manchester City preseason fixtures and dates
Manchester City will travel to the United States for their preseason games ahead of preparation for the upcoming season, where they will face Mexican side, Club America, on July 20 at NRG Stadium in Houston.
The Premier League champions will also face German heavyweight Bayern Munich at Lambeau Field in Green Bay on July 23 before returning to England to face Leicester City at the King Power Stadium on July 30.
Pep Guardiola's team will travel to Camp Nou to face Barcelona for the Unzue's ALC charity match after playing three of their first Premier League games on August 24,