Manchester United awaits a new era with Erik Ten Hag. Can he restore the old glory?
The wider hunt for a new manager at Manchester United is over after appointing Ajax's Erik Ten Hag for the role. Is he the right person to guide Old Trafford to success?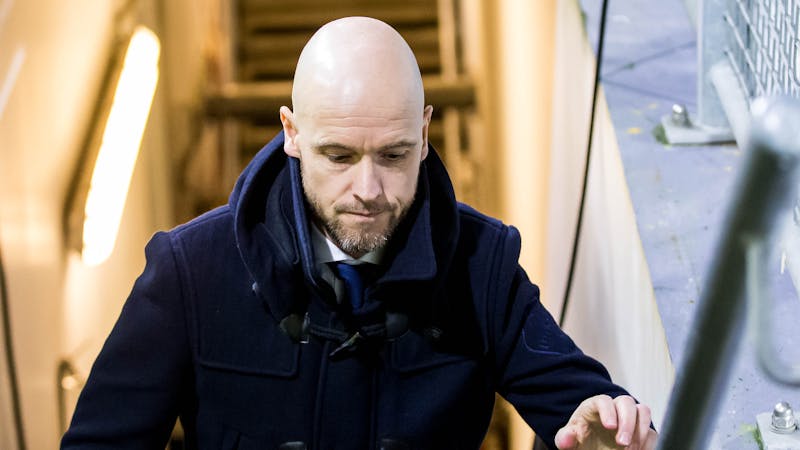 Manchester United have endured a long wait for trophies since Sir Alex Ferguson's departure in 2013, employing numerous managers who have failed to guide them to victory.
With Jose Mourinho, David Moyes, and Louis van Gaal at the helm, they managed to win the Europa League, FA Cup, and FA Community Shield.
But for a club of United's standing, the club's supporters have been concerned about poor performances in the past few years and have continued to ask for the right man to lead them back to their glory days.
At the end of the current campaign, the Old Trafford hierarchy will be looking to end Ralf Rangnick's role as the club's manager, making him the 7th man to have sat in the hot seat since 2013.
Erik Ten Hag has won 154, drawn 26 and lost 28 games in 208 outings since taking over Ajax in 2017
Manchester United were linked with a number of renowned European managers for the managerial job, including current PSG manager Mauricio Pochettino and Spanish head coach Luis Enrique, before settling on Erik Ten Hag, who they have now appointed as the best candidate for the job.
The Old Trafford faithful have handed him a right over transfer decision in which the club fans will be hoping to see a massive change after a disappointing season finishing outside the top four of the Premier League table.
Following multiple interviews with other contenders for the post, including Pochettino, who was the second man in line for the job, the Old Trafford faithful deemed Erik Ten Hag worthy of the job.
After months of rumours linking the club with the Netherlands manager as the favourite to take over the Premier League club, Manchester United fans would be excited to have a new man full of tactics to revive the club.
United supporters want a fresh start and feel Erik Ten Hag will be up to the task, based on his track record at Ajax, where he led the team to greater heights since taking over as manager.
The manager's track record of developing young players has been outstanding, as he has raised a group of brilliant players who now play for Europe's top teams, including Juventus' Matthijs de Ligt and Barcelona's Frenkie de Jong.
Manchester United would like him to help the club's young players, such as Marcus Rashford, Jadon Sancho, Anthony Elanga, and others, reach their full potential.
The Red Devils are willing to give Erik Ten Hag full support in the transfer market, allowing him to scout players he believes fit his ideology and also allowing him to implement his techniques and tactics to any length.
Already, the club are reportedly linked with some of the Premier League's most promising players, including West Ham United's defensive midfielder Declan Rice, Leeds United's defensive midfielder Kalvin Phillips, and Barcelona's gifted midfielder Frenkie de Jong.
The club has been without a quality defensive midfielder for a long time, and signing one of the two players mentioned above might help the club balance its excellent group.
On the other hand, Erik Ten Hag is an attacking-minded manager who appreciates seeing his players take the initiative, and he could end Manchester United's uninspiring productivity in front of goal, which has seen them score 57 goals in 37 Premier League games this season.
With so many quality attackers in the current United group, the manager's approach would be much easier to implement and get individual players scoring again.
With the backing of Manchester United's board and his vast management experience, will Erik Ten Hag be able to restore Old Trafford back to greatness next season?