Manchester United fans make Frenkie de Jong plea amid club's interest
Manchester United fans have pleaded with Barcelona midfielder Frenkie de Jong to join them this summer, as the club continues to negotiate a deal with the Spanish giants.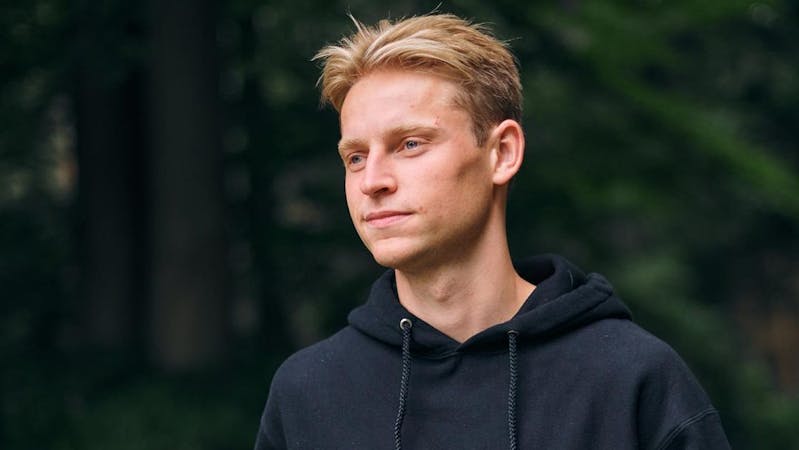 Barcelona's gifted midfielder, Frenkie de Jong, has been on Manchester United's radar since the arrival of new manager, Erik ten Hag.
In the past few weeks, the Old Trafford board have been exploring the possibility of signing the Dutch player, having held several talks with Barcelona over a transfer.
Erik ten Hag is understood to be a big fan of Frenkie de Jong and has made him his primary midfield priority in the Old Trafford revamp.
Despite Ten Hag wanting to reunite with his former player, having trained him at Ajax before his move to La Liga, Frenkie de Jong have stated clearly that he is happy at Barcelona but the Spanish giant are having a hard time keeping him due to their current economic crisis.
"You are always flattered when teams show interest in you as a player," said De Jong while on international duty with the Netherlands national team, "but I think I am at the biggest club in the world at the moment and feel fine there, so there is no news."
While Manchester United continue to approach Barcelona for his transfer, De Jong has taken some time off for holiday after some Nations League group stage matches with his country.
De Jong posted a picture of himself and his fiancee, Mikky Kiemeney, on vacation in Las Vegas, United States, on Instagram, which incited pleas from some Manchester United fans for him to sign for the Red Devils, while some Barcelona fans implored him to stay at Camp Nou.
Manchester United had initially made a bid for Frenkie de Jong worth €60m plus €19m add-ons, but Barcelona rejected it, demanding €86m in cash to sort out their economic issues.
Frenkie de Jong was one of the best players in the Netherlands' team in the Nations League group stage match played earlier this month
Though their first offer was rejected, they have remained in contact with Barcelona as Ten Hag eyes him as Paul Pogba's replacement.
The Premier League club is preparing to make a fresh proposal for the 25-year-old, with reports suggesting talks about the transfer are in key stages.
On the other hand, the Blaugrana are already looking for Frenkie de Jong's replacement in case he makes the switch to the Premier League. Barcelona have identified Manchester City's Bernardo Silva as the ideal man for the position and is waiting to see the outcome of De Jong's deal.
United fans hope to see Frenkie de Jong join them before their preseason games start in July.
Manchester United pre-season fixtures and dates
Manchester United will embark on a pre-season tour to Bangkok, Thailand; Melbourne and Perth in Australia; and Oslo, Norway, in preparation for the upcoming 2022 season.
The Red Devils will begin their pre-season friendlies against arch-rival Liverpool on July 12 at Rajamangala Stadium in Thailand, in Erik ten Hag's first match.
They will fly to Australia on July 15 to face Melbourne Victory and Premier League opponents Crystal Palace at Melbourne Cricket Ground before traveling to Perth on July 23rd to face Aston Villa at the Optus Stadium.
On July 30, Erik ten Hag and his team will be heading to Oslo, Norway to play against Diego Simeone's team, who kicked them out in the Champions League knockout stage last season.
At last, Manchester United will return to Old Trafford on July 31 for their final pre-season match against Rayo Vallecano, which will be Erik ten Hag's first home match.