Former Manchester United player chooses Raphinha over Richarlison
A former Manchester United and Tottenham Hotspur player believes Leeds United's winger Raphinha would be a better signing than Everton's Richarlison.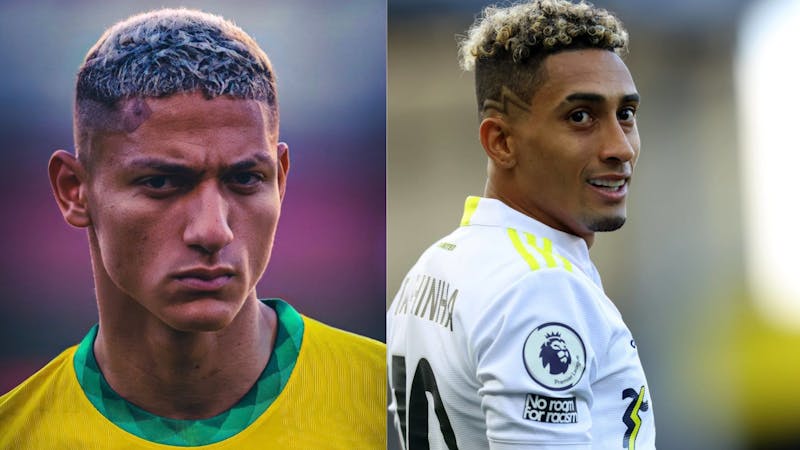 Brazilian players have taken centre stage this summer transfer window, with Leeds United's winger Raphinha, Everton's Richarlison, Manchester City's Gabriel Jesus, and Ajax's player Antony all being hunted by Premier League elite clubs.
Among these talents, Everton's forward Richarlison and Leeds United's winger Raphinha are two names being sought by several EPL top clubs, including Chelsea, Arsenal, and Tottenham Hotspur.
Amid the transfer battle, former Manchester United player Alan Brazil and ex-Arsenal player Ray Parlour have stated that they would prefer to sign Raphinha over Richarlison.
Despite admitting in a podcast with talkSPORT that the pair are top players, Ray Parlour described Richarlison as an inconsistent player.
"I'd rather pay £50m for Raphinha than I would for Richarlison," said Alan Brazil, before getting a "Richarlison is a top player, but he's too inconsistent sometimes!" reply from Ray Parlour.
Rappinha's crazy transfer saga
Raphinha has been a popular name in this summer transfer window, having reached a verbal agreement with Barcelona weeks before Arsenal and Tottenham Hotspur entered the race for his transfer.
Arsenal manager Mikel Arteta is understood to be looking for players to boost his squad in their hunt for a Champions League spot and has identified the Brazilian as an ideal man for the job.
On the other hand, Antonio Conte, who is poised to win trophies with Tottenham Hotspur, having received backing from Tottenham's board, is looking to make Raphinha his fourth signing after Ivan Perišić, Fraser Forster, and Yves Bissouma.
Raphinha has gone on a holiday with his fiancee, Natalia, as he waits for his next move
The two Premier League clubs are also facing stiff competition from their London rivals, Chelsea, who are equally keen on luring Raphinha to Stamford Bridge.
Chelsea's manager, Thomas Tuchel, is also understood to be a vehement admirer of the 25-year-old and is hoping to hijack the deal.
Arsenal were thought to be in pole position to sign the striker before Leeds United rejected their first bid, which was thought to be less than £40 million, according to TheAtletic.
Tottenham are also in direct contact with Leeds United in the hopes of submitting a bid for Raphinha, while Chelsea continues to assess the situation.
Leeds United have placed a £50 million valuation on their star, who has spent two seasons at Elland Road with 17 goals in all competitions since joining the Premier League club from Rennes in French Ligue 1.
Richarlison has scored 53 goals in 152 appearances in all competitions for Everton
EPL top club fighting for Richarlison
Everton's winger Richarlison has made his intention of departing Goodison Park clear, requesting a transfer from the club this summer.
Chelsea, Arsenal, and Tottenham Hotspur have again entered the same race to sign the talented Brazilian forward, while the Raphinha race continues.
Chelsea are looking for a replacement for Romelu Lukaku, who will return to Inter Milan, and have identified Richarlison as a desirable option, while Arsenal and Tottenham Hotspur are passing up the chance to sign Richarlison to boost their squads.
Richarlison has spent the last four seasons with Everton and believes the time has come to take the next step in his career.
Everton have demanded a fee of £50 million for Richarlison, similar to what Leeds United are asking for Raphinha, before they will allow him to leave.