Martinelli proves Gabriel Jesus' imminent signing for Arsenal with an Instagram photo
Arsenal's Gabriel Martinelli teased football fans on Instagram with a training picture showing him and Manchester City's Gabriel Jesus.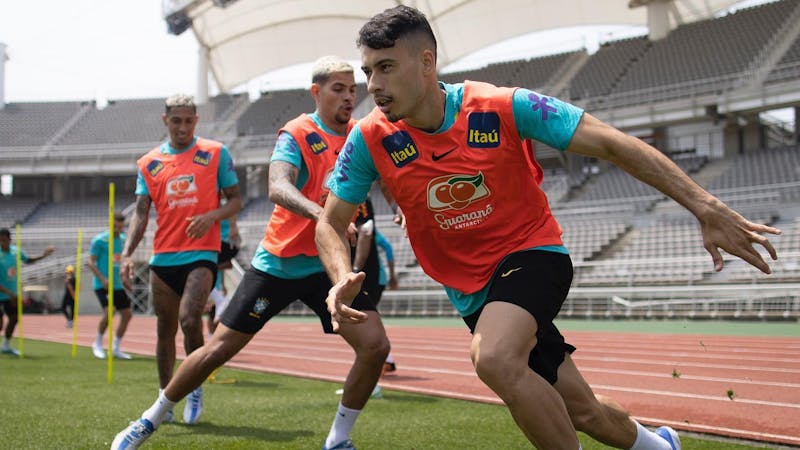 Gabriel Martinelli is already getting along with Arsenal's potential summer signing, Gabriel Jesus. Since last year, Arsenal has been discussing with Gabriel Jesus' entourage regarding a summer move to the Emirates.
The club has made Jesus their top striker target after renewing Eddie Nketiah's contract. Gabriel Jesus is currently away on international duties with the Brazillian national team alongside Arsenals Gabriel Martinelli and Gabriel Magalhães as the team prepares for their upcoming friendlies against Japan tomorrow.
Gabriel Jesus was on a fine goal-scoring form towards the end of the season with Manchester City, helping Pep Guardiola's team clinch their 4th English Premier League title in the last 5 seasons under the Spaniard.
But with the arrival of Eric Haaland at the Etihad Stadium from the German side Borrusia Dortmund, Manchester City is looking to sell Gabriel Jesus, who is on Arsenal's radar.
Arsenal's Gabriel Magalhães welcomed the news of Gabriel Jesus potential signing for Arsenal, calling him a quality player
Arsenal has been in dire need of a Striker since the departure of Pierre-Emerick Aubameyang in the January transfer. That need has been exacerbated following the Club's official announcement of the release of Alexandre Lacazette, whose 5-years contract he signed back in 2017 expired this June.
Last week, in a Press Conference with the Brazilian national, Arsenal's Gabriel Magalhães gave his thoughts on Gabriel Jesus, and He said:
We joke around in the dressing room, but there's nothing certain. Of course, Gabriel Jesus is a quality player, and if he goes to Arsenal, he will help us a lot.
Today, Gabriel Martinelli posted an exciting picture on his Instagram stories showing the Arsenal striker jogging with the ball as Gabriel Jesus looks on.
Arsenal fans on Twitter see this as a clear sign that the deal could be happening, and Gabriel Jesus could soon be joining Mikel Arteta's side.
The crop of Brazilian players at the Emirates has been growing since Edu Gasper took over as the Club's sporting director. Recently, Arsenal has unofficially secured the signing of Marquinhos, a 19-year-old winger/striker from São Paulo.
The potential arrival of Gabriel Jesus to the emirates would increase the number of Brazilian players in the team to 4