Zinchenko dubbed Manchester City's "great servant" amid Arsenal's interest
Arsenal's target, Oleksandr Zinchenko, has been described as one of the most humble players in Manchester City amid the club's to release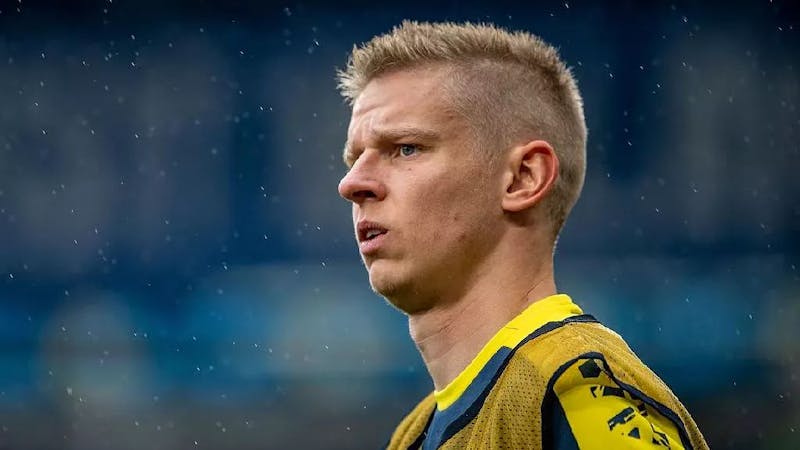 With a new season around the corner, Arsenal manager Mikel Arteta is looking to bolster his squad ahead of imminent competitions.
The Spanish manager, who missed out on a Champions League spot last season, is hoping to secure one this season and has signed a slew of talented players to assist him in doing so, including gifted Brazilian striker Gabriel Jesus, winger Marqininhos, attacking midfielder Fabio Vieira, and goalkeeper Matt Turner.
Despite the addition of these players, Mikel Arteta is not satisfied with the quality of his squad and wishes to add a new left-back.
The 40-year-old has approached Manchester City for its left-back, Oleksandr Zinchenko, after losing first-choice player Lisandro Martinez to Manchester United.
Arsenal were on the verge of signing the versatile Argentine defender when Manchester United swooped in to hijack the deal due to the player's familiarity with Old Trafford's new manager, Erik ten Hag.
Oleksandr Zinchenko has two years left on his contract with Manchester City
Mikel Arteta has identified Zinchenko as his next option and he is pushing to sign the Ukrainian talent, who Manchester City may release as part of their overhaul plan.
Amid Arsenal's interest in Oleksandr Zinchenko, former Manchester City player Trevor Sinclair has described the 25-year-old as one player who has patiently served the club despite not playing regularly.
"I like Zinchenko; he is a great servant to Manchester City, and he is adaptable to playing left back and central midfield," said Sinclair in a podcast. "It is doubtful he will move to Arsenal. I can't see him and Nathan Ake both going!
Manchester City's manager, Pep Guardiola, has embarked on a squad overhaul after lifting his fourth Premier League title with the Citizens.
The Spanish manager has released two first team players, Gabriel Jesus and Raheem Sterling, to rivals, Arsenal and Chelsea, and could further open the exit door to more players.
Manchester City have also been linked with Brighton's left-back, Marc Cucurella, giving Arsenal the opportunity to begin talks for Zinchenko.
With negotiations in progress between both parties, Arsenal will hope to get the deal done, especially after Manchester City blocked a proposed sale of Nathaniel Ake to Chelsea.
Since joining Manchester City in 2016, Oleksandr Zinchenko has never been a guaranteed starter under Pep Guardiola, and he may be willing to move to Arsenal to gain more playing time.