5 fascinating facts about Arsenal's new signing Oleksandr Zinchenko
Intriguing qualities of Oleksandr Zinchenko, every Arsenal fan should be excited about following his impending arrival to the Emirates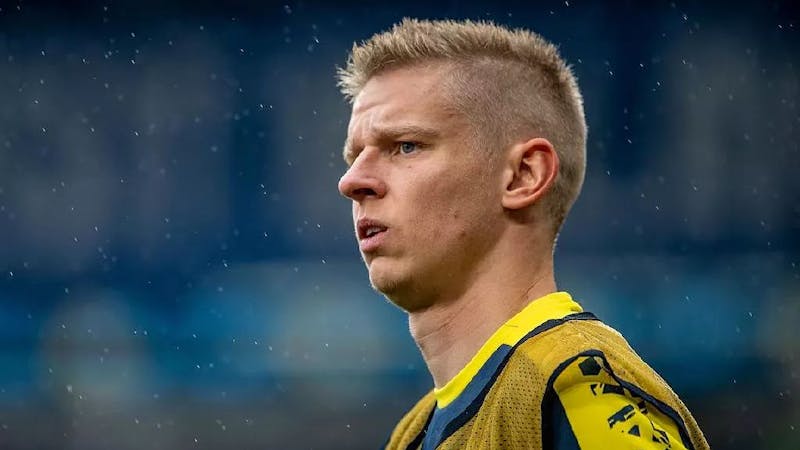 Arsenal fans will be excited about their overwhelming activities in this summer transfer window as the club has firmly backed their manager, Mikel Arteta, ahead of the season's challenge.
The Spanish manager has done an intriguing business, signing some of Europe's most talented players to assist in his quest for a respectable finish in the top flight.
Arteta's squad appears to be looking stronger than last season following the arrival of gifted Brazilian striker Gabriel Jesus from Manchester City, winger Marqininhos, FC Porto's attacking midfielder Fabio Vieira, and a backup goalkeeper in Matt Turner due to the uncertain future of Bernd Leno.
Mikel Arteta has yet to be satisfied and is set to sign another masterpiece of a talent in gifted Ukrainian player Oleksandr Zinchenko, a player all Arsenal fans would be excited to see in the red shirt.
Arsenal is set to complete the signing of Oleksandr Zinchenko after reaching a £30 million agreement with Manchester City and personal terms with his camp. Following Gabriel Jesus' arrival two weeks ago, Zinchenko will become the second Manchester City player to join the Gunners.
These are the fascinating facts about Oleksandr Zinchenko that every Arsenal fan should be excited about, with his impending arrival subject to medical tests, according to reports.
1.0
Versatility
Anyone who has seen Oleksandr Zinchenko play for Manchester City or the Ukrainian national team should be aware of his versatility, which has helped him become a quality player.
Under Manchester City coach Pep Guardiola, Oleksandr Zinchenko has thrived as a left-back, stepping up on crucial occasions for the Citizens.
The 25-year-old was a part of the squad that played a key role in Manchester City's 2021 season, which saw them finish as Champions League runner-up after a 1-0 loss to Chelsea at Estadio do Dragao in Portugal.
In the tournament's semi-final, Oleksandr Zinchenko played as a left-back in the 2-0 victory against Paris Saint-Germain, which ended in a 4-1 aggregate win, and in the final against Chelsea in Porto.
In the Ukrainian national team, Zinchenko has been regularly used as a central midfielder, a position he has played well and scored eight goals in.
His versatility will be of immense value to Arteta, who could use him in both positions whenever the need arises. Last season, Mikel Arteta's team failed to finish in the top flight, which was attributed to injuries, especially in the midfield, and having a player like Zinchenko could help in dealing with such situations.
2.0
Patience and humility
Following Mesut Özil, Pierre-Emerick Aubameyang, and Mattéo Guendouzi's fallouts at Arsenal, it is right to say that Mikel Arteta cherishes respect more than any other thing in a player.
The 40-year-old had always taken such cases seriously, allowing these players to leave Arsenal, despite being among his best players.
Arsenal fans should be happy about this attribute for their incoming player, Oleksandr Zinchenko, as he has been described as one of Manchester City's humble servants.
Zinchenko has always been patient in his time at Manchester City, having made only 76 Premier League appearances since he joined the Citizens in 2016.
Oleksandr Zinchenko made 128 appearances in all competitions in his five years at Manchester City
Despite not playing in every game, he patiently used every opportunity he was given under Guardiola, which contributed to his successful spell at Manchester City.
Arsenal fans will be pleased to learn they will have a player with such an outstanding personality, which is one quality that a good team requires in a player.
3.0
Strong winning mentality
Apart from having a great character, every player at Manchester City has learned to have a strong winning mentality under Pep Guardiola, and this is the same with Oleksandr Zinchenko.
In the past five years in the Sky Blue shirt, Oleksandr Zinchenko has won many trophies, including four Premier League, four EFL Cups, one FA Cup, and one FA Community Shield Cup.
With all these trophies, Oleksandr Zinchenko's winning spirit will be paramount to Arsenal's team, which will help Arsenal in their pursuit of a Champions League spot.
4.0
Stunning international record
Oleksandr Zinchenko has been one of the best players on in the Ukrainian national team since his promotion in 2015, having represented the under 16, 17, 18, 19, and 21 teams.
The 25-year-old, who has made 52 appearances, broke a record by becoming the youngest Ukrainian player to score an international goal at 19 years and 165 days in a 4-3 friendly win over Romania, a record previously held by former Chelsea player Andriy Shevchenko.
5.0
Excellent goal record
Not only has Oleksandr Zinchenko broken a long-held record by Andriy Shevchenko since 1996, but he also became the youngest player to captain the Ukrainian national team at 24 years and 98 days in a match against France.
Holding such a record denotes Oleksandr Zinchenko as a true leader, which will also be an important quality in Mikel Arteta's team.