Vinícius Júnior enjoys a luxury trip in USA amid Real Madrid's contract extension
Real Madrid star Vinícius Júnior has taken a vacation to the United States while waiting to extend his contract with Real Madrid.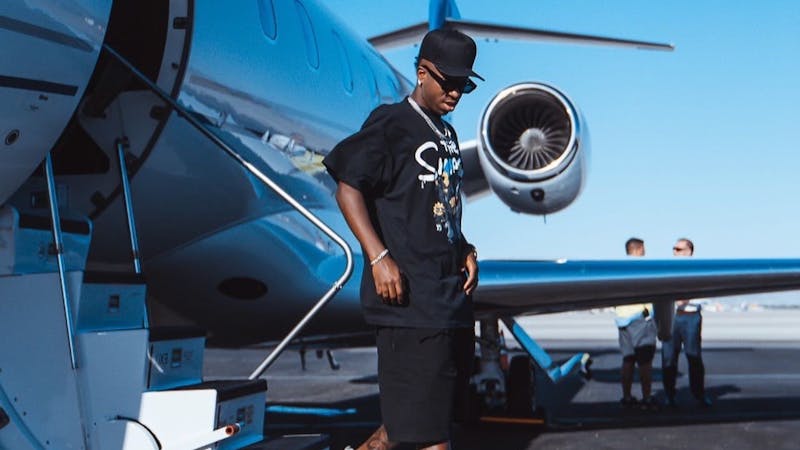 Vinícius Júnior had his best season in a Real Madrid shirt last campaign, helping the Spanish club win the Champions League, Spanish La Liga, and Supercopa de España trophies.
The 21-year-old stood out for the Los Blancos, forming a formidable partnership with Karim Benzema.
Vinícius Júnior's stellar performance got him 17 league goals and 13 assists, his most since joining Real Madrid and his highest ever goals per season after scoring only six goals in 49 appearances in the previous two seasons.
The Brazilian international also had his best performance in European competition, with four goals and seven assists, including the winning goal against Liverpool in the Champions League final.
Following his participation in Brazil's friendlies last week, Vinícius Júnior took time off on a luxurious trip to the United States, landing first in Maimi before changing to Las Vegas as he waits for Real Madrid to extend his contract.
Vinícius Júnior scored 22 goals and assisted 20 in all competitions for Real Madrid last season
Vinícius Júnior's contract extension
After the 2021 season, Real Madrid was pleased with Vinicius' incredible numbers, becoming the club's second-best player after Karim Benzema.
To fend off interest from elite European clubs, the Spanish club has taken a huge step and since entered into contract extension talks with Vinícius Júnior and his camp ahead of the new season.
The two parties are reportedly close to reaching an agreement on what appears to be a long-term contract extension, which will undoubtedly result in a significant increase.
His current contract with Real Madrid expires in July 2024, but Madrid is not wasting time and is eager to tie the 21-year-old to a new four-year contract until 2028, which will earn him over £170,000 weekly salary, a huge sum for such a young player.
In a breath of fresh air for the contract team at the Bernabeu, Vinícius Júnior has expressed his happiness and desire to stay at the club and make more history with the Spanish giants.
"I don't want to stop here. I want to keep winning much more and keep making history with Real Madrid," said Vinícius Júnior after winning the Champions League final in Paris.
Vinícius Júnior is due to join up with the team's pre-season campaign in the United States, which will start in July after his holiday.
Vinícius Júnior would be among Real Madrid's players that will participate in the Clasico against Barcelona in Las Vegas.
Real Madrid's pre-season tour
Real Madrid will embark on an exciting 2022 pre-season tour in the United States as part of the Soccer Champions Tour, which will take place from July 2022 to July 30.
The pre-season tour will include two of Spain's biggest clubs, Barcelona and Real Madrid, and Italian giants Juventus, Club America, and CD Guadalajara of Mexico.
The Soccer Champions Tour matches will take place in four cities across the United States, including a familiar Clasico between Real Madrid and Barcelona on July 23 in Las Vegas.
Real Madrid will face Club America and Juventus on July 26 and 30 at Oracle Park in San Francisco and Rose Bowl Stadium in Los Angeles, respectively.