Xavi proves Barcelona wants to push away Frenkie de Jong
Barcelona manager Xavi may have proven the rumours of the club wanting to push away central midfielder Frenkie de Jong amid their full agreement with Manchester United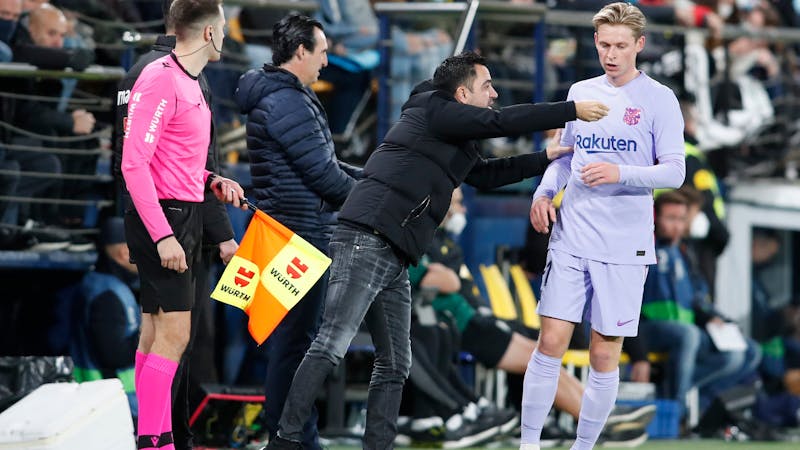 Frenkie de Jong's transfer saga continues to be the most talked about in the transfer market almost two months since the summer transfer window was opened.
The Dutch international player, who has maintained his stance on staying at Barcelona, is facing a difficult time in his career as Barcelona wishes to keep him if only he reduces his salary.
Frenkie de Jong had previously taken a pay cut at the Spanish club during the COVID-19 crisis, which has mounted to over £17m wed t him by Barcellona.
Despite his desire to stay at the Spanish club, they had reached an agreement with Manchester United, who are obsessed with the player and have been attempting to sign him in recent weeks.
Barcelona have been previously accused of wanting to push Frenkie de Jong away to help them find a solution to their economic crisis, which Barcelona's president, Joan Laporta, refuted.
"Frenkie de Jong is our player." "We really like him," said Laporta. "We received some offers for Frenkie, but we didn't accept them as of now, as we want to talk with him and know exactly what he wants." "We need to clarify some aspects of his situation."
Frenkie de Jong appears to be waiting for Barcelona to resolve his salary issues
Despite denying the rumours that they want to oust De Jong, Barcelona manager, Xavi may have proven them correct in their 1-0 ElClásico victory on Sunday.
In the pre-season friendly match against Real Madrid, Frenkie de Jong was left on the bench in the first-half, only to be brought on in the second-half as a center-back to replace Andreas Christensen.
When asked about playing De Jong at center-back, Xavi was quick to defend his decision, despite that he had never played in the position before.
"I am not here to send messages. I already spoke with Frenkie," Xavi said. "I value him very much. He is a key player, but then there is the economic situation and financial fair play; he can give us a lot also as a center-back. "
Though Xavi has denied the act of pushing De Jong away, Barcelona has continued to search for a center-back and has been fighting with Premier League club Chelsea for the transfer of Sevilla's French defender Jules Kounde.
According to reports, the Spanish giants are close to signing Kounde from Sevilla as they plan to hijack the deal from Chelsea, who had been in pole position to sign the 23-year-old.
Barcelona's tremendous interest in Jules Kounde could mean that Xavi and Barcelona do not have room for Frenkie de Jong in the team.
Tremendous - use another synonym
De Jong's agent had told Barcelona that his client wants to stay but will not be taking a pay cut, which is rumoured to be 50% of his salary.