Xavi's necessary factors to turn Barcelona around
The main area on which Xavier Hernández must concentrate to restore Barcelona's title-contending status.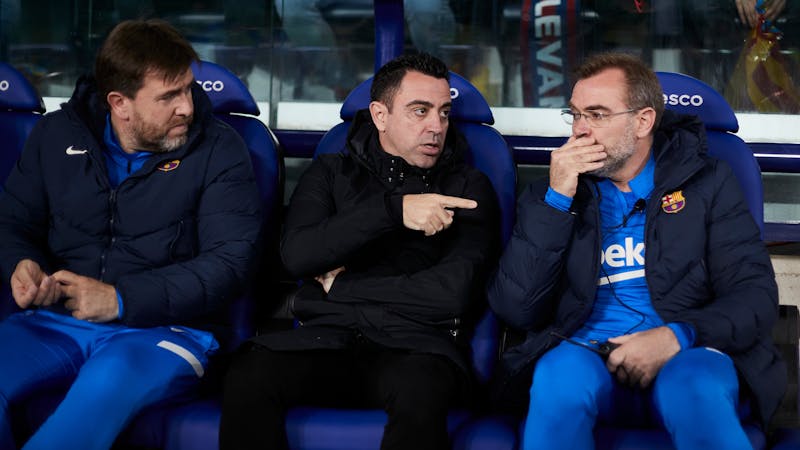 Since Ronald Koeman's departure, new Barcelona manager Xavi Hernández has done an excellent job reversing the club's fortunes from the chaos left behind by their former administration.
He has turned things around with the excellent January signings of ex-Manchester City winger Ferran Torres, Gabonese international striker Pierre-Emerick Aubameyang, and Barcelona academy product Adama Traoré.
Xavi had reinstated some confidence in the team after finishing second in La Liga, up from 10th position when he took over the managerial seat of his boyhood club. The new signings profoundly helped improve Barcelona, which lacked quality in all areas in the first half of the 2021 season.
Former Arsenal captain Pierre-Emerick Aubameyang has had an outstanding start to his La Liga career, tallying 11 league goals in 17 appearances for the Blaugrana team, contributing to Barcelona's superb accomplishment.
Ferran Torres, who arrived in January as well, was an essential part of the transformed team that Xavi implemented in his first season, with four league goals and assists.
The season's impressive finish will delight Barcelona fans, who now hope that the team will replicate their outstanding performances and propel them back into title contention next season.
Despite reaching this milestone, Xavi still has a huge job to do before he can compete for trophies and will look to strengthen his squad with more talented players who have a winning mentality.
The 42-year-old faces a much more significant challenge as a result of Barcelona's financial crisis, which prevents him from executing some signings and would force him to sell some players.
Barcelona are hoping to keep Ousmane Dembélé after an impressive performance in the second half of last season.
Barcelona's financial difficulties
It is no longer news that Barcelona has struggled financially in recent seasons, forcing the club to sell most of its talented players, including legendary superstar Lionel Messi.
The crisis that has prevented the Spanish club from competing at the highest level in Europe has worsened, a significant setback in Xavi's rebuilding plan as the club looks to offload more players this season.
Barcelona is looking for a solution to Ousmane Dembélé's contract situation, as they will lose him on a free transfer if he fails to extend his contract.
Talented Dutch midfielder Frenkie de Jong is one player that could also follow the exit gate this summer, as he is heavily linked with a move to Manchester United.
A slew of other players who could leave is yet to be identified, with Barcelona looking to assess their situation before making the critical decision.
"We haven't made any decisions regarding the squad; Frenkie is a quality player, very important." "We are conditioned by financial fair play, conditioned by the situation inherited by the club," said Barcelona sporting director Mateu Alemany last month.
"We must be patient." We are clear that we are going to reinforce the team. It is necessary, and we want to compete for the titles next year.
Before deciding which players to keep and which to let go, Xavi would have to consider some key positions to strengthen, looking back at their flaws from last season.
Barcelona's high-possession decline
As a player, Xavi was surrounded by Andrés Iniesta and a slew of other talented and experienced players who helped Barcelona control one-third of every match possession, a figure that has shifted dramatically at the club in recent seasons.
Though Barcelona boasts many young, prospective midfielders of exceptional quality, the current squad's possession levels fall far short of the club's previous records.
Pedri, Gavi, Nico González, and Riqui Puig have all excelled for the Blaugrana, but Xavi still needs seasoned midfielders capable of putting pressure on opponents to compensate for their lack of experience.
Sergio Busquets has been Barcelona's deep midfield core for nearly a decade, but his recent performances have dwindled in inverse proportion to his age.
The 33-year-old was expected to be replaced by Frenkie de Jong, who has yet to match his predecessor's decade-long dominance in Barcelona colours.
Barcelona's current season has produced significantly fewer ball possession touches in comparison with the last three seasons, with only 19569 touches in 26 games, compared to an average of 31000 in the previous three seasons.
This dismal performance is one that Xavi and his squad should be worried about, as it shows that they direly need an experienced defensive midfielder who can help regain possession during games.
Xavi has made his intention to keep Frenkie de Jong clear, but he is facing a financial problems that could see the player leave this summer
To compete next season, the Spanish club would need to find a perfect replacement for Sergio Busquets, as Frenkie de Jong is more of a central midfielder than a defensive midfielder.
According to statistics, recent successful managers, such as Liverpool's Jürgen Klopp, Manchester City's Pep Guardiola, and current Chelsea manager Thomas Tuchel, have built their successes on natural defensive midfielders.
Furthermore, Mikel Arteta of Arsenal has recently strengthened his team with a tactically organized midfield that includes Ghana's Thomas Partey as the natural defensive midfielder, which the Spanish manager should look up to.
Barcelona's defensive woes
Even though Xavi's Barcelona found consistency in the second half of the just-concluded season, the club still struggles to keep pressure on the defensive position.
Barcelona have had a string of defensive blunders that have chastised Xavi, with only 11 clean sheets in 38 league games, finishing 11th in the table, below lower clubs such as Getafe, Real Sociedad, Cádiz CF, and CA Osasuna.
The club's poor defensive record this season can be attributed to a lack of skilled defenders as well as aged ones who are over 30, including Gerard Piqué, Dani Alves, and Jordi Alba, who may not have the strength to participate in full-blooded challenges.
Just as he did in the attacking phase, Xavi might need to recruit experienced young defenders to help the club compete for major titles.
To avoid a bloated squad, Xavi would have to let go of some of his underperforming defenders before bringing in new ones.
According to reliable sources, the manager intends to shelve French defenders Clément Lenglet and Samuel Umtiti this summer to bring in some fresh legs.
Xavi has devised an intelligent plan to handle the current situation to help Barcelona compete next season.