Best left-footed players of all time
Messi? Maradona? Roberto Carlos? This post details the most comprehensive list of the best left-footed players ever in the history of football.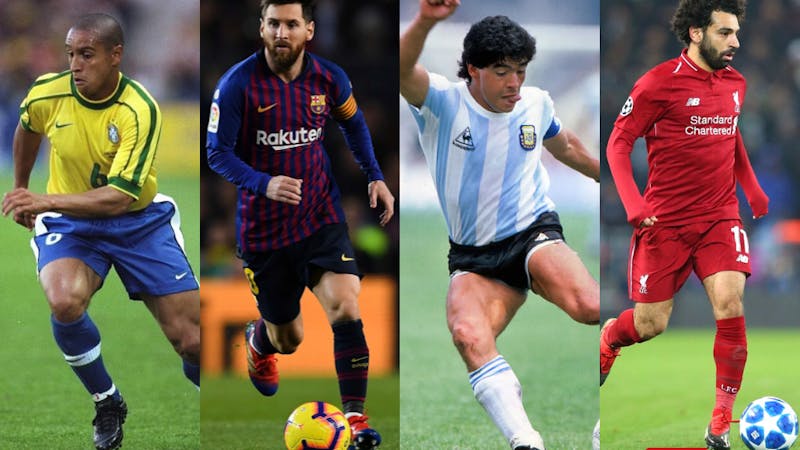 Approximately sixty percent of players are right-footed, according to a survey, but numbers do not necessarily equal excellence. Science has proven that left-footed footballers have an "inverted cerebral hemisphere," which offers them a competitive advantage over their right-footed counterparts. In this article, ZonalSports compiles a list of the best left-footed players in history.
24. Van Persie
He may not have as many laurels as Rivaldo or Ryan Giggs, nor as many goals as Messi, but he is Van Persie.
The flying Dutchman established a reputation as one of the finest first-time volleyers in Premier League history.
Not to add THAT gorgeous header.
23. Gareth Bale
Bale's career was marred by injuries, highs and lows, but it is obvious that at one time he was one of the world's best left-footed players.
He started his career as a fullback for Tottenham Hotspur before joining Real Madrid for a world-record fee as a right winger. If not for his reoccurring injury issues, the Welshman's accomplishments would have been considerably more noteworthy.
At his departure in 2022, he left behind indelible history at the Bernabeu, including five Champions League conquests. Bale is still considered one of the most clinical players in the world of football.
22. Mesut Ozil
Once maligned, but never to be forgotten. Despite a turbulent conclusion to his footballing career at both club and national level, Ozil remains one of the best left-footed footballers of all time.
In his heyday, his superb ball control made him one of the most entertaining players to watch. The German international, who led Arsenal during its "golden" days, is every forward's dream because he constantly looked for a pass, regardless of how open the goal appeared.
Cristiano Ronaldo, Portugal's all-time greatest athlete, once lauded his teammates creativity as the factor behind his brilliance:
"Mesut has made me better. If you have great players around you, your play becomes stronger," he said in 2011.
21. David Silva
Along with being one of the greatest left-footed players in the history of modern football, David Silva was the ultimate backbone of Manchester City's midfield and the most undervalued contribution to the team's development.
Unfortunately, his success did not extend to the Spanish national team, where he had to battle with Xavi, Busquets, and Alonso for a starting position.
Two strikers, Pedro and a certain Iniesta, Spain's greatest ever player, were also at the top of the pecking order farther up the field. After each of these players departed the national team, Silva emerged as the undisputed leader, despite Spain's weakened status on the international scene.
20. Mohammed Salah
In recent years, Salah, the Egyptian pharaoh, has been a strong candidate for the Ballon d'Or. His name is perhaps the most contentious on this list.
In a number of ways, the striker is one of the best offensive threats in football, surpassing Messi as the decade's top-scoring winger.
A reputation as one of the best left-footed Premier League players of all time, has earned Salah a net worth that ranks him as Africa's wealthiest footballer. 
19. Petr Cech
Many goalkeepers in active football, such as Ederson and Courtois, can play on the left side, but both of these highly regarded stoppers will have to move mountains to acclaim the same legacy as Petr Cech.
The former Chelsea goalkeeper has won the Premier League Golden Glove Award three times, the Czech Footballer of the Year title seven times, and the award for the Best Goalkeeper in Europe.
In addition to being recognized as one of Arsenal's greatest players, John Terry considers Petr Cech to be a Chelsea icon.
18. Arjen Robben
Robben was a classic left-footed player who delighted in cutting in from the right flank and displaying his flair. Defenders could only hope for the best as he dribbled into "the zone" despite his unwavering predictability.
Despite his dismal performances at Chelsea and Real Madrid, the Dutchman became a household name after joining Bayern. 
Many feel that his legend would have flourished if his achievements had come in a league other than the Bundesliga, where the competition was questionable.
17. Bobby Charlton
A product of one of the best soccer academies in the world, Bobby Charlton is one of the most legendary individuals in Manchester United's history and one of the first left-footed players to achieve prominence.
Although he is no longer the top scorer for the English national team, he remains one of the best players in English football history and one of the best left-footed footballers of all time.
16. Raul
/Photograph by www.flickr.com/people/37547921@N04, distributed under a CC-BY 2.0 license
Raul is undeniably one of the greatest left-footed players in football history. He is the genuine prince of the Bernabeu and a Real Madrid symbol of the twenty-first century.
During his playing career, he displayed an elegant approach, preferring to lob with his left foot as opposed to power, which contributed to his exceptional reputation in Madrid.
15. Hugo Sanchez
Hugo Sanchez is perhaps the greatest player in Mexican history, and the Real Madrid legend is renowned for two distinct abilities with his left foot, the first of which is his ability to score with a deft first touch. In the late 1980s, he was considered the finest first-touch scorer in football for a while.
The Mexican great was also capable of spectacular left-footed volleys, and on April 10, 1988, produced one of the most flawlessly accomplished bicycle kicks in history.
14. Angel Di Maria
/Photograph by www.flickr.com/photos/jansolo09/, distributed under a CC-BY 2.0 license
Di Maria, one of the most underrated playmakers in football history, is one of the few current footballers capable of delivering a pass through the eye of the needle. Since the early 2010s, he has built a clinical reputation for splitting defenses with his left-foot.
According to CIES, the Argentine is the second most creative player in modern football, after Messi.
13. Gheorghe Hagi 
Having played for Real Madrid and Barcelona, two of football's most legendary rivals, Hagi is one of the greatest players of all time. 
The Turkish midfield orchestrator is noted for his vision, passing range, skill, dribbling, and long-distance shooting.
Hagi scored one of the best goals in World Cup history when his 40-meter lobbed shot hit the crossbar and went in to open the scoring against Columbia in the 1994 tournament.
A six-time Ballon d'Or contender and one of the greatest left-footed midfielders in history, Hagi was named by Pele as one of the greatest players in his 125-man list.
12. José Luis Chilavert
Chilavert is one of the greatest and probably the most remarkable goalie in football history. As the second-best goalkeeper in history in terms of goals scored, he is one of the few shot-stoppers whose legacy was based on footwork rather than handwork.
In his professional career, he scored 67 goals, including two in the 1998 World Cup for Paraguay and four more in the 2002 World Cup qualifiers, all with his excellent left foot.
In modeen football, where sweeper-keepers are becoming the standard, Chilavet will undoubtedly get more consideration than left-footed goalkeepers such as Casillas and Cech.
11. Walter Samuel
Widely regarded as one of the hardest defenders in football history, Walter Samuel is without a doubt one of the greatest left-footed players of all time. Inter Milan captain and fellow strongman Javier Zanetii of over 850 senior professional matches viewed him as his "toughest" teammate. 
In the 2000s, the Argentine was one of the pillars of Inter Milan's dominance in Italian football, guiding them to five consecutive Serie A championships and a triple under José Mourihno.
10. Roberto Carlos
Without Roberto Carlos, one of the greatest ever left-footed players, no list including the word "left" is complete.
The defender is rated by many as the greatest left-back in football history owing to his signature short stride and powerful volley, which have captivated spectators at all levels of the game.
When he scored with a spectacular arc in the first match of the 1997 Tournoi de France, the Brazilian hero revolutionized the long free kick forever. Despite advancements in man's understanding of science, the goal is seen as a violation of the laws of physics.
In addition to free kicks, he is renowned for utilizing his left foot to blast past the opponent's goal from a variety of angles, with few goalkeepers able to stop him.
Carlos has won the World Cup, the Champions League, and a multitude of other trophies as well as individual honours.
Due to his offensive skills, many are of the opinion that he would have had a more successful career as a winger.
9. Marco Materazzi
Due to the paucity of good left-footed right-backs in football history, the famed Italian central defender Marco Materazzi fits wonderfully in our list of best left-footed players of all time.
The aggressive former Inter Milan defender developed quite a reputation in the 2006 World Cup final after conceding a penalty, scoring the equalizer, and suffering a headbutt that resulted in the dismissal of France's greatest threat, Zinedine Zinedine. All three acts contributed to Italy's fourth and last World Cup victory.
8. Rivaldo
At his peak, despite being very one-footed, Rivaldo was one of the most difficult players to stop. His innovative ideas, clinical finishing, and deft passes continually placed him ahead of the competition.
Many are of the opinion today that Rivaldo's brilliant left foot was the deciding factor in Brazil's 2002 World Cup win, a fantastic accomplishment for any player.
7. Ryan Giggs
/Photograph by Дмитрий Голубович, distributed under a CC-BY 3.0 license
Giggs is considered one of the most famous left-footed players in football. The Welshman was a breath of new air on Manchester United's left wing, as he was adept at both creating and scoring goals.
One of football's most decorated players, the one-club man has won countless trophies in England and is considered as a living legend of both club and league.
6. Giorgio Chiellini
Giorgio Chiellini is without a shadow of a doubt one of the few active footballers who will go down in history as one of the sport's greatest players.
The greatest left-footed central defender in football history, Chiellini was a vital component of both the Italian national team and the Juventus national team until age 37. 
He recently guided Italy to the pinnacle of European football while also serving as an impenetrable barrier in Juventus' record-setting nine straight Serie A victories. He appeared 114 times for Italy and was the joint fourth-most capped player before he retired in 2022.
5. Ferenc Puskas
/Photograph by FORTEPAN adományozó Magyar Bálint, distributed under a CC-BY 3.0 license
Hungarian superstar, Ferenc Puskas, was renowned for his accurate shooting ability, which as his most lethal weapon, secured his position among football's most celebrated legends.
The left-footed player engraved his name in gold letters during the Hungarian golden period and was the hero of Real Madrid's bloom in the 1960s. This was displayed when he scored three goals with his left foot in the 1960 final between Real Madrid and Eintracht Frankfurt of Germany in the European Champions League. Real Madrid won by a score of 7-3.
In his second Champions League final with Real Madrid in 1962, Puskas scored another three goals with his left foot, but it was not enough to prevent a 5-3 loss to Benfica.
Puskas is an iconic figure in Hungarian history and is recognized as one of the greatest strikers of all time, having excelled both for club and country.
The left-footed superstar won the Spanish LaLiga Golden Boot four times and scored 512 goals in a successful spell with Real Madrid. He is the most appreciated and notable scorer in the history of Hungary, having scored 84 goals in 80 international games.
With over 700 goals in his career, he was so outstanding that his surname is engraved on the award for the year's most beautiful goal.
4. Davor Suker
The lone Croatian in the FIFA 100 list, Suker is the country's all-time leading scorer, the 1998 World Cup golden boot winner, and a Real Madrid and Sevilla great.
The player's left foot is reported to be so skilled that it can play the violin with ease. His brilliant left foot led Croatia to the semi-finals of the 1998 World Cup, where he earned the Golden Boot.
3. Johan Cryuff
Johan Cruyff, a Dutch icon who played for both Barcelona and Ajax, is recognized as one of the greatest athletes of all time. The Dutch forward won three Ballon d'Or honors and guided Ajax to the peak of Europe on three occasions. 
Was Cruyff left or right footed? A product of Ajax Youth academy, the world's best football academy, Cruyff was adept with both feet, but his favoured foot was the left, making him one of the greatest ever left-footed players.
2. Diego Armando Maradona
Lionel Messi is, by all account, the best player in the history of football, yet despite his unquestionable skill and record-breaking achievements, the Argentine ace is always overshadowed by the legend Diego Maradona.
It is often believed that elite players must be able to use both feet efficiently, but Maradona demonstrated that just one left foot is necessary to win titles.
1. Lionel Messi
The myth, the icon the great: Lionel Messi is the best left-footed player of all time. 
Numerous amazing goals have been scored by the magical left foot of the Argentine, winning him six European Golden Boot trophies, six World Player of the Year accolades, and seven Ballon d'Or awards.
Despite approaching the twilight of his extremely successful career, Messi is football's current best finisher.