Best Nigerian players 2022
Football and Nigeria are two inseperable entities. In this article, Clacified compiles the most authourative and accurate list of best Super Eagles players currently.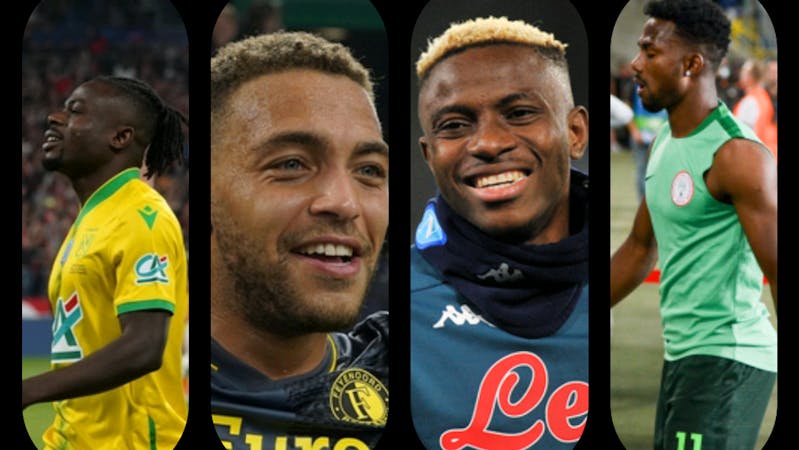 Despite the pockets of fragmentation that has plagued the region in recent years, Nigeria remains one of the world's most football-obsessed nations. And although the Super Eagles failed to qualify for the 2022 World Cup in Qatar, the country's immense passion for soccer has yet to waver one bit. In view of this, ZonalSports has put together a list of the best Nigerian footballers  in the world in 2022.
Who is the best Football player in nigeria 2022?
As one of the most populous countries in the world, Nigeria has the largest contingent of African footballers in Europe. This is exemplified by the fact that only Brazil boasts more non-European representatives than the West African giants in the Premier League alone.
With this growing list of soccer players in the world's biggest and most competitive football league, the following are the best Nigerian footballers in the world currently:
1.
Victor Osimhen
The most revered of Nigeria's sons, Victor Osimhen, had a subdued season by his transfer fee and club status, but nonetheless had a better season than any Nigerian footballer in the world. 
Still one of the best players in the world, Osimhen is Nigeria's leading scorer (non-penalty) in the major European leagues this campaign. His 14 goals have helped Napoli climb from a dismal fifth-place finish last season to a respectable third-place finish and an assured position in the Champions League.
Outside the precincts of Serie A, the former u-17 golden boot winner scored four goals in the Europa League in only five outings in what has been another injury-ravaged season for the 23-year-old. 
Victor Osimhen's very conspicuous qualities on and off the ball rank him as Nigeria's best player, which is why this portal also compared him with five of the best young strikers in Europe. 
2.
Anthony Nwakaeme
Unfairly ostracised and segregated, yet Anthony Nwakaeme remains Nigeria's most consistent player of the past few years. A playmaker built into the body of a goalscorer, the 33-year-old has delivered goals in 20s in three of his four seasons in Turkey. 
However, this season's return holds the greater preponderance, as his 12 goals and assists led Trabzonspor to their first title in five decades. The dozen mark is a career best for him, while his supply of 10 assists ranks him in a league of his own among his compatriots. 
Nwakaeme scored or assisted in more than 62 percent of his Turkish Super Lig appearances, playing a crucial role in the team's title triumph.
3.
Moses Simon
One of the best individual performances of the 2021/22 season, Moses Simon was Nigeria's revelation of the year. Although the player was a fixture in the national team and a well-known figure, he had failed to win over the very demanding Nigerian fan base by 2021.
But this was to change with a Golden Ball-worthy display at the 2021 Africa Cup of Nations, where he finished as Nigeria's best player against all pre-tournament expectations. 
If you, as a viewer, tuned in to the competition for the take-ons, "tekkers" and showboating, then Moses Simon would have been your player of the tournament.
The most exciting player at AFCON 2021, Simon's 4.3 dribbles per game were about 1.5 times more than his closest competitor, Sadio Mane. 
However, he was not as productive in front of goal, as his lone goal and assist were not enough to advance a lacklustre Nigeria through the round of 16.
He made up for this at club level with the best campaign of his career. In a Nantes side that survived relegation by a hair-breadth last season, Simon churned 6 goals and 8 assists to steer them to a far more comfortable 9th-placed finish, just 4 slots below European football. 
Moses Simon is presently the best winger for Nigeria in the major European leagues.
4.
Emmanuel Dennis
With 10 goals and 6 assists, It is hardly an exaggeration to state that Emmanuel Dennis had the best Premier League debut campaign of any Nigerian player in history. 
A shining light in a jaded, lacklustre Watford side, Dennis was a gamble that turned out to be a masterstroke by the Hornets' scouting department. The 24-year-old refrained from staying in the periphery, as he rose to the occasion by bagging major goal contributions against the league's big boys, including Manchester City, Manchester United, Chelsea, Leicester, and West Ham. 
The Nigerian international is without a doubt Nigeria's best player in the Premier League, and with his elite performances has proven himself too excellent to sink with the shipwrecked Watford side. 
5.
Wilfred Ndidi
A rare injury-ravaged season for Nigeria's best midfielder, Wilfred Ndidi, still couldn't prevent him from soaring as one of Super Eagles' best players. 
The combative midfield general was forced to spend the last 11 games of Leicester's campaign on the sidelines following a season-ending knee injury. 
Nevertheless, Ndidi will be remembered for his early-season Premier League heroics that still see him rank first in tackles and fifth in interceptions per game.
He was also the roadblock in front an impenetrable shield that only let in two goals at AFCON 2021, making the 3rd most tackles per game. In 2022, he is still one of Nigeria's best footballers.
6.
Joshua Aribo
Joe Aribo, one of the continent's most gifted centre midfielders, is the sixth best Nigerian player in the world. With 8 league goals and 6 assists in the Scottish Premiership, the 25-year-old delivered the best season of his career to guide Rangers to second in the league and cushion the impact of Steven Gerard's departure.
It is, however, in the UEFA Europa League where he had a chance of etching his name in historical gold, when Glasgow Rangers and Eintracht Frankfurt clashed, in what was expected to be one of the most feisty finals in recent UEL history.
Having created more high-quality opportunities than any other player, Aribo set the pace of the high-stake match with a goal.
7.
Victor Moses
Although besieged by sanctions and currently facing hard times, Russian football is still not without good players, and one of those names that spring to mind is Victor Moses. 
Despite his retirement, the former Chelsea star is still a Nigerian by birth and by heart, and he has been proudly representing his country in the Russian Premier League.
Moses has been a stalwart for an unreliable Spartak Moscow team with a modest two goals and one assist, as well as dependable consistency at wingback. But it is his performances in the Europa League that have parted the proverbial red sea. 
Against the continent's best clubs, the 31-year-old scored a goal and supplied three assists in six games, pitching his club as a serious contender for the trophy, before Putin's invasion of Ukraine dashed any such hopes. 
Even though Russian participation has been prohibited since February, Victor Moses is still tied for second in the Europa League among playmakers with 3 assists.
8.
Samuel Chukwueze
Another season, another mediocre goal-mouth return for Samuel Chukwueze, who has been living off the promise of enormous potential for a number of years. 
The 23-year-old underwhelmed with 3 league goals and 3 assists in 12 starts (26 apps) in yet another season where he has failed to crack the 10-goal barrier. 
However, the player might find respite in the fact that his statistics are competitive in comparison with teammates in Villareal and countrymen in Europe's top 5 leagues. 
In this instance, what edges the former under-17 World Cup winner alongside captain Kelechi Nwakali, is his vital Champions League goal, worth its weight in gold, which eliminated tournament favourites Bayern Munich.
In addition to getting a sizable slice of history with that goal, Chukwueze is LaLiga's third best dribbler, behind only Ousmane Dembele of Barcelona and Vincius Junior of Madrid, which supports his status as one of Nigeria's best footballers in 2022.
When his scanty gametime is brought into the equation, Samuel Chukwueze has the fifth most goals and second most assists per start in LaLiga.
9.
Paul Onuachu
Paul Onuachu is Nigeria's indisputable goal machine, having scored 19 goals in the regular season to add to the 33 he scored last year
Despite having to endure a frustrating summer in which no club was willing to meet Genk's hefty transfer valuation, the lanky man-mountain was forced to spend another season in the Jupiler Pro League and has once again distinguished himself among his contemporaries. 
In a 12-month whirlwind period where he won the Belgian Golden Boot and the Belgian Golden Shoe, Paul Onuachu is borderline Nigeria's best footballer in 2022. 
But the questionable quality of the Belgian top division and the players' struggle in Europe could only secure a ninth-place position on this list.
10.
Cyriel Dessers
A big game player and Nigeria's best performing player in international club competitions, Cyriel Dessers has been the most talked about non-international of the season. 
The striker, who was left out of Nigeria's relatively star-studded roster for AFCON 2021, scored 9 league goals in the Eredivisie, an uninspiring total for a centre forward. 
But these numbers gain relevance when put into the context that the Feyenoord man achieved these numbers in just 9 league starts, an exact average of a goal per game. 
To further buff his CV, 5 of his 9 goals came against the top 5 teams in the Dutch division as the Belgian-born forward etched a reputation as one of the deadliest super-subs in Dutch history and one of Nigeria's best players.
However, when contrasted to the colossal figures he produced in the first Europa Conference League, these impressive stats became somewhat trivial.
Dessers scored 10 goals in 11 appearances in just 6 UEFA tournament starts, propelling Feyenoord to the brink of European glory with a trip to the final and bagging him the golden boot gong.
Kolawole boasts the best goals-per-minute ratio in both the Europa Conference League and the Eredivisie, a statistic that practically qualifies him as one of the best finishers in the world. Although not on that list, being recognised as one of the best Nigerian footballers is a major achievement in itself.