Three crucial positions Erik ten Hag could strengthen at Manchester United
Ajax's manager, Erik ten Hag, may improve three crucial positions ahead of his new administration, taking over at Manchester United next season.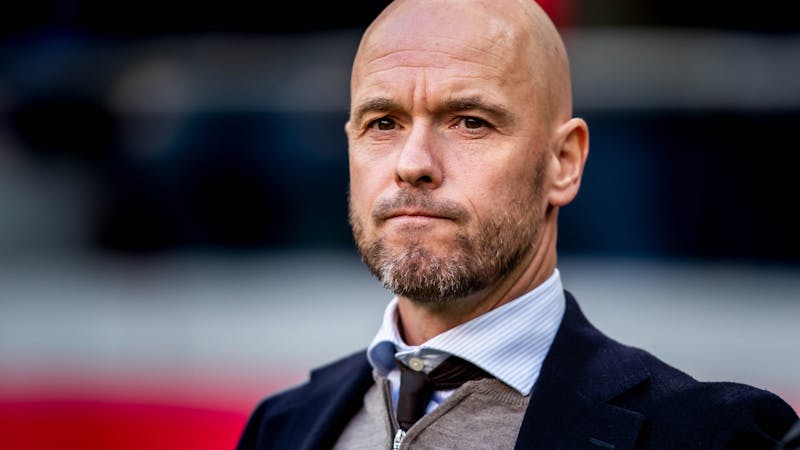 Manchester United are in for a new era under now-Ajax manager Erik ten Hag, who has agreed to a three-year contract to take over Old Trafford's managerial job.
The Netherlands national was appointed as the next manager of Manchester United for the upcoming season on Friday, after multiple interviews with various candidates for the role.
With a track record of successfully directing Ajax for about four and a half years, the famous manager has defeated elite managers such as PSG's Mauricio Pochettino and Sevilla's Julen Lopetegui to the most sought-after Old Trafford job.
Ahead of his new role at Manchester United, he has clarified that he wants the right over transfers at the club from the onset, which means club fans should expect a new style of play that would see some of United's present players axed.
Erik ten Hag won 158 games, drew 28 and lost 29 with Ajax
Erik ten Hag's unique style of play
Erik ten Hag's remarkable managerial vision in football, which began with Go Ahead Eagles and Bayern Munich II from 2012 to 2016, is one factor that has led to his successful stint at Ajax.
He is a tactical manager recognized for his unique style of play, which includes variation in build-ups, fluidity in midfield, counter-pressing, and attacking versatility.
One of his most effective football formations was the 4-2-3-1 formation he adopted at FC Utrecht when he took them to fifth place in his debut season and qualified them for a Europa League tournament the following season.
When he joined Ajax in 2017, the renowned manager switched to a 4-3-3 formation, employing three quality midfielders: Frenkie de Jong, Donny van de Beek, and Lasse Schone, all of whom had astute tackling ability.
With this formation, the Dutch manager guided Ajax to significant trophy hauls, including winning two Eredivisie trophies and two KNVB Cups, as well as a most tremendous success in European tournaments, after defeating Juventus and Real Madrid to reach the Champions League semi-finals in 2018.
To improve his chances of success at the Premier League club, the soon-to-be Red Devils manager may have to boost three key positions to match his magnificent style of play.
Key areas Erik ten Hag may have to strengthen at Manchester United
1.0
A highly talented right-back
Erik ten Hag's preferred 4-4-3 formation necessitates a gifted, pacy right back with exceptional dribbling and crossing ability, as well as efficiency in the defensive department.
He needs a highly experienced right-back who can play a role similar to that of Noussair Mazraoui at Ajax, as he prefers his right fullbacks to operate from the attacking areas in the middle of the field. At Ajax, the 24-year-old defender was instrumental in the manager's excellent setup.
Ten Hag will only have Aaron Wan-Bissaka and Diogo Dalot as the experience experienced lot to choose from when he takes over Manchester United, and they may not be suited to the attacking and defensive roles he employs.
Aaron Wan-Bissaka is an excellent defensive player, but he struggles with dribbling and crossing, whereas Diogo Dalot is an excellent attacking player who struggles in defensive positions.
Ten Hag may want to sign a new right-back and look to bring Noussair Mazraoui with him when he departs Ajax after the season, but he would face competition from Bayern Munich, who are desperately seeking his signature.
Image of Manchester United's right back Aaron Wan-Bissaka
2.0
Highly talented and experienced defensive midfielder
Manchester United have lacked a competent defensive midfielder to protect the club's centre backs in the past few seasons, resulting in the club conceding many goals season after season.
The club has been unable to recruit ideal replacements for Paul Scholes and Michael Carrick since they retired from Old Trafford. Former manager José Mourinho recruited Nemanja Matic, who was given the responsibility during his time in the managerial hot seat, but he has been unable to help Manchester United compete in the Premier League.
The Serbian international player will leave Old Trafford at the end of the current campaign, which paves the way for the arrival of a new defensive midfielder.
Matic's contract with Manchester United expires this season, and he will be allowed to go on a free transfer.
The club's interim manager, Ralf Rangnick, has used Scott McTominay as his preferred defensive midfielder this season, but he lacks the composure, calmness, and control that Erik ten Hag demands in a defensive midfielder.
In Ten Hag's 4-3-3 formation at Ajax, he preferred to utilize a defensive midfielder with total ball control and the ability to shield his defence, similar to how he deployed Lasse Schone in 2018.
Ten Hag might look for a savvy defensive midfielder to pair with United's already talented midfielders when the transfer window opens.
Manchester United have been linked with West Ham United's Declan Rice, Wolverhampton midfielder Ruben Neves and Leeds United's outstanding defensive midfielder Kalvin Phillips, although it remains unclear whether the new manager will pursue them.
3.0
An intelligent centre back
Manchester United have produced one of the worst defensive performances in the Premier League this season, conceding 56 goals in 37 games, including a humiliating nine goals conceded in the two legs of league games against Liverpool, the most in the club's history.
Despite the arrival of ex-Real Madrid experienced defender Raphael Varane, who joined the Premier League team last summer, the defensive mishaps have cost the club many points.
Old Trafford's dream of replacing the club's former great and famous defensive duo, Nemanja Vidic and Rio Ferdinand, has not been achieved since their departure in 2014.
Since Sir Alex Ferguson's departure, the club has been managed by a succession of coaches who have spent massive amounts of money to acquire the services of a highly skilled defender.
Jonny Evans, a United academy graduate, was expected to be an ideal successor for Rio Ferdinand, yet he failed to fill the void. Chris Smalling, Marcos Rojo, Victor Lindelöf, and several other players have also attempted and failed to defend Manchester United's backline.
The club's current captain, Harry Maguire, who was signed for a world record fee of £80 million, the most expensive defender in history, has exacerbated the club's nightmare in the department.
The English defender has solely contributed to the club's poor season with his blunders, prompting criticism from club fans, including a death threat issued to him and his family. The 29-year-old defender lacks pace, poise, and command, which has cost Manchester United many goals this season.
Ten Hag fancies a pacy center defender with ball control and calm, similar to Juventus' talented defender Matthijs de Ligt and Tottenham Hotspur defender Davinson Sánchez, both of whom he groomed.
The new manager may want to look for an intelligent central defender to assist him in implementing his vision in the Premier League. The club is interested in Villareal's seasoned defender, Pau Torres.
Since 2019, the 25-year-old Spanish player has been an integral part of Villareal's squad, appearing in nearly all the club's league games (34 league games in 2019, 33 in 2020, and now 31 in the current season).
Despite the rumours linking the defender to the Premier League side, it is unclear whether Erik Ten Hag will call for his services when he takes over as manager next season.